What Is Collagen Powder?
Here's the Scoop on That Collagen Powder All Over Instagram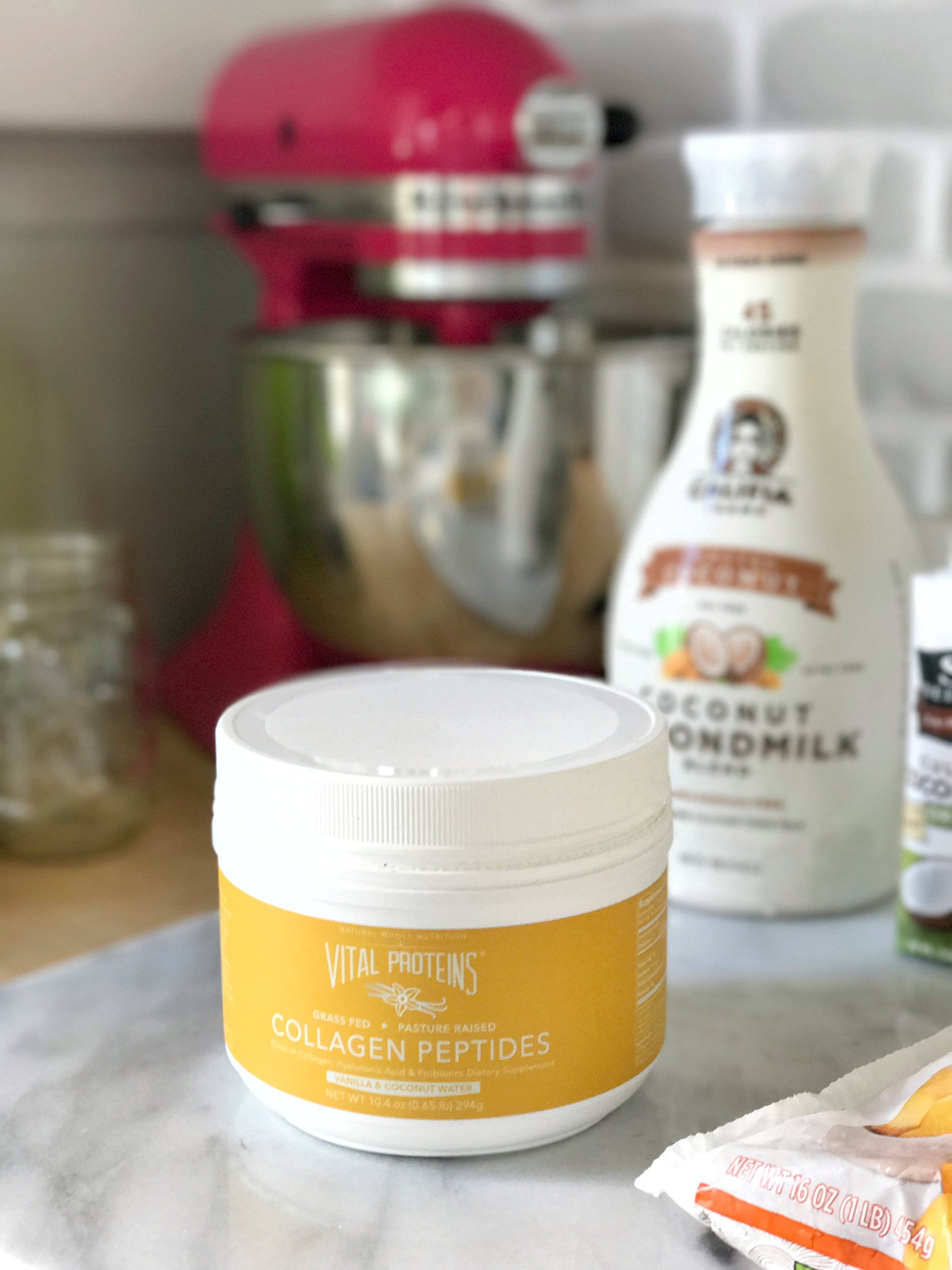 If you follow anyone remotely trendy (in terms of wellness, health, fitness, etc.) on Instagram, you've seen collagen powder, a Vital Proteins canister, Bulletproof collagen coffee, or a collagen smoothie recipe of some sort. And if every time one of those images or stories has popped up on your phone screen you've said, "WTF," then we're here to break it down for ya. Let's back it up a little.
What Is It?
Everyone's talking about collagen supplements. If you've ever cooked or baked with unflavored gelatin, it's kind of like that but a finer powder, and it doesn't solidify the way gelatin does. It comes from animals (NOT vegetarian, important to know) like chicken, cows, or fish. It's often sold as a loose powder in canisters or bags, and you can do a whooole lot of things with it. Just you wait.
Why Is Everyone Obsessed With It?
For one, some seriously great health benefits:
Gives your hair, skin, and nails a boost
High in protein (could replace your protein powder)
May help with weight loss due to high protein content and promotion of a healthy gut
Promotes healthy bones and joints
Has BCAAs for athletic recovery and reduced soreness
Sounding like a miracle food yet? Hold on to your pants. Back to that "replace your protein powder" thing — if you're not a protein powder person, then this might be your lucky day. Collagen is unflavored, and there's no chalkiness — think about adding protein powder to almost all your food and drinks without making anything taste like protein powder. Amazing, right? It blends into both hot and cold drinks without affecting the taste or texture (unless you opt for a flavored variety, of course). That means you can give your morning coffee an instant boost of protein and nutrition (often things like probiotics, hyaluronic acid. and vitamins), and it still tastes like . . . well . . . coffee. We're all for efficiency, and collagen really helps you kill at least three to seven birds with one unflavored stone.
How Do You Eat It?
As mentioned, this powder can go into hot and cold drinks, but it can also go into your food. Here are some ideas to get those collagen wheels turning . . .
Mix it into your juice
Blend it into a shake or smoothie
Make a matcha latte with it
Bake some into your favorite goodies
Whip up some protein-packed pancakes
Stir it into water
Make cookies with it
Add some to your golden milk
Upgrade your overnight oats or chia pudding
Boost your Bulletproof coffee
Pour a protein-packed smoothie bowl
Heat up a savory soup
Make a pie with a protein kick
Mix some into a veggie dish
Try a healthy Bloody Mary
. . . Are you catching our drift?
Where Do You Get It?
Brands like Vital Proteins and Bulletproof sell their product directly from their websites, but you can find collagen supplements at health food stores (we've seen it at locations like Earth Bar in LA) or on Amazon Prime (gotta get the most out of that membership, you know?). Prices range from $20 to $75-ish, depending on the amount you get, and if you opt for an unflavored straight-up collagen or something fancy like Madagascar vanilla bean (TBH, that flavor is pretty damn good).
Love what you're reading? Head over to our Snapchat for more awesome, bite-sized content!