A Trainer Says These 5 Kettlebell Moves Will Work Your Entire Body — Ouch!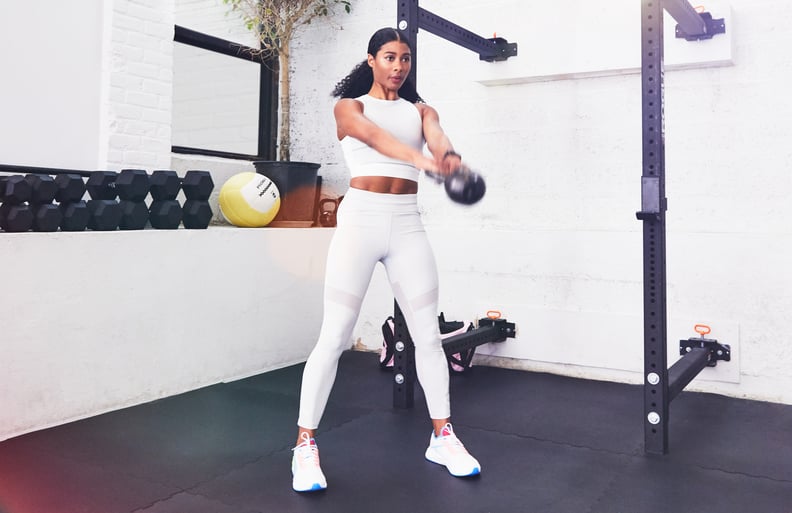 POPSUGAR Photography | Matthew Kelly
POPSUGAR Photography | Matthew Kelly
Fitness trends come and go, but there's something to be said about a classic that gets your entire body in shape, like kettlebells. Experts agree, kettlebells are not only great for your core, but are some of the most underrated equipment for strength training. According to Kendall Wood, MS, CSCS, an NASM-certified personal trainer, "kettlebell workouts are among the best for total-body benefits, if you pick the moves that harness as many muscles as possible."
With that in mind, we asked Wood for his best kettlebell moves that'll transform your entire body by forcing you to use muscles in your body that usually get overlooked when similar exercises are done with machines or dumbbells. These exercises are great for beginners (stick to 6- to 8-kilogram kettlebells if that's you) or advanced trainers, and can be included in virtually any other workout you're currently doing. They aren't easy (don't say we didn't warn you), but you'll definitely see results if you use them in your workout.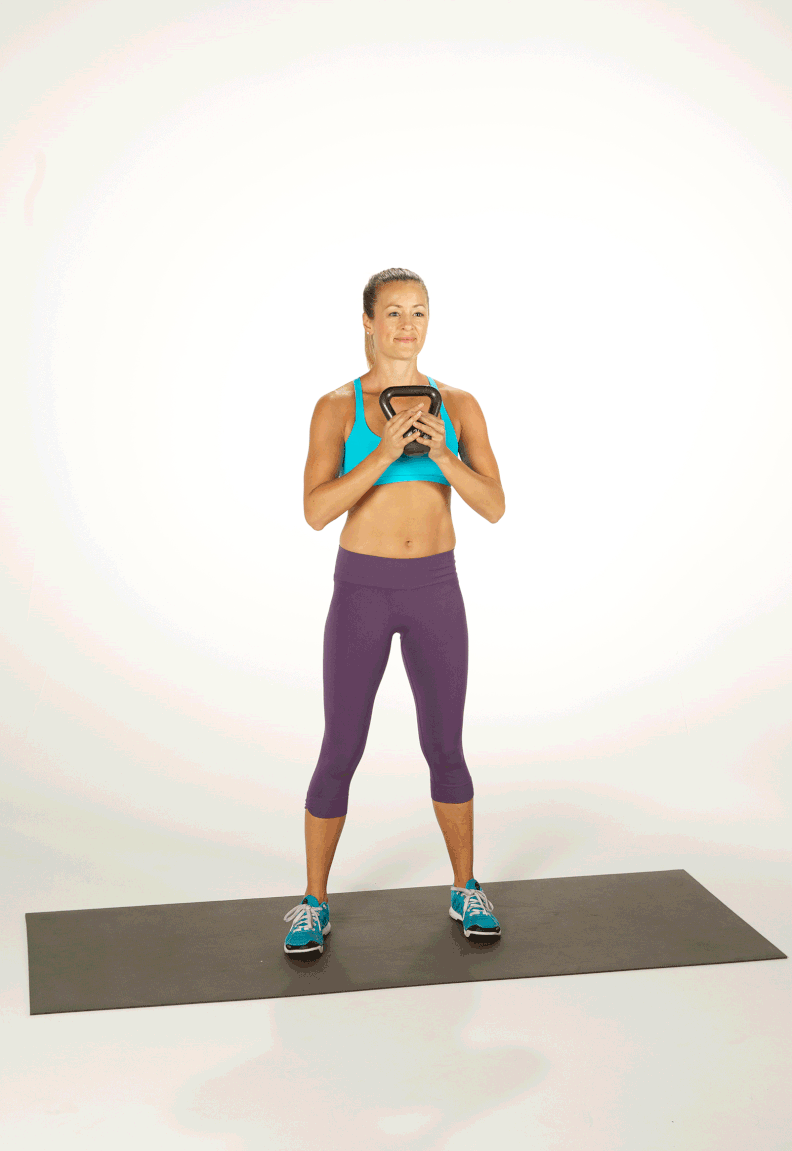 Halo
Grab a kettlebell with both hands facing each other and bring the weight up, holding it in front of your waist.
Raise the kettlebell up and to the left of your head, circling behind your head to the right.
Bring the weight back around from the right to the left, creating a halo motion with the weight around your head.
Continue to perform this movement until you can no longer do a rep without rounding your shoulders.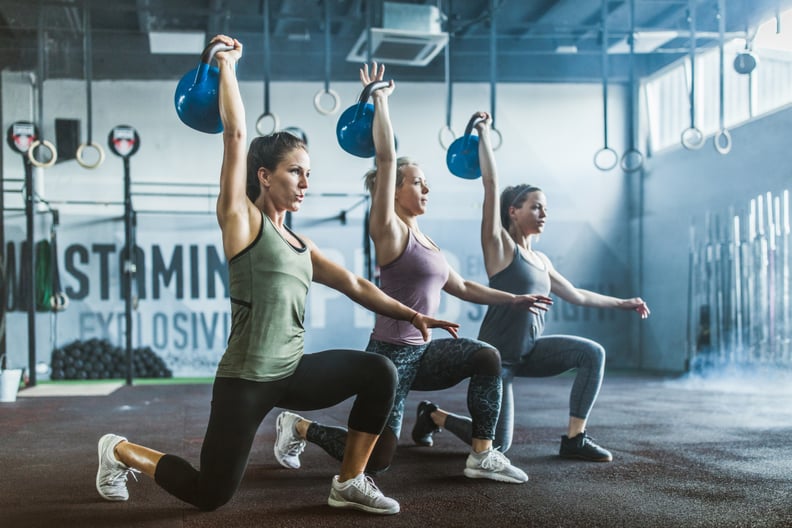 Lunge With Kettlebell Press
Stand with your feet shoulder-width apart while holding a kettlebell with your left hand in front of your left shoulder.
Kick your right leg forward so your left hamstring is parallel to the floor and your right leg is at a 45-degree angle to the floor while your spine is straight (no leaning, hunching or shoulder rounding).
Press the kettlebell straight up towards the ceiling. Hold for a count and return to the starting position.
Perform an equal amount of reps on each side, swapping the weight and forward-lunging knees.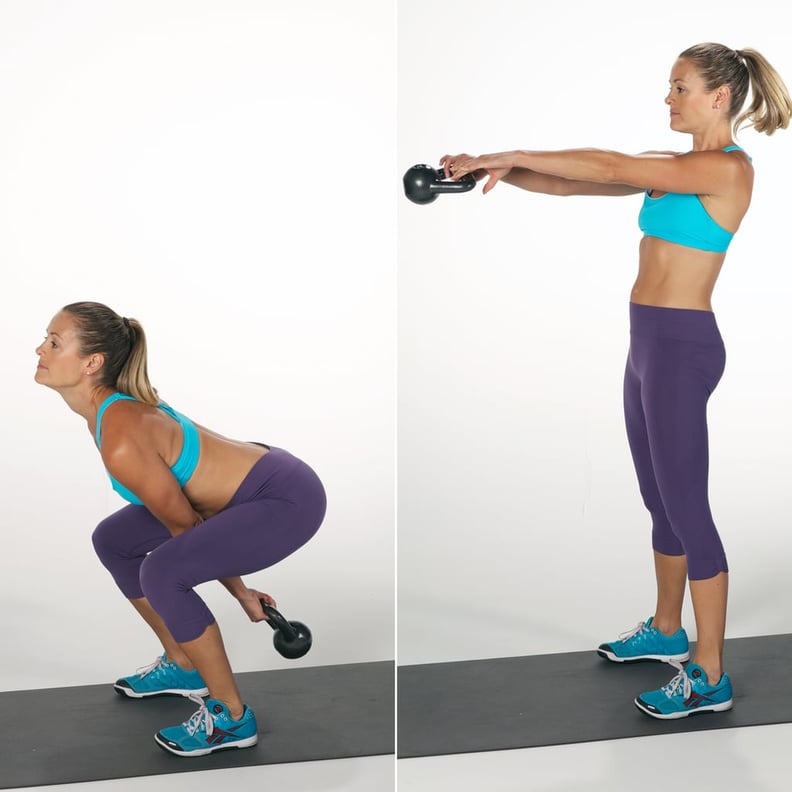 Kettlebell Swing
Stand with your feet wider than shoulder-width apart while holding a kettlebell in front of you with both hands.
Lower the kettlebell between your legs by bending both your knees to a 90-degree angle.
Swing the weight up while raising your body by straightening out your legs. By its very nature, this move requires you to swing the weight (which will include some momentum), but the key here is to keep your abs tight and back straight and use your legs to continue the movement while your arms stabilize the kettlebell throughout.
Allow the weight to swing back down while bending your knees again.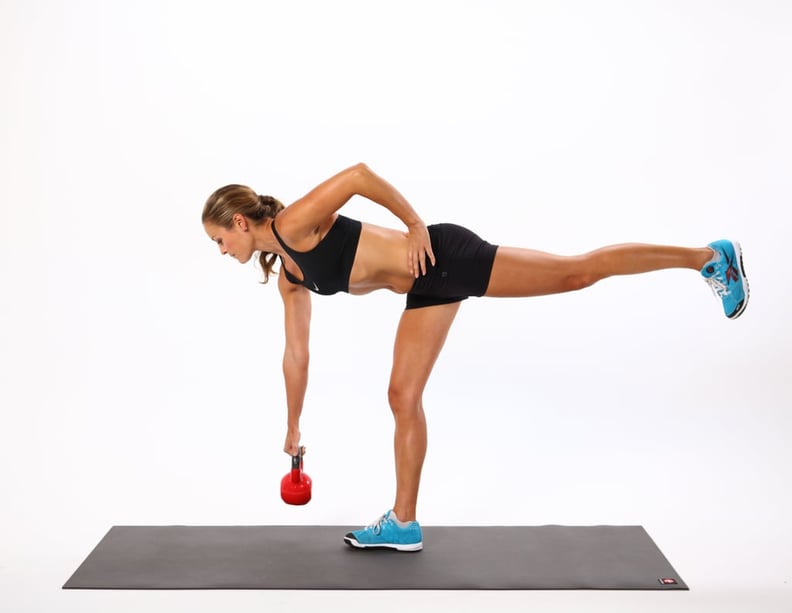 Single-Leg Deadlift With Kettlebell
With a kettlebell in your left hand, lift your right leg behind you so your foot is about six inches off the ground.
Lean your body forward while raising your right leg so your torso and leg make a straight line that is parallel to the ground. While this is happening, allow the kettlebell to lower in front of you so it is hovering off the ground until your arm is straight.
Keeping your back and leg in a straight line without rounding your shoulder, slowly begin to return to the starting position.
Change hands and raised legs to do the other side.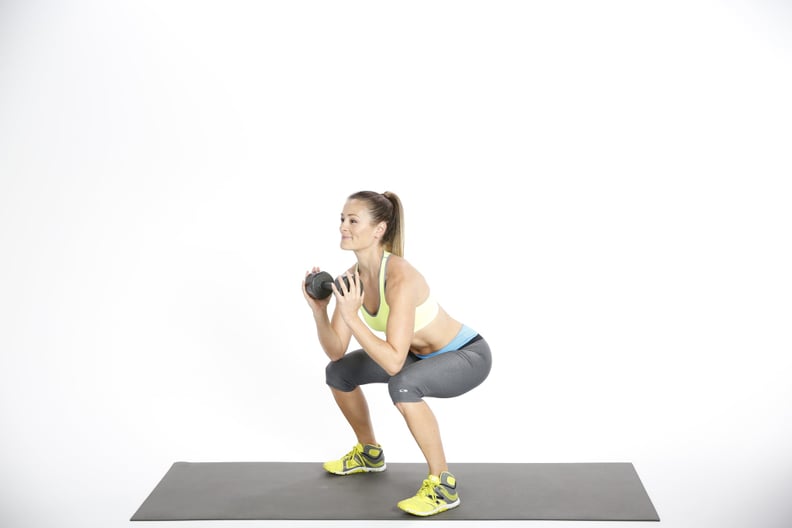 Kettlebell Squat
Stand with your feet slightly wider than shoulder-width apart while holding a kettlebell directly in front of your lower chest.
Slowly begin to bend your knees and allow your torso to drive downwards using the power of your legs. While this is happening, push the kettlebell forward so your arms are stretched in front of you as shown.
Bring the weight back to the starting position while pushing with your heels to straighten out your legs.
Remember to keep your body straight and parallel to the wall in front of you. Do not lean forward or backwards throughout the movement. Keep you abs tight and your movement slow and measured.