One-Third of People Who've Had COVID Are Diagnosed With a Mental Illness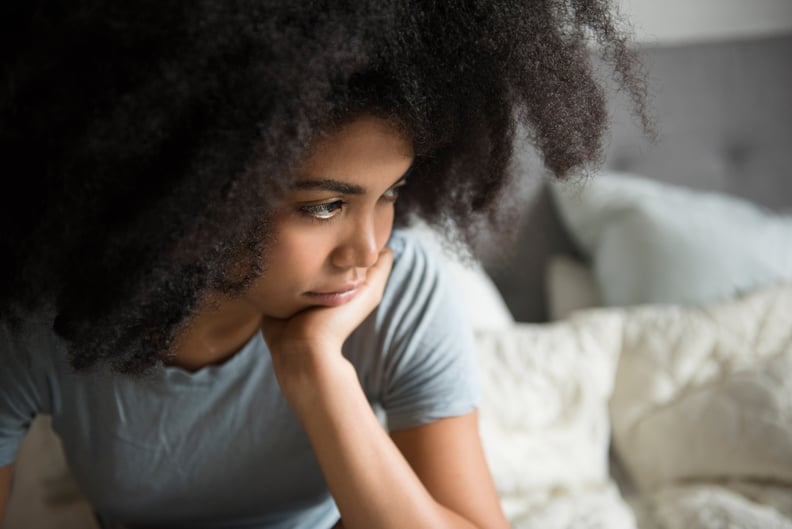 A large Oxford study involving more than 230,000 patient health records shows that one-third of people who've survived COVID-19 are given a neurological or psychiatric diagnosis within six months. This includes anxiety, depression, mood disorders, substance misuse disorders, and insomnia. The study said, "For 13 percent of these people, it was their first recorded neurological or psychiatric diagnosis." What is the connection? We asked Billy Yung, MD, a neurologist at Westmed Medical Group located in Westchester, NY, and a therapist Jessica Gaddy Brown, LICSW, of Nia Noire Therapy to explain the cause of the link and what to know and look for if you've had COVID.
How Does Having COVID Affect the Brain and Nervous System?
Since COVID is a new virus, Dr. Yung told POPSUGAR that experts are still trying to understand the exact mechanisms of how it affects the brain and nervous system. "The likely most common mechanism is that COVID-19 triggers a widespread immune response, which causes inflammation throughout the body," he explained. This inflammation can damage the brain and nerves as well as other parts of the body. He added that COVID-19 also has a propensity for increasing the risk of clotting in the blood and has been associated with a higher risk of stroke (clots in the brain). Rarely, "the COVID-19 virus has been found directly invading and damaging the brain and nerve cells," Dr. Yung said, although this is felt to be a very uncommon cause of neurological injury.
While all of this can play into affecting the brain and cause mental health conditions, Dr. Yung said experts still don't know the exact cause. "I suspect that the widespread fear and uncertainty surrounding COVID-19 contributes to these mental health issues, as opposed to the COVID-19 virus directly affecting the body to cause these mental health issues," he said.
Why Does the COVID Pandemic's Impact Increase the Risk of Developing a Mental Health Condition?
COVID has undoubtedly taken a mental toll on the masses following more than a year of anxiety, loss, and isolation. As some navigated the challenges of a COVID diagnosis, anxiety and mental health symptoms may have been exacerbated because of several reasons, including worry about health, not being able to see loved ones, as well as financial burdens. Brown told POPSUGAR that "prolonged symptoms of COVID can create distressing, and even traumatizing, outcomes for not only patients, but for their families as well."
While the onset of COVID may be correlated with a future mental health disorder, the study may not take into account experiences of underlying, undiagnosed mental health concerns prior to COVID, Brown said. With mental health still highly stigmatized, particularly in communities of color, Brown added that "many individuals are living with undiagnosed mental illnesses with fear or shame of judgement, miseducation, or lack of psychoeducation."
COVID has uniquely impacted each of us, and whether we contracted the virus or not, we all experienced the emotional effects of COVID. As a result, Brown said, "I truly believe we will be managing a mental health crisis as we transition to our new normal, because so many of us will experience difficulty adjusting to change or have had trouble seeking culturally-appropriate mental healthcare during the pandemic."
What to Know About Mental Health Conditions and What Look For If You've Had COVID
Aside from the physical symptoms of COVID, mental health conditions can manifest in our physical bodies as muscle tension, racing heart rate, headaches, irregular menstrual cycles, and other somatic conditions, Brown explained. With common mental health disorders such as anxiety, one may experience excessive worry, restlessness, she added, or feeling on edge, fatigue, difficulty concentrating, irritability, and sleep disturbances (such as difficulty falling asleep or staying asleep).
Those who may be experiencing depression should look for symptoms such as diminished interest or pleasure in normal activities, significant weight loss or weight gain, or difficulty sleeping or oversleeping. Other symptoms include fatigue, decreased concentration, feeling of worthlessness, or thoughts of death or suicide, Brown shared.
Brown suggested that with any mental health condition, it's important to track your symptoms by logging patterns of behaviors, frequency, and duration. Consulting with a licensed mental health specialist can help clarify your history of symptoms, as well as determine appropriate means of treatment to get you back on a balanced track toward healing. So don't be afraid to seek out professional help.
What Should a Person Do If They Think COVID Has Caused a Mental Health Issue?
If you or someone you love may be experiencing mental health issues following COVID, it is critical that you seek a professional consultation and evaluation, Brown said. "A licensed mental health professional can provide a detailed biopsychosocial assessment and plan for treatment," she added. Resources to find a therapist include:
It's important to find a therapist who is the right fit for you and your individual goals. Brown said it's completely appropriate to have consultations with a few therapists so you can select the one you feel comfortable being open, honest, and vulnerable with to guide you through your wellness journey.
What Will the Impact of the Pandemic Have on Mental Health in General?
We're already seeing a surge in mental health demand over the last year due to the pandemic, racial injustice, and overall loss, Brown said. "I believe we will experience a sense of universality, such that so many of us are having similar experiences of fatigue, depressed mood, and anxiety," she added.
Thankfully, social media has amplified conversations about mental health and wellness to de-stigmatize mental illness and to cultivate productive conversations about getting help and healing. She said with normalization of difficult and vulnerable conversations, we can create space for people to seek and receive accessible mental health services. "I anticipate a growth of new mental health services, programs, or even mobile apps to guide this effort," Brown said.