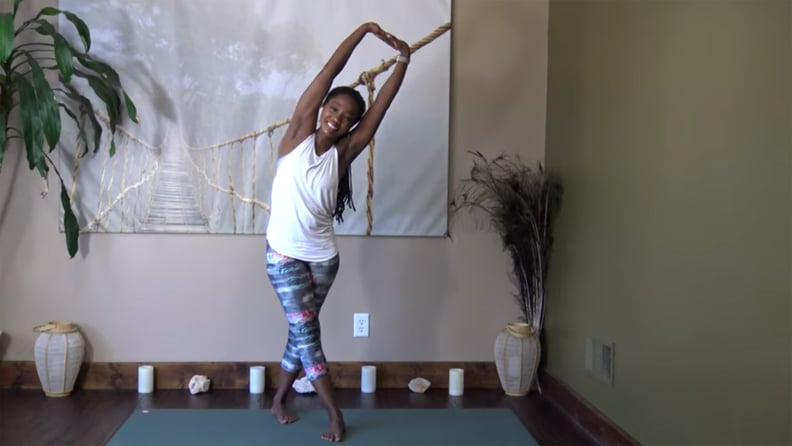 Yoga is a form of self-care that grounds, energizes, and relaxes you. And for these Black instructors, self-care also means experiencing joyful movement and positive thoughts through yoga. POPSUGAR has created this yoga roundup as part of The Light, a hub including essays and features that celebrate Black joy and honor the resilience of people who continuously find the light in their lives and the world that so many try to extinguish.
For this yoga roundup, these instructors have crafted themes for their classes that revolve around lifting the spirit, so if you need a little boost, follow along as they lead you through joyful, invigorating yoga flows to help you feel happy, full of love, less stressed, and ready to bring joy and energy into the world.
20-Minute Yoga Sequence For Joy
Join 200-hour certified yoga teacher This Curvi Yogi for this beginner-friendly 20-minute yoga sequence for joy. She said to use this time to focus on creating joy from within and spreading joy to others.
10-Minute Yoga Flow to Boost Energy
Join 500-hour certified yoga teacher Erica Rascon for this quick flow to help boost energy in the morning or help you beat a midday slump. You'll also love the "breath of joy" near the end; it's fun and a great emotional release!
20-Minute Vinyasa Flow to Release and Thrive
This 20-minute Vinyasa flow from 500-hour certified yoga teacher Arianna Elizabeth of Bright and Salted Yoga will help you relieve tension and not just survive, but thrive! You'll love her relaxing voice and gentle flow, and will feel so good by the end.
10-Minute Yoga Break to Reenergize in the Afternoon
Join 500-hour certified yoga teacher Dianne Bondy for this midday pick-me-up yoga flow. She noted that a little bit of stretching and gentle movement can help relieve stress, reduce anxiety, and leave you feeling more awake and ready to get back to your day.
20-Minute Energizing Flow
Join Own Your Glow for this 20-minute energizing yoga flow to help you recharge and boost your energy. Practicing yoga in the morning is the perfect way to wake up the mind and body and sets the tone for the day! Just hearing the wildlife in the background will lift your spirit.
Daily Flow Yoga Exercises With Koya Webb
Start your day with some joyful self-care with this 20-minute yoga flow from 500-hour certified yoga teacher Koya Webb. Setting your intention and breathing deeply at the beginning of the practice will help you feel happy and grateful.
20-Minute Gentle Morning Yoga Flow
Ease into your day with joy and gratitude with this 20-minute yoga flow from 200-hour certified yoga teacher The Caramel Yogi. The seated meditation at the beginning will help you focus on your breath to release any negative energy, and help open your heart to feeling joy.
25-Minute Creative Vinyasa Flow For Feeling Unstuck
If you're feeling stuck in a routine or overwhelmed and want to invite change, creativity, and joy into your day, join certified yoga teacher Abiola Akanni of Yoga by Biola for this 25-minute Vinyasa flow. Her positive energy (and singing!) is bound to make you smile!