The Bachelor Has Forced Every Woman Into Being a Villain or a Victim, and It's Not OK
Every season of The Bachelor promises to be, in the words of Chris Harrison, "the most dramatic season ever." Every season, ABC promises to amp up the drama, adding more melodramatic storylines and fueling the competition with two-on-one dates and unwelcome guests. Producers have attempted to keep things current and fresh, a task that isn't easy considering the show has aired for nearly two decades.
The show's repetitive tropes — like the endless squabbles over contestants "being there for the right reason" — are easily parodied, and, honestly, part of why I tune in every season. But this season has been particularly dramatic and emotional, with an abundance of infighting between contestants and new rivalries appearing every week. Some have complained that the drama is clearly at the hands of the producers and question the production team's manipulation. But ultimately this has made the season overwhelming and exhausting and has made it nearly impossible for us feel invested in the relationships, both between Peter and the women but especially between the women themselves.
I would never call The Bachelor a feminist show. I don't believe that enjoying the series is inherently bad or sexist, but I would never hail the show as a pro-woman form of entertainment. The franchise has been criticized for its lack of diversity, as well as its role in perpetuating gender norms. Producers are not doing themselves any favors by featuring dates where the grown women mud-wrestle, or have pillow fights in lingerie for the entertainment of Peter and the viewing audience.
But the show always had something I really enjoyed: genuine female friendships that emerged from a show that pitted women against each other. Yes, cattiness and drama do ensue every season, but there are always moments where the women are seen clinking Champagne glasses and celebrating one another. It's really only when the women talk of "the competition" that I begin to feel weary.
Of all the issues with Peter's season, this is the biggest one: almost every woman has been portrayed as a villain.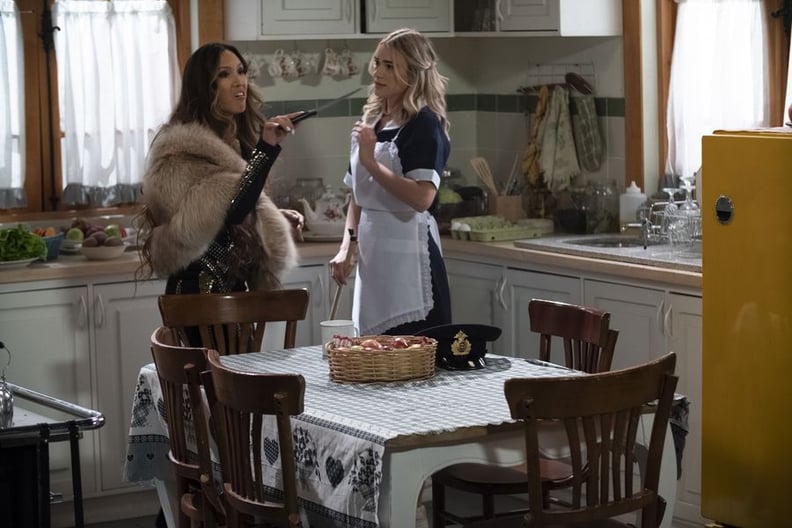 Tammy hates Kelsey. Tammy hates Mykenna. Kelsey hates Hannah Ann. Everyone hated on Alayah so much that Peter sent her home, only for her to return, then be sent away again.
Many of the women complained that Peter seemed to be feeding into the drama and subsequently losing time to actually get to know the women. This is a sentiment I share. We've spent so much time seeing the girls talk behind each other's backs and make horrible accusations about alcoholism and emotional maturity that we have barely been able to see their relationships with Peter grow. There's a new villain every episode, and the way Kelley's exit was edited to make her seem overly confident was confusing.
As I watch the episodes, I find myself not invested in any of the women and not really understanding Peter's mindset. This is of course paired with the incredibly controversial Victoria, whose relationship with Peter can only be described as volatile — unless, of course, she's just getting a bad edit. Her inability to communicate with Peter, as well as her constant victimization, are clear signs of gaslighting. She seems to tell Peter that all the problems with their relationship are his fault.
The producers have been amplifying drama among, and consequently at the expense of, the show's women.
The show has always been about drama and entertainment, I'm not disputing that. I would argue that in the quest for more viewers, the producers have been amplifying drama among, and consequently at the expense of, the show's women. In older seasons, "organic" drama that ensued from 30 women living together dating the same man was enough. But the dramatic strategy has recently pivoted into tropes of women-versus-women, pitting them against each other in toxic and aggressive ways, which ultimately ruins the experience of the show and makes me feel exhausted and frustrated at the end of every episode. With every season that airs, it is becoming more and more apparent that the question of who will find "true love" on screen is being phased out for drama.
If the producers want to continue the franchise and perhaps even gain more viewers, they have to begin to move away from the plots that force women into playing villains or victims. Alongside this, a better screening process for contestants is completely necessary, so as to avoid women and men who have promoted bigotry in both their professional and personal lives from entering the mansion. I'm not saying that the drama must be entirely cut; after all, it is a big, if not the main, reason people tune in. But if Bachelor nation wants to move into the 21st century, they must attempt to show the women as actual women and not caricatures of reality star villains. And for the love of Chris Harrison, don't make them stay together during Fantasy Suite week.