2-Week Clean-Eating Plan: Day 10 | Recipes
Day 10 Recipes: Clean-Eating Plan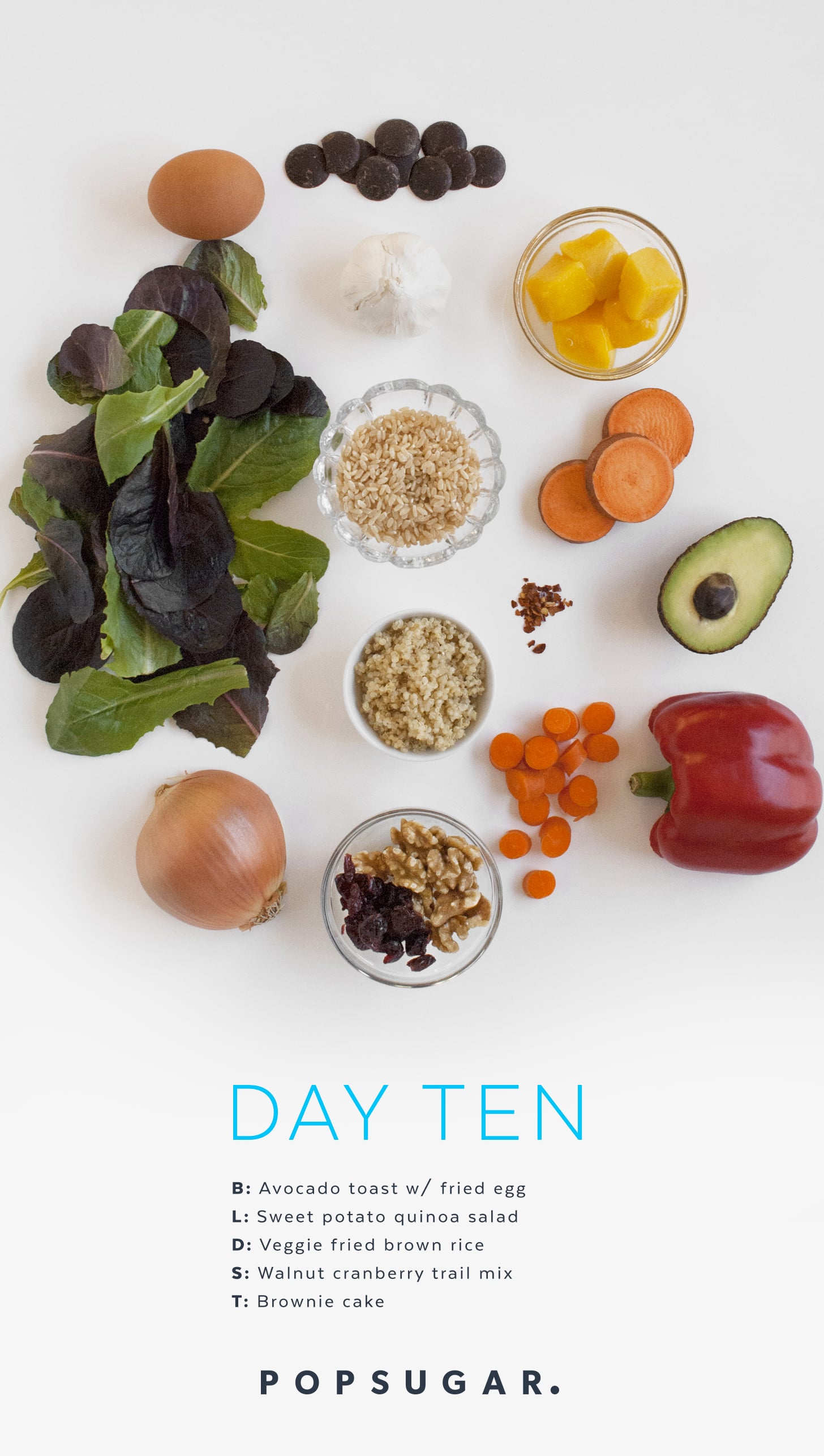 Breakfast: Avocado Toast With Fried Egg
Smashed Avocado Toast With Fried Egg
Ingredients
1 slice sprouted grain bread, toasted
1/4 of an avocado
Red pepper flakes
Salt and pepper to taste
1 egg
1/2 cup baby spinach
1 teaspoon olive oil
Directions
Mash and spread the avocado over the slice of toast.
Sprinkle red pepper over the top of the avocado.
In a small skillet, over medium-high heat, fry the egg in olive oil, until yolk is cooked to desired doneness, about 1-2 minutes. Add spinach to the skillet just before the egg is finished cooking and sauté until wilted, about 1 minute.
Top avocado toast with the egg and spinach. Add sea salt and more red pepper flakes to the top to taste.
Calories: 324.7
Protein: 12 g
Carbohydrate: 37.8 g
Dietary Fiber: 7.96 g
Total Sugars: 19.2 g
Total Fat: 15.5 g
Saturated Fat: 3.152 g
Information
Category

Breakfast/Brunch

Cuisine

North American

Yield

Makes 1 serving
Lunch: Sweet Potato and Quinoa Salad
Note: This recipe uses frozen mango left over from Week One.
Roasted Sweet Potato and Quinoa Salad With Mango Balsamic Vinaigrette
From Jenny Sugar, POPSUGAR Fitness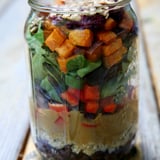 Ingredients
For the salad:
1 small sweet potato, unpeeled, diced into bite-sized pieces
1 tablespoon olive oil
Salt and pepper to taste
1/4 cup quinoa
1/2 cup black beans
1/4 red pepper, diced
2 cups greens (you choose)
1 tablespoon dried cranberries
1 tablespoon salted sunflower seeds
For the dressing:
1/4 cup mango, fresh or frozen
1 tablespoon balsamic vinegar
1 1/2 tablespoons water
Directions
Preheat oven to 400ºF.
Place the sweet potatoes in a bowl, add oil, and stir to coat. Sprinkle with a touch of salt and pepper. Spread evenly on a pan, and roast for 20 or so minutes, stirring a couple times, until the potatoes are soft.
Place the quinoa and half a cup of water in a covered pot on high. Bring to a boil, reduce to simmer, and cook for 15 to 20 minutes or until the liquid is all soaked up and the quinoa is tender.
Puree the mango with the balsamic vinegar and water, and set aside.
Allow the roasted potatoes and quinoa to cool to room temperature.
Start layering the salad in the jar beginning with the black beans. Add the cooked quinoa, and pour the mango balsamic vinaigrette on top.
Top with diced red pepper, greens, roasted sweet potatoes, dried cranberries, and sunflower seeds.
Screw top on securely, and store in the fridge.
When you're ready to eat, give the jar a good shake to mix everything up and enjoy!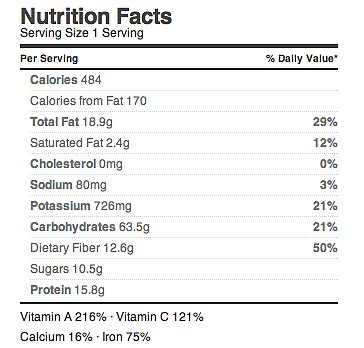 Source: Calorie Count
Information
Category

Salads, Main Dishes

Cuisine

North American

Yield

1 serving

Total Time

44 minutes, 59 seconds
Nutrition
Calories per serving

484
Dinner: Fried Rice
Note: Cook an additional 1/3 cup uncooked rice for Day 14 dinner.
Prep: Make your chia pudding for tomorrow's breakfast so it will be ready when you wake up.
Ingredients
1 tablespoon lower sodium soy sauce
1 teaspoon brown rice vinegar
1 teaspoon toasted sesame oil
1/2 teaspoon brown sugar
1 teaspoon fresh or 1/2 teaspoon powdered ginger
1 teaspoon canola oil (or olive oil)
1/2 cup chopped carrots
1/4 cup chopped onion
1/4 cup chopped celery
1/4 cup chopped red bell pepper
1 teaspoon chopped garlic
1 1/4 cups cooked brown rice (2/3 cup uncooked)
1 large egg, whisked
Directions
In a small bowl, whisk together soy sauce through ginger.
Heat canola oil in a medium nonstick skillet or wok.
Sauté carrots, onions, red pepper, and celery until they begin to soften, about 5 minutes.
Create a small hole in the center of the vegetables, and add the whisked egg. Let set for about 30 seconds, then gently incorporate into the vegetable mixture.
Add rice and soy sauce mixture and stir to combine, letting the liquid evaporate, about 1 minute more.
Calories: 499.5
Protein: 15 g
Carbohydrate: 73.2 g
Dietary Fiber: 8.214 g
Total Sugars: 10.4 g
Total Fat: 16.4 g
Saturated Fat: 3.043 g
Information
Category

Main Dishes

Cuisine

North American

Yield

Makes 1 serving
Snack: Walnut Cranberry Trail Mix
Note: Eat half of the mix for snack, and save the rest for your snack on Day 13.
Grab-and-Go Walnut Cranberry Trail Mix
Ingredients
2 tablespoons walnuts (about 7 halves)
3 tablespoons sunflower seeds
1/4 cup dried cranberries
Cinnamon (optional)
Directions
Combine all ingredients together and store in an airtight container.
Calories: 165.4
Protein: 3.816 g
Carbohydrate: 14.9 g
Dietary Fiber: 2.387 g
Total Sugars: 9.466 g
Total Fat: 11.6 g
Saturated Fat: 1.033 g
Sodium: 1.735 mg
Information
Category

Snacks

Cuisine

North American

Yield

Makes 2 servings
Brownie Cake
Note: Eat one serving of the leftover brownie chocolate cake that you made on Day 8.
Image Source: POPSUGAR Photography / Sarah Lipoff