Why Americans Need to Do More to Fight COVID-19
Americans Need to Come Together to Fight COVID-19 Before It's Too Late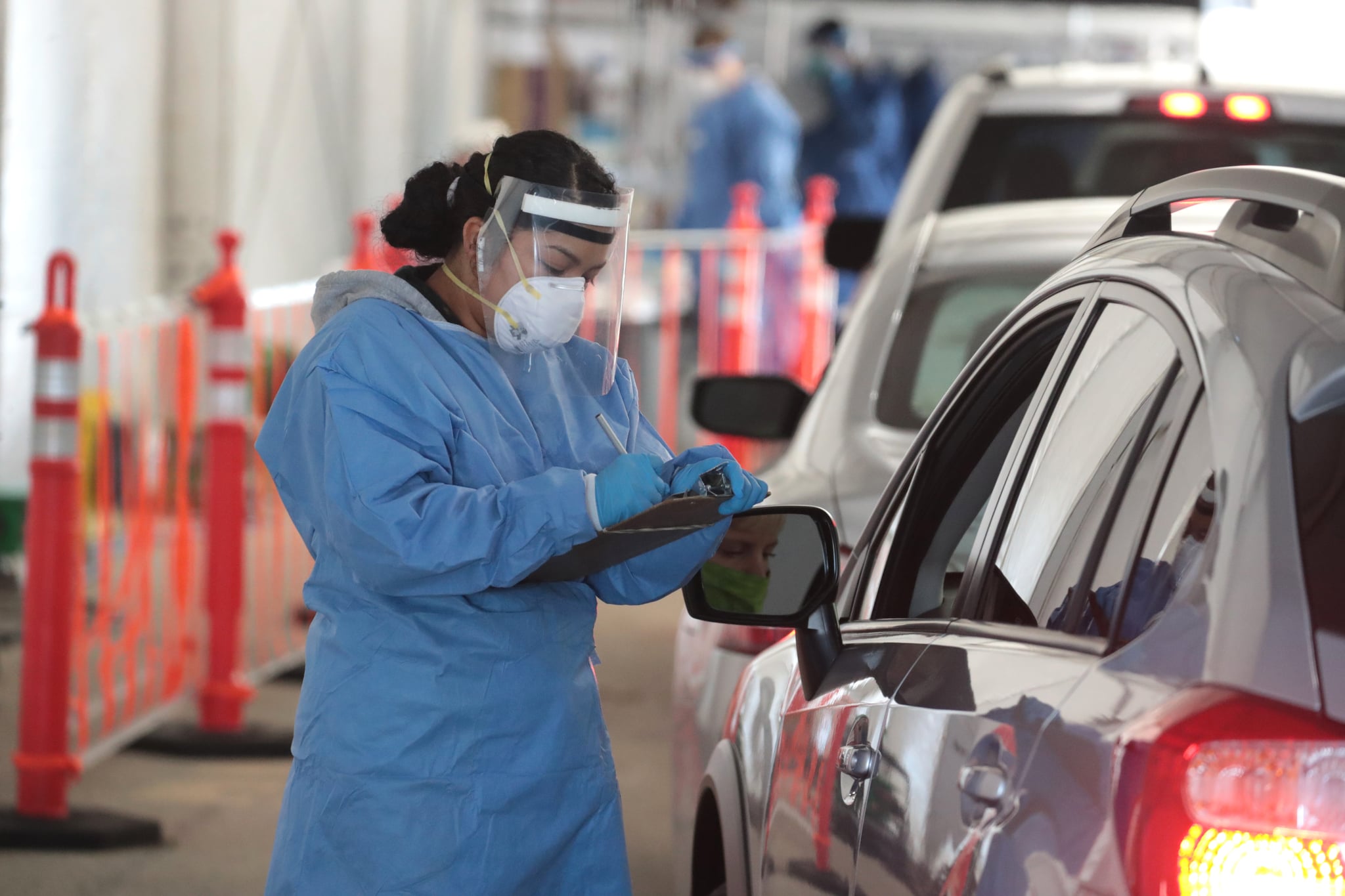 Image Source: Getty / Scott Olson / Staff
I remember sending a note to my manager over Slack: "So, about the coronavirus, maybe we should cover it." It was late January, and the CDC had just issued a travel advisory in an effort to contain what still felt like a distant threat out of Wuhan, China — a novel virus believed to have spread from animals to humans, which had caused dozens of cases of viral pneumonia.
A month later, we'd learn that a US outbreak was "inevitable." I stayed late on a Thursday evening, along with two other editors on my team, to prep stories covering the basics: how to wash your hands properly, what cleaning supplies to use to kill the virus. Little did we know that COVID-19 had already made landfall in New York City, likely weeks earlier as travelers continued pouring in from Europe. Sometimes I think about how the air in offices and residential buildings, on the subway, and in restaurants and bars must have been thick with it — tiny, aerosolized droplets that would soon bring one of the greatest cities in the world to its knees.
By late March, I was one of thousands of New Yorkers who had fallen victim to the virus. For three weeks, I lived in the isolation of my bedroom, talking to my husband over FaceTime, taking meetings from my bed, watching reruns of Parks and Rec. Those are the moments I like to remember, anyway, and the ones I allowed others to see. The reality was far more grim.
People were dying, alone, their bodies piled into refrigerated trucks and mass graves. Hundreds a day.
For four particularly dark days, I worried I might not survive. At night, when my chest always seemed to grow tighter and my breathing more shallow, I'd think about all the things I wished I had done that day or throughout my life: called my dad, hung the photos I had always promised I would frame. It took hours for me to fall asleep, tears quietly soaking my hair and pillow as I tried to steady my breath. Outside helicopters swirled and ambulances wailed, a reminder that there was still a city beyond those four walls — but now people were dying, alone, their bodies piled into refrigerated trucks and mass graves. Hundreds a day.
I was fortunate enough to recover, but the emotional scars remain. I'm reminded of those nights I lay awake every time I look at the photos I've since hung over the couch and our bed. Every couple months or so, when the lingering cough or shortness of breath worsens, I'm overcome with a deep sense of dread. I often spend hours thinking about interactions I've had with strangers sitting outside the vet's office or standing in line to vote. What if I get reinfected, or worse, what if I'm the reason someone else has to suffer the way I did?
For months, I've calmly urged anyone who would listen to take caution, but I've always stopped short of acknowledging just how frightening COVID-19 can be. The media has frequently been accused of stoking fear during the pandemic. But with the death toll nearing 250,000, and records for new cases and hospitalizations being set almost every day, it's clear to me that Americans aren't scared enough.
Experts always warned that a second wave of COVID-19 infections would arrive in the fall, following seasonal patterns of other flu-like illnesses. Their predictions have proven true in parts of the world that flattened the curve in the spring, as well as in hard-hit cities like New York, which has seen a slow but steady rise in cases in recent weeks, after months of keeping the virus at bay. However, on the whole, this latest surge of COVID-19 cases in the US looks more like a third peak than a second wave. The graph is like a roller coaster, each peak higher and more precarious than the last.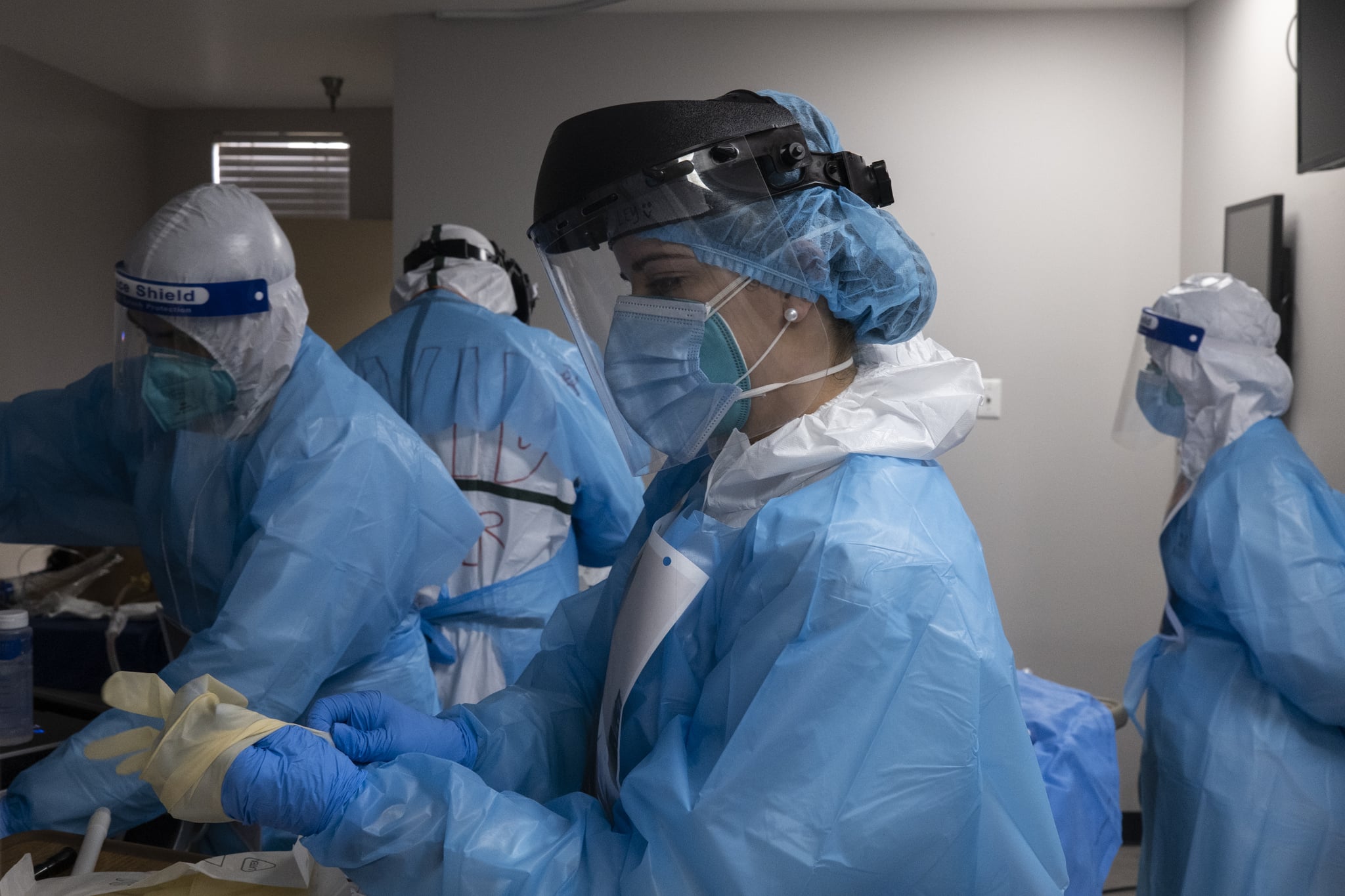 Image Source: Getty / Go Nakamura / Stringer
This third surge is particularly alarming because it's so widespread. While New York was once considered the epicenter of the outbreak in the US — followed by states like Florida, Arizona, and Texas — the virus now covers vast swaths of the country. In the past week, 36 percent of Wisconsin residents who were tested for COVID-19 were positive. The number of ICU beds that were being utilized at referral centers in Utah soared to 89 percent. North and South Dakota reported more deaths per capita than any other state.
There are field hospitals and mobile morgues popping up all over the country. More Americans are hospitalized now than at any point in the pandemic. And unlike past outbreaks, there are simply not enough healthcare workers who are unaffected for cities and states to send in reinforcements. "People were coming to us in our hour of need, but now the entire nation is on fire," Syra Madad, senior director of special pathogens at NYC Health + Hospitals, told The Atlantic. As a result of staff shortages, North Dakota's governor announced that the state would allow healthcare workers who were COVID-positive but asymptomatic to return to work.
At some point, Americans became desensitized to the struggles of doctors, nurses, and hospital staff — and also to the tremendous loss this nation has suffered. Between late January and early October, there were nearly 300,000 more deaths in the US than would typically be expected in the same time period. While only two-thirds of those were attributed to COVID-19, the rest were also likely tied to the pandemic. Some probably died with COVID-19 and their case simply went unreported; others may have died at home, unable to seek care for conditions like heart attacks or strokes. For perspective, even if you only count the deaths known to be linked to COVID-19, we've lost more Americans to this virus than several wars combined.
At some point, Americans became desensitized to the struggles of doctors, nurses, and hospital staff — and also to the tremendous loss this nation has suffered.
The country has also suffered economic losses. More than half of the 22 million Americans who lost their jobs at the beginning of the pandemic are still out of work. Millions of renters could soon be evicted. According to Feeding America, one in six Americans could face hunger as a result of COVID-19, with many already relying on food banks to feed their families. People are grieving their loved ones, their livelihoods, and the futures they had planned — and while some of these wounds will never heal, minimizing the pain starts with extinguishing the virus.
After months of failing to mount a national response to the pandemic, there are promising signs that the US could find its way out of this crisis. President-elect Joe Biden has appointed a COVID-19 advisory board of public health experts to help determine the steps his administration will take to curb the spread of the virus, while supporting businesses and families. He has urged Congress to pass bipartisan economic relief before he takes office. And he has plans to ensure that Americans can get vaccinated for COVID-19 at no cost, following the news that at least two vaccines have proven effective in clinical trials. But Biden's presidency and the rollout of a vaccine are months away. If the country continues on this course, Reuters estimates that there could be up to 13 million additional cases of COVID-19 and 150,000 deaths between now and inauguration day. This is an unprecedented crisis, and it calls for unprecedented sacrifice on the part of everyday Americans.
I know many will argue that COVID-19 isn't as dangerous now as it was in the spring. It's true that the death rate is declining among hospitalized patients as doctors become more nimble in treating the virus. But take it from someone who was left to decide for herself what constitutes "having trouble breathing" — treatment is only helpful if it's accessible. As flu season approaches, we're faced with the terrifying reality that there simply won't be enough beds to get people the help they need. Not if we don't also take steps to reduce the spread. By now, we all know what those steps must be. Stay home as much as possible. Wear a mask. Practice social distancing. Avoid gathering indoors with anyone outside your household, especially to eat or drink when masks can't be worn.
The US could very well be headed for another lockdown — but with stay-at-home orders already being challenged in court, we shouldn't rely on government mandates to do the very necessary work of protecting our communities. In fact, if a mandate would significantly change the way you're living, beyond going to work every day, it's time to examine whether you're part of the problem. There is nothing admirable about refusing to live in fear when it comes at the cost of others suffering. What Americans choose to do in the coming weeks will define who we are as a nation — and I, for one, am on the side of protecting the most vulnerable, by any means necessary.