Does Prince Charles Like Kate Middleton?
When It Comes to Kate Middleton and Prince Charles's Relationship, It's Complicated
The Duchess of Cambridge has a long history with the royal family, having dated Prince William for eight years before their engagement in 2010. They've since been married for another seven years and have three children, who are all heirs to the British throne. In her nearly 16 years of involvement with the famous family, Kate Middleton has forged solid relationships with other royals, including her brother-in-law Prince Harry and Prince William's cousins Princesses Eugenie and Beatrice. But it seems her bond with her father-in-law, Prince Charles, hasn't been so seamless.
After Prince William and Kate's engagement, Prince Charles commented that he was "thrilled" and "delighted" about the news, while Kate shared that Prince Charles had been "very, very welcoming and very friendly" to her. But around the same time, there were reports that it was Prince Charles who urged William to either call it off or pop the question — a move that some say Camilla instigated because she wasn't keen on Kate joining the royal ranks. By other accounts, there was so little family drama that Camilla actually gifted Kate a personalized bracelet for the wedding.
Regardless of what was really going on, rumors of trouble between Kate and Prince Charles continued well after the Westminster Abbey nuptials.
In his unauthorized biography, Rebel Prince: The Power, Passion and Defiance of Prince Charles, author Tom Bower alleged that Prince Charles felt threatened by Kate and William and was worried that he was being overshadowed by the young couple. And later, after the births of Prince George and Princess Charlotte, Charles was reportedly angry that the Middletons seemed to be the favored grandparents and spent so much time with his grandchildren. Bower even claimed that because of this, Prince Charles intentionally slighted Kate's mother, Carole, at royal events.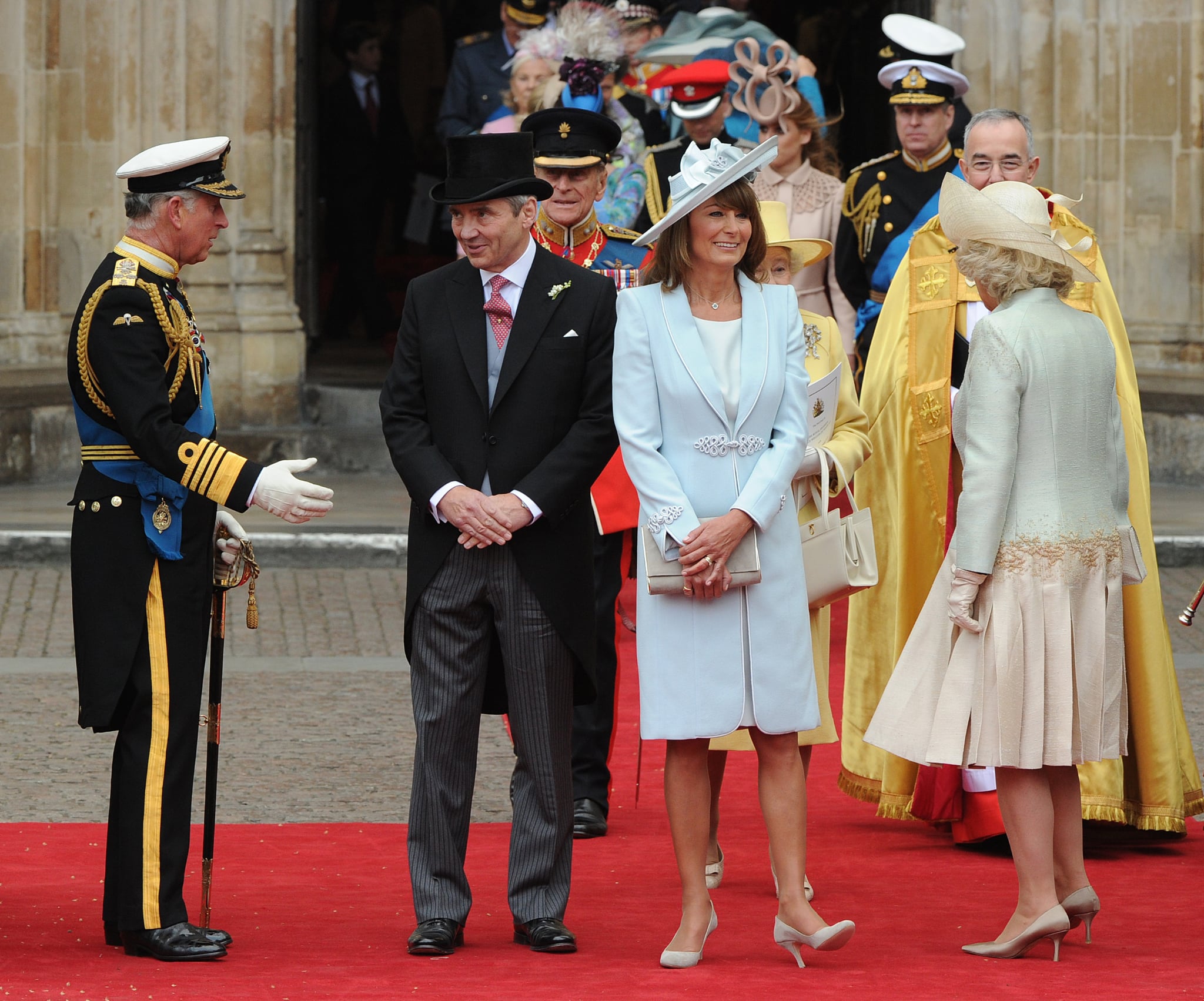 Despite the rumblings, there's evidence to support journalist Catherine Mayer's opinion that reports of tension are simply the British press "wanting to create stories where there aren't necessarily stories." For starters, Prince Charles was photographed kindly greeting the Middletons after the royal wedding (pictured above), and less than a year later, at a visit to the Prince's Foundation for Children and the Arts, he and Kate appeared comfortable and friendly, even laughing together as they worked on a craft project (pictured below).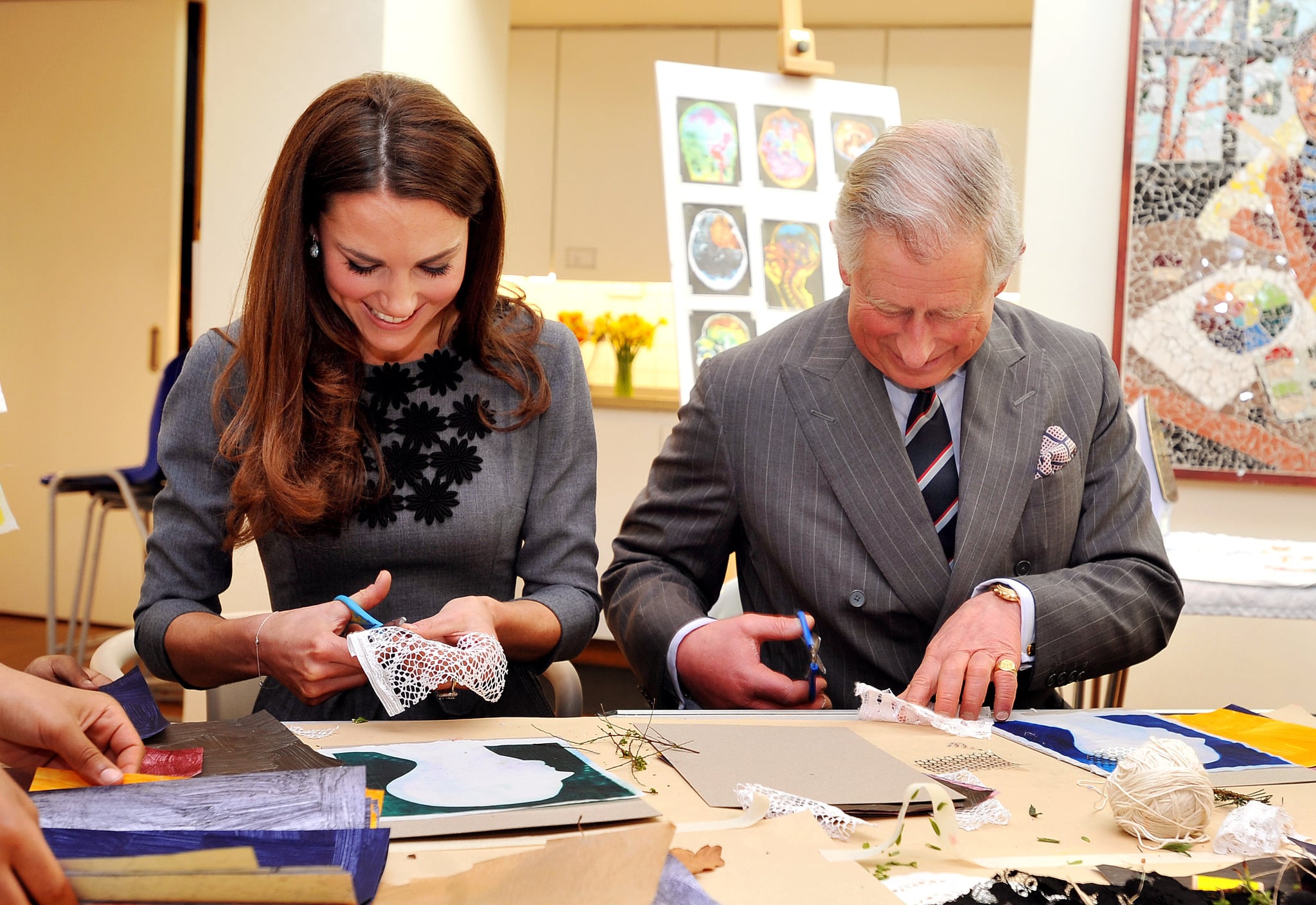 Other photos from the years since seem to show a growing bond between Kate and her father-in-law, who often greet each other with hugs and cheek kisses and appear to engage in friendly conversation during outings. Yet one has to assume that their status is, at least somewhat, impacted by the relationships between Kate's husband and his father, as well as his wife, Camilla. There have been recent reports (and subsequent denials) of a strained relationship between Prince William and Prince Charles but other accounts that suggest Prince William now has a warm connection with Camilla, confusing the family dynamic further.
All of this to say, when it comes to Kate's relationship with Prince Charles, it's complicated. On one hand, it's natural to want to believe that there is at least some truth to the rumors, and on the other, you could chalk it all up to groundless gossip. Take a look at Kate and her father-in-law interacting over the years ahead and decide for yourself.