Anatomy of a Royal Engagement: Behind the Scenes of Harry and Meghan's Big News
It's the news that royal fans have been waiting 392 days to hear: Prince Harry and Meghan Markle are engaged! Just over a year after their relationship became public in October 2016, the office of Harry's father, Prince Charles, made the announcement. Behind the simple statement of "His Royal Highness The Prince of Wales is delighted to announce the engagement of Prince Harry to Ms. Meghan Markle" lies a long list of to-dos that needed to be ticked off before the news was made official.
Meeting the Parents
In order to get to the point where an engagement was possible, the couple needed to rack up a few milestones so that everything could be deemed "proper." One of the most important was meeting each other's families. It's likely that Harry met Meghan's mother, Doria, during one of his visits to stay with Meghan in Toronto, while for Meghan it was about meeting Harry's brother, William, his father, Prince Charles, and his grandmother the queen. Meghan revealed in their engagement interview that she has spent lots of time with William and Kate over the past 18 months and accompanied Harry to meet up with Prince Charles a handful of times as well. It was reported that she then met the queen for the first time in September at Buckingham Palace.
A Few Formalities
In conjunction with the usual signs of a relationship getting serious — such as meeting each others' families — royal status calls for a couple of formalities to be taken care of too. It's likely that since the relationship has, from the beginning, moved along at a brisk pace, Harry and Meghan would have discussed marriage before Harry proposed, and when they knew they were heading very firmly in that direction, they made their first public appearance, when Meghan accompanied Harry to various Invictus Games events in September.
They will have needed to wait a while rather than rushing into marriage, too. In the past, royal relationships have been a bit of a whirlwind: Princess Anne, Prince Charles, and Prince Andrew all married when they had been dating for just one year, but after those three marriages all ended in divorce, it's likely that Harry would have been strongly advised to wait until at least the one-year mark before proposing — meaning that by the time he and Meghan marry next Spring, they will have been together for two years. As their relationship became serious, Meghan would have also had palace advisers on hand to brief her on her shifting profile.
The Royal Seal of Approval
Once Harry had decided to to ask Meghan for her hand in marriage, he was faced with something of a royal obstacle course that lay between his proposal and his wedding day. First up: getting permission from the queen. The Royal Marriages Act of 1772 means members of the royal family need permission from the monarch in order to marry, and although these days it's more of a formality, it still needed to happen. Her majesty's permission comes in the form of an Instrument of Consent, which is written out in ornate calligraphy and marked with her red wax Seal of the Realm.
Permission From the Bride-to-Be's Parents
Tradition dictates that any potential husband-to-be should ask for permission to marry from the parents of his intended, and although this practice is now pretty relaxed, Harry would want to do things "properly" — and the announcement from the palace stated: "Prince Harry has also sought and received the blessing of Ms. Markle's parents." It isn't yet known whether this occurred before the proposal — as is tradition — or afterward, which is what Prince William did when he proposed to Kate Middleton. His reason? As he revealed in his engagement interview, "I was torn between asking Kate's dad first and then the realization that he might actually say 'no' dawned upon me. So I thought if I ask Kate first, then he can't really say no. So I did it that way round. I managed to speak to Mike soon after it happened really and then it sort of happened from there."
Choosing the Ring
Selecting an engagement ring is never going to be easy for a husband-to-be, but in Harry's case, there was a whole other layer of considerations, as royal engagement rings are usually steeped in history and personal meaning. When his grandfather Prince Philip proposed to the queen, he used a ring made up of diamonds from a tiara which had belonged to his mother. When Prince Charles proposed to Camilla Parker-Bowles, he selected a ring that had belonged to his grandmother, the queen mother, and when William proposed to Kate, he of course chose Princess Diana's iconic 12-carat sapphire. By selecting two diamonds from Diana's collection for the ring he helped design, Harry clearly wanted to continue the family tradition.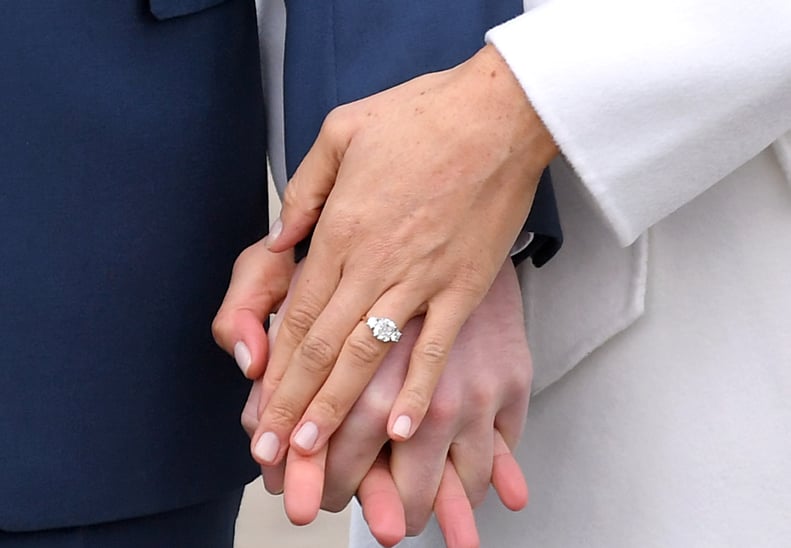 Telling Friends and Family
Although they like to keep their happy news to themselves for a while, there are certain people the royal couple tell before the news becomes public. Immediate family and very close friends would have been on Harry and Meghan's list.
Informing the Prime Minister
It was reported that Prime Minister Theresa May had been informed a week before the royal engagement, and it is usually protocol to inform the sitting PM. On the day the news broke, Theresa tweeted, "I would like to offer my very warmest congratulations to HRH Prince Harry and Meghan Markle upon their engagement. This is a time of huge celebration for two people in love and, on behalf of myself, the Government and the country, I wish them great happiness for the future."
Official Engagement Portraits
Having formal engagement photos taken in a private setting is common practice among senior royal family members. They are usually taken before the announcement so that they can swiftly be supplied to the press to quell the demand for perfectly posed pictures of the couple — and in them, the couple is likely to be more relaxed and polished than they are at their press call.
Breaking the News
It's traditional for the parents to break the news, and in both William's and Harry's cases, the announcement came from Prince Charles's office at St. James's Palace. Simultaneously, the announcement was made across all royal social media platforms.
Stepping Into the Spotlight
The final part of a royal engagement process is that the couple get suited and booted to meet the world's media during a press call. For the queen and Prince Philip, it was at Buckingham Palace; for William and Kate, it was at St. James's Palace; and for Harry and Meghan, it was in the gardens of Kensington Palace. As was the case with William and Kate and Harry and Meghan, a television interview was recorded directly afterward with someone already known to the couple. Once the engagement itself is done and dusted, it's simply on to the small matter of planning a royal wedding.