Drew Barrymore Timothy Olyphant Santa Clarita Diet Interview
How Drew Barrymore's Gore-Filled Zombie Sitcom Became 1 of TV's Most Relatable New Shows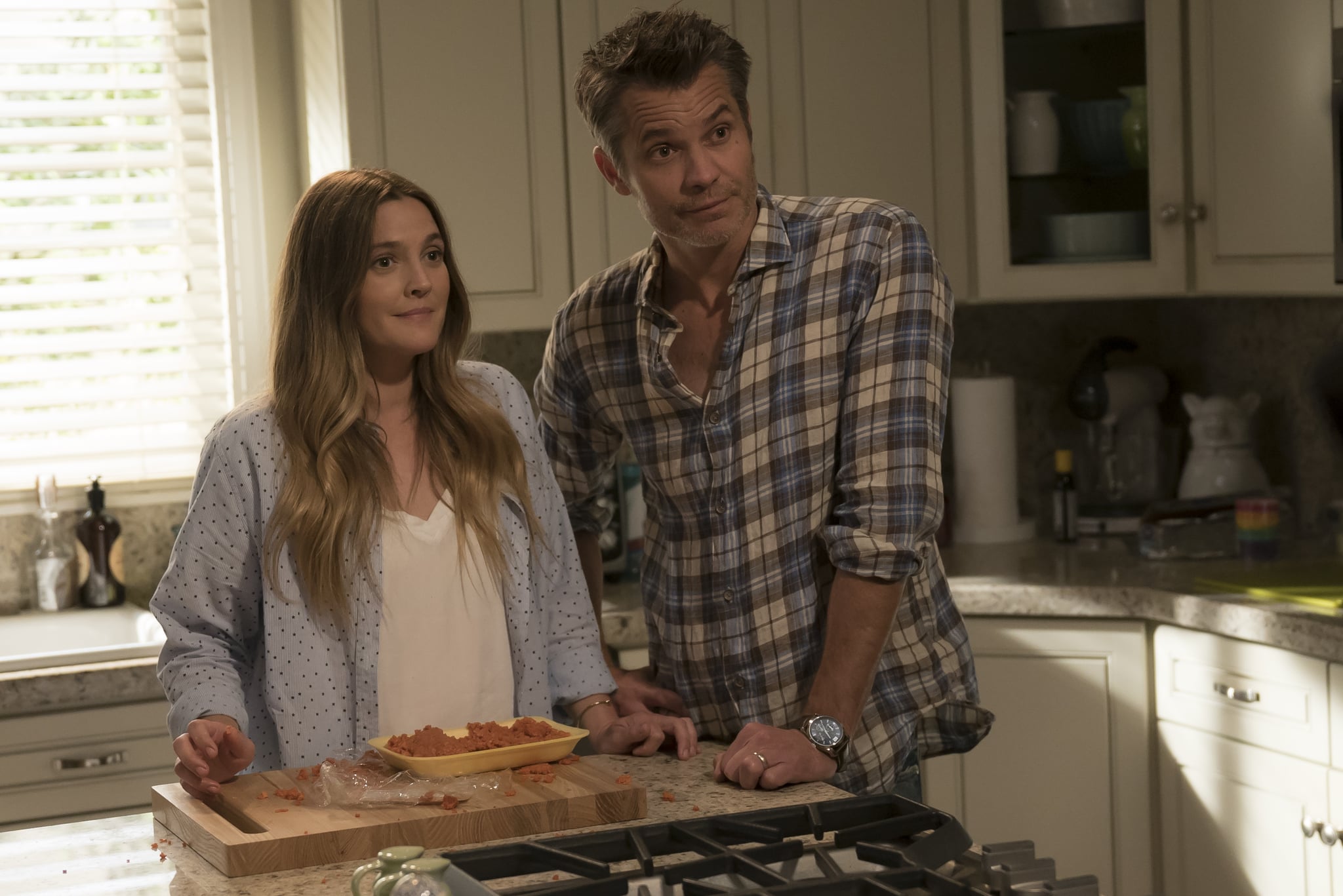 Drew Barrymore is into werewolves.
In a small, dimly lit hotel room in New York City surrounded by a group of reporters, she brushes her perfect California-girl beach waves over one plaid-shirted shoulder and smiles while revealing her preference. "Something about a werewolf gets me hot," she laughs. "Sorry, that came out wrong."
It's a sentiment that might sound bizarre coming from any other actress, but much like everything else that comes tumbling out of Barrymore's mouth, it's utterly and disarmingly charming. A similar thing can be said about her new Netflix show, Santa Clarita Diet, which somehow transforms a seemingly ridiculous story about a woman who turns into a zombie (of sorts) into a delightful, incredibly disgusting, and feminist half-hour of television.
Sitting at the room's small table, Barrymore is flanked by the show's creator, Victor Fresco, and her onscreen husband, Timothy Olyphant, who is more of a vampire guy himself, if you were wondering. "Lady vampire sounds kind of sexy, but Victor sort of turned the zombie thing on its head here," he says. "Maybe after a few years people will be like, 'Hey, I'm really into zombies.'" If you've already binged your way through Santa Clarita Diet, the idea of a sexy zombie shouldn't sound too insane.


"She's like, 'I can parallel park in one move, mother*cker!'"
Barrymore plays suburban real estate agent Sheila, who has found herself and her marriage to her sweet and devoted husband Joel (Olyphant) in a rut. Then, following a sudden and vomit-heavy transformation, Sheila realizes she's become a member of the undead, with a twist. Fresco's take on zombie lore sees Sheila now ruled by the impulses of her id, which results in her feeling much more energetic and empowered, despite her newfound craving for human flesh. "Because again, she's not the [traditional] type of zombie," Barrymore says, sticking her arms straight out and groaning in a parody of Hollywood's usual brain-hungry monsters. "She's like, 'I can parallel park in one move, mother*cker!'"
The show's depth in regards to feminism might come as a surprise, since a people-munching realtor isn't necessarily the most obvious choice for female empowerment. But it works, and Sheila's strong sense of self is something Barrymore holds especially dear. It's something which she has been happy to speak about at length since the show premiered on Feb. 3, openly noting that she used Sheila as a form of catharsis following her divorce from husband Will Kopelman last year.
At a Netflix panel for the show the day before our interview, Barrymore touched on how Santa Clarita Diet not only gave her an outlet, but a "safe place" to spend a Summer when it felt like her entire life was falling apart. "I really was excited about playing a woman who was becoming empowered, losing weight, pulling her sh*t together, finding a new confidence, finding that when your life really does fall apart, you don't ditch everything in it," she said. "It's not like everything goes away. You have to become you and take all the wonderful things in it and just find these new roads."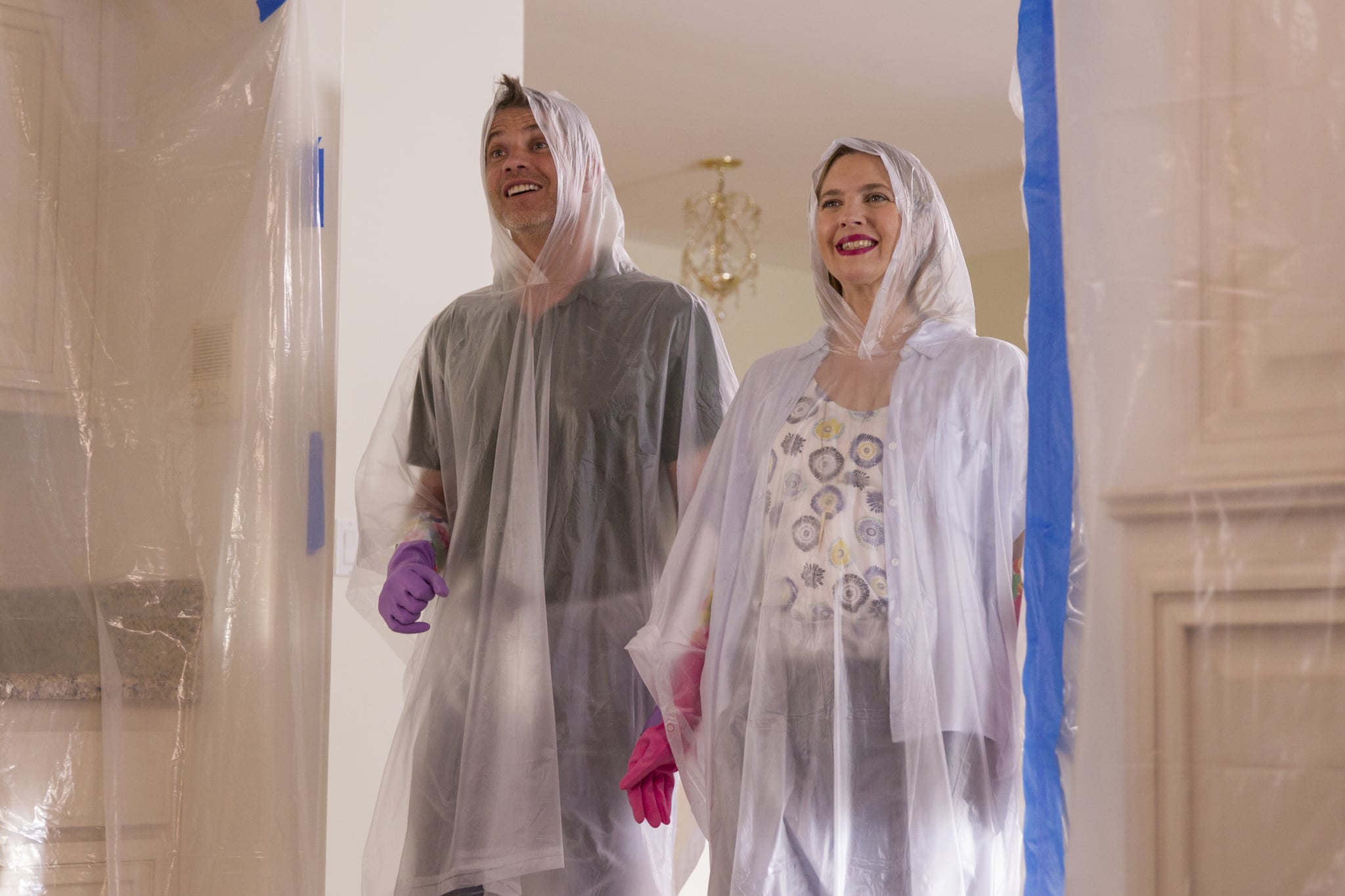 One of the things that makes Santa Clarita Diet work so well is Barrymore's unrepentant glee at playing Sheila, whose insatiable appetite for sex with Joel, cursing out strangers, and buying a Range Rover she's been coveting (and, OK, also eating people) is ridiculously entertaining to watch. Each episode has heart, too, and not only the ones Sheila puts in a blender so she can enjoy a gore-filled smoothie while power walking around the neighborhood with her friends. Olyphant's character, the straight man to Barrymore's impulsive Sheila, is a grounding force while still keeping the laughs coming. It's a bit of a departure for the actor, whose most recent characters in things like Justified and Snowden have skewed much darker. When everyone else is running off to make TV's next hit prestige drama, what made him do a 180 and play someone like Joel?
"I knew when I was reading it that it was a much different type of role than I usually played," Olyphant says, coolly sipping from his latte without any of the skittishness his character can't seem to shake. "Once I got involved, it was about making sure we created a character that you understood why he was in a rut and why he was sort of so passive in the relationship and so fearful of this change. I felt like, as the show went, we all did a good job of making it so three or four episodes in, he became an understandable, relatable [guy]."
"I don't want to watch dark sh*t, I don't want to be in dark sh*t, and I don't want to put dark sh*t out there."
There's a moment early on in the show when Joel, who wants to aid Sheila through her transformation but is also in the midst of mourning the woman his wife used to be, gulps down his fear to help her. "We're going to kill people, sweetheart," he tells Sheila. "We're going to kill people so you can eat them. . . . I'm not going to bail on you." Not only is the show fiercely feminist, but when you cut through the severed limbs and blood spatter, it also showcases a marriage stripped of the usual husband-wife nagging sitcoms are so fond of. "We're a good partnership," Barrymore says. "It's nice to see people excel as a couple. I'm so sick of everyone f*cking failing, fighting, and falling apart. . . . I don't want to watch dark sh*t, I don't want to be in dark sh*t, and I don't want to put dark sh*t out there. I hate negativity; I want to be optimistic, problem-solving, and solution-oriented, and I want to make people happy."
Frank and Claire Underwood they are not. But only time will tell if this sitcom will become a cult favorite, like many of Fresco's former shows (Better Off Ted, My Name Is Earl), or follow in the footsteps of the Underwoods' massively popular House of Cards, scoring a multiseason pickup at Netflix. It seems like a second season is more than likely, though. How could they not with the way it ends, right?
"I loved the ambiguity of the cliffhanger and the line, 'Maybe next week we'll both be free.' Those words left on this dot, dot, dot, that was a little trance-like, a little weird, a little f*cked up, a little cool," Barrymore tells us. "I think ambiguity sometimes can be very annoying and unsatisfying, and sometimes it can be a nice 'on to the next day,' which is what most people also have to face in their everyday life. Like, life is good, life is insane, but there's always a next day."
Unless an undead real estate agent gets her hands on you, that is.