Let's Revisit All the Drama From "Bridgerton"'s Season 1 Finale
Are our corsets a little tight, or did season one of "Bridgerton" just have us holding our breath? The Shondaland-backed Netflix period piece ended its debut in 2020 with a grand finish, suffice to say. The first season bestows a handful of characters with bliss and others with devastating heartbreak, but the story doesn't end there! Season two, which premieres on March 25, picks up with Daphne Bridgerton's (Phoebe Dynevor) brother, Viscount Anthony (Jonathan Bailey), who's searching all over London for his bride-to-be. It will also answer some of our looming questions as to what's going on with the rest of the Bridgerton clan and the Featheringtons.
Ahead of season two's premiere, Netflix released a fun video of the "Bridgerton" cast recapping all the biggest happenings from season one. "With season two fast approaching, we thought it would be prudent to provide you all with a quick recap of what has transpired so far," Bailey says in the clip. So in honor of Lady Whistledown's astute and rigorous observations, let's don our fanciest wigs and rehash everything that went down in "Bridgerton"'s season one finale!
01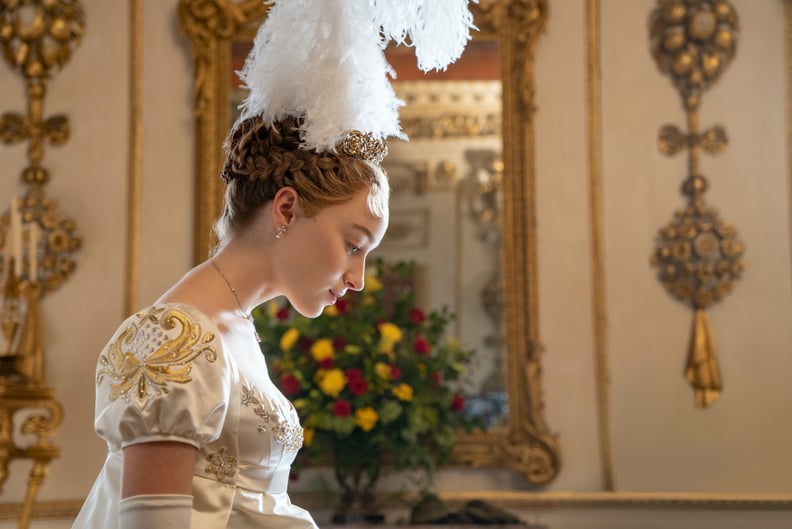 What Happens to Daphne Bridgerton in "Bridgerton"'s Season 1 Finale?
Simon Basset, the Duke of Hastings (Regé-Jean Page), has planned to separate from Daphne Bridgerton (Phoebe Dynevor) should she get her courses (aka her period). Lo and behold, she gets her courses. While still clearly in love, they put together the final ball of the season as their last hurrah. As she coordinates the party, Daphne comes across her husband's childhood letters to his father and speaks with Lady Danbury (Adjoa Andoh) about Simon's past. The ball starts off splendidly, then rain pours down on the guests. Daphne has a moment of clarity and professes her love to Simon, Meredith Grey-style.
02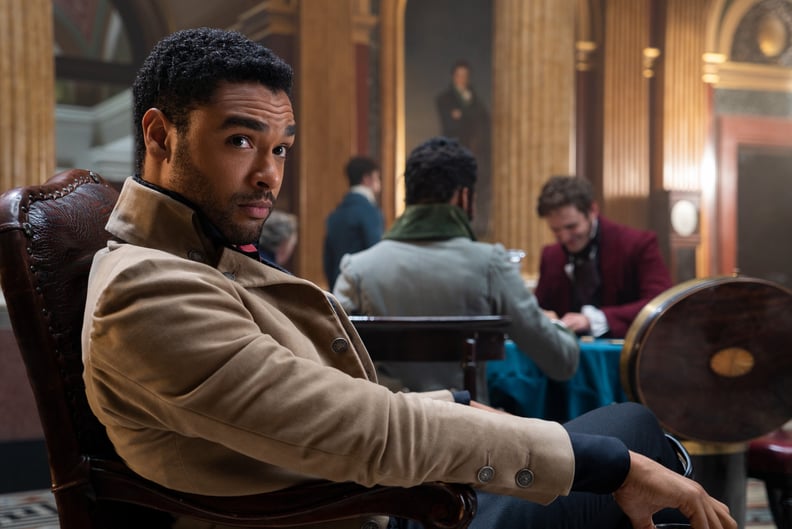 What Happens to Simon Basset in "Bridgerton"'s Season 1 Finale?
Simon entertains Daphne one last time by welcoming her sister Francesca (Ruby Stokes) home and throwing the season's final ball. Before everything unfolds, he goes to the match to support Will Mondrich (Martins Imhangbe), who's in cahoots with Lord Featherington. Simon figures out that Will lost deliberately and expresses his disapproval, so we'll have to see if Will faces any consequences for the questionable scheme.
After the party, Simon confesses to Daphne that he doesn't want to be alone. They hook up once more. This time, Simon doesn't — there's no delicate way to put this — pull out. Fast-forward some time after their steamy shenanigans, Daphne gives birth to their son. Simon seems more than elated, suggesting that they honor the Bridgerton alphabetical naming tradition by giving him a name that starts with the letter A.
03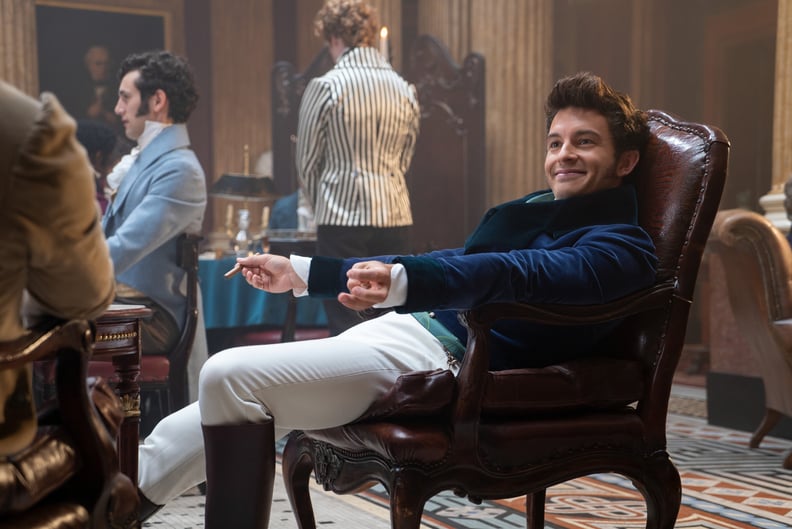 What Happens to Anthony Bridgerton in "Bridgerton"'s Season 1 Finale?
Anthony Bridgerton (Jonathan Bailey) and his lover Siena Rosso (Sabrina Bartlett), a popular soprano, have a hot hookup session under the bleachers at Will's match. While they're in bed together, Anthony invites her to Daphne's ball. When he comes to pick her up, she's with another man and rebuffs his advances, saying that he's lost and that she would rather look after herself. As everyone bids Colin Bridgerton (Luke Newton) farewell before his travels, Anthony announces his plans to find a wife, albeit with no intentions to find love. Oof.
04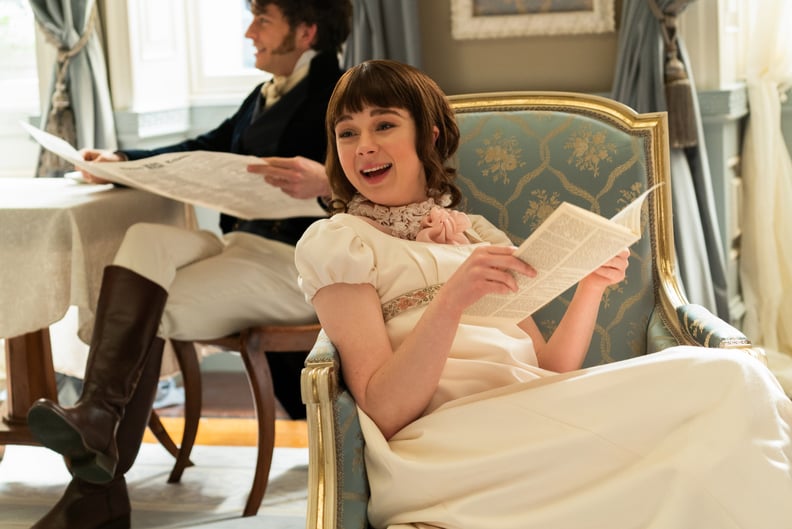 What Happens to Eloise Bridgerton in "Bridgerton"'s Season 1 Finale?
The headstrong and intellectually inclined Bridgerton sister believes that she's finally tracked down the mysterious Lady Whistledown. As Eloise Bridgerton attends her sister's ball, she learns that Queen Charlotte (Golda Rosheuvel) has hired people to end Lady Whistledown after figuring out where and when she drops her scandal-sheet drafts. Eloise intercepts, and Lady Whistledown lives to see another day. Only, Whistledown isn't Genevieve Delacroix (Kathryn Drysdale) as Eloise previously suspected. More on her identity very soon!
05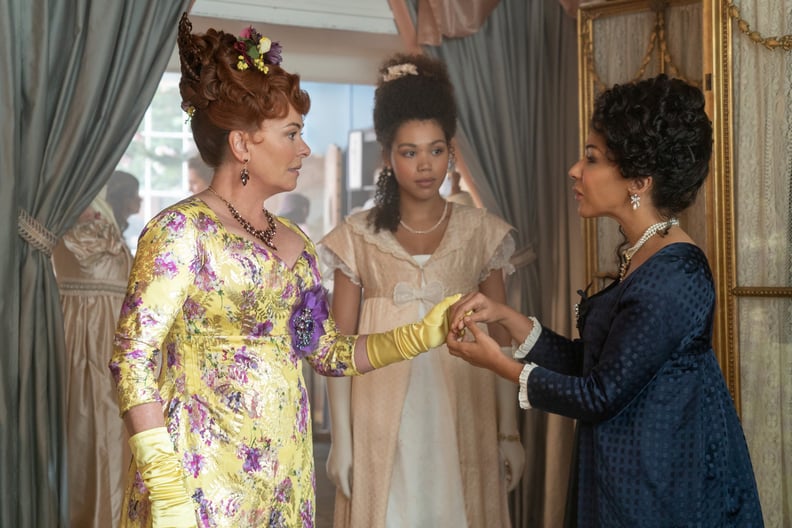 What Happens to Marina Thompson in "Bridgerton"'s Season 1 Finale?
Marina Thompson (Ruby Barker) learns that her lover George Crane has died in combat when his brother Phillip (Chris Fulton) pays her a visit at the Featheringtons'. At first, she declines Phillip's offer to marry her. However, Marina finds out that she's still pregnant despite trying a sketchy tea concoction to end her pregnancy. At the very end, the Featheringtons' distant cousin takes Phillip up on his offer.
06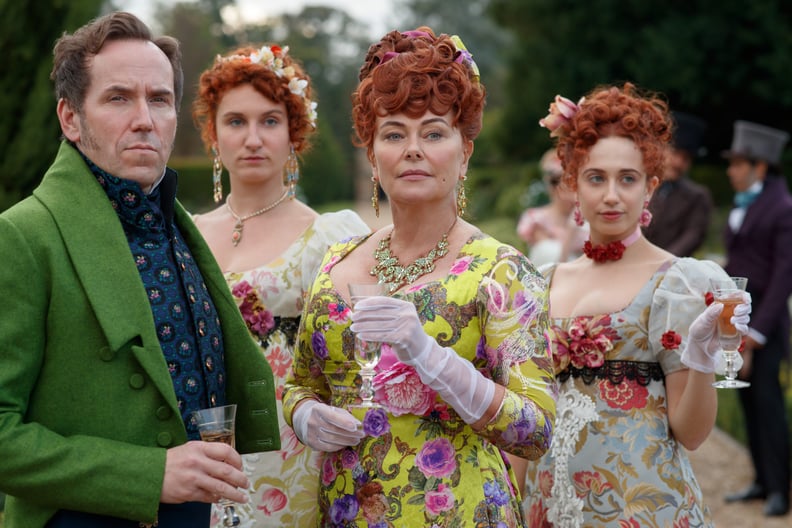 What Happens to Lady Featherington in "Bridgerton"'s Season 1 Finale?
The Featheringtons, at first, regain their footing in society after Lord Featherington (Ben Miller) brings home a bunch of money following his betting win at Will's match. However, the people who cut Archibald his deal find out that he rigged Will's loss and kill him. Portia Featherington (Polly Walker) discovers her husband's death after the ball, and she's devastated, despite showing little affection for her late husband all throughout. On the financial side of things, the Featherington estate will now go to another man.
07
What Happens to Penelope Featherington in "Bridgerton"'s Season 1 Finale?
At the ball, Penelope Featherington (Nicola Coughlan) comes close to confessing her love for Colin, only to learn of his plans to travel. She then returns home to discover her father's untimely death. Suffice to say, she's dealing with a lot at the moment.
All of that considered, there's even more to Penelope than meets the eye. Eloise finds out that Madame Delacroix was with her brother the night of the ball, which debunks her theory about Lady Whistledown. A flashback to when Eloise intercepts the queen's people reveals that the elusive Lady Whistledown is none other than Penelope.
08
Watch the "Bridgerton" Cast Recap Season 1