5 Trainers on the Resistance-Band Exercises They Recommend Over and Over Again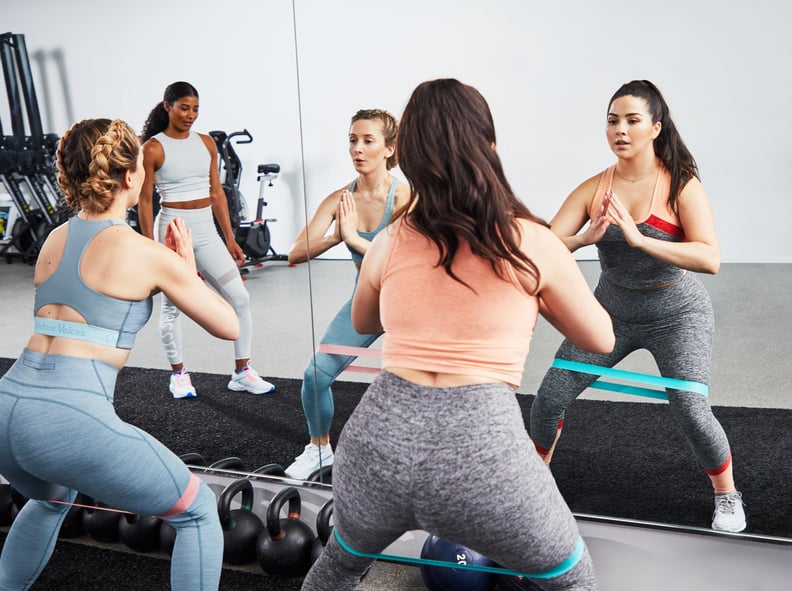 POPSUGAR Photography | Matthew Kelly
Free weights have loads of benefits when it comes to strength training, but resistance bands can offer an inexpensive and versatile way to hit both larger and smaller muscle groups at the same time. Plus, research published in the Journal of Electromyography and Kinesiology found that resistance bands can provide more neuromuscular fatigue — which ultimately ends up strengthening muscle fibers over time — than exercises that use only isometric contractions like squats or planks.
Here, trainers share their favorite resistance-band exercises to help you get both a stronger upper and lower body. Check out these resistance bands if you don't have one already. Since they're so cheap, you may want to purchase both kinds: a loop resistance band, as well as a traditional one with handles.
01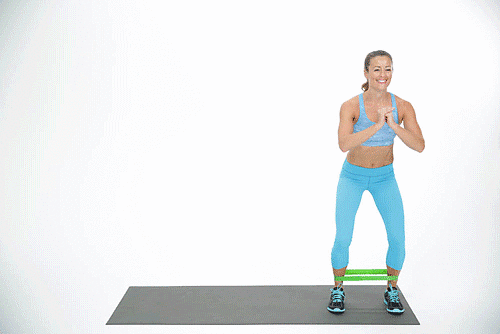 Banded Lateral Walk
"Banded lateral walks (also called monster walks) really sculpt the glutes medius, the muscles at the side of the hip," Elizabeth Skwiot, PhD, an NASM-certified personal trainer and founder of Cirque-It Fitness, told POPSUGAR. "It's a great idea for everyone to spend some time on these muscles since they don't get worked much in everyday life. This move can also help prevent injuries resulting from muscle imbalances while shaping the glutes."
Place a loop resistance band below the knees. Or, if you're using a traditional resistance band, step in the center with both feet, cross the ends, and hold one handle in each hand.
Get into a squat position as you take four steps to the right, then four steps back to the left. Make sure to keep tension in the band the entire time.
Repeat three times for one full circuit. Complete the circuit three to four times.
02
Resistance Band Squat to Overhead Press
Sarah Pelc Graca, an NASM-certified personal trainer and founder of Strong With Sarah, recommends using a resistance band in place of dumbbells for this exercise to work your legs, arms, core, and glutes all at the same time.
Stand in the center of a traditional resistance band with legs just slightly wider than hip-distance apart, holding on to each handle next to your shoulders.
Keeping tension in the resistance band, do a squat.
Straighten your legs while raising both arms into an overhead press.
Repeat eight to 10 times for one circuit. Take a brief rest and repeat the circuit three times.
03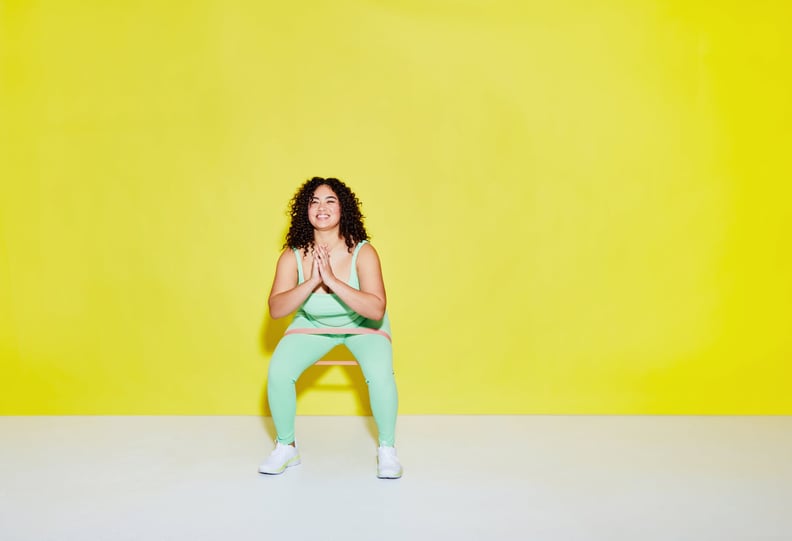 Resistance Band Jump Squat
Once you've mastered the beginner exercise below, step it up a notch with this advanced move from CJ Hammond, a certified personal trainer for RSP Nutrition and owner of sports performance gym Fit Legend. Take a traditional resistance band and loop it underneath your armpits, holding on to the band in the front like a backpack. The handles of the band should be attached to a squat rack or other high anchor point above your head. Move back from the anchor point until there is tension in the band and jump as high as you can, landing in a controlled squat position. Use the band for assistance to make this exercise more explosive and work muscles more efficiently.
Place a loop resistance band above the knees around your thighs. Stand with feet shoulder-width apart.
Do a squat and engage your core as you jump up.
As you land, lower back into a squat, making sure your feet land gently, both flat on the ground.
Perform 10 reps for one complete circuit. Repeat the circuit three times.
04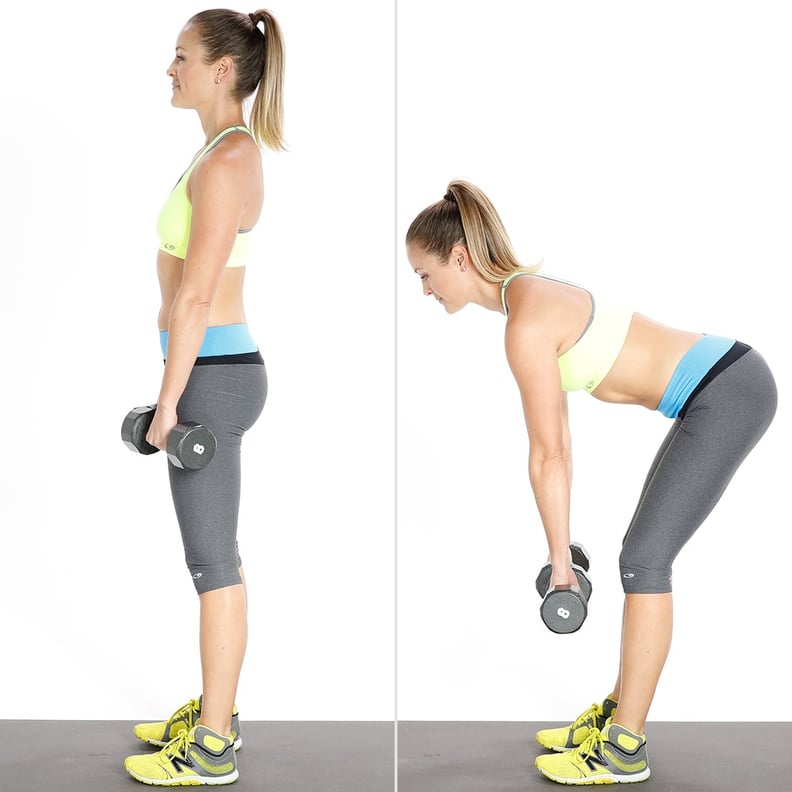 Resistance Band Deadlift
"This deadlift exercise is fantastic as a full body exercise and works the entire kinetic chain," Bente Smart, an NASM-certified personal trainer and manager of CRUNCH Fitness in Burbank, CA, told POPSUGAR. "It's a great focus for glutes, hamstrings, and abs."
Stand with both feet on a traditional resistance band, about hip-width apart, pulling the band tight. Hold one end in each hand by your sides, palms facing in toward each other.
Keeping a soft bend in your knees, hinge forward at the hips and push your butt back as you fold your torso forward. Stop when your torso is just above parallel to the floor. (Depending on your hamstring flexibility, you may not be able to lower that far.)
Drive your hips forward as you lift your torso back up, squeeze those glutes, crunch the abs, and return to the starting position.
Perform eight to 10 reps for one complete circuit. Do the circuit three to four times.
05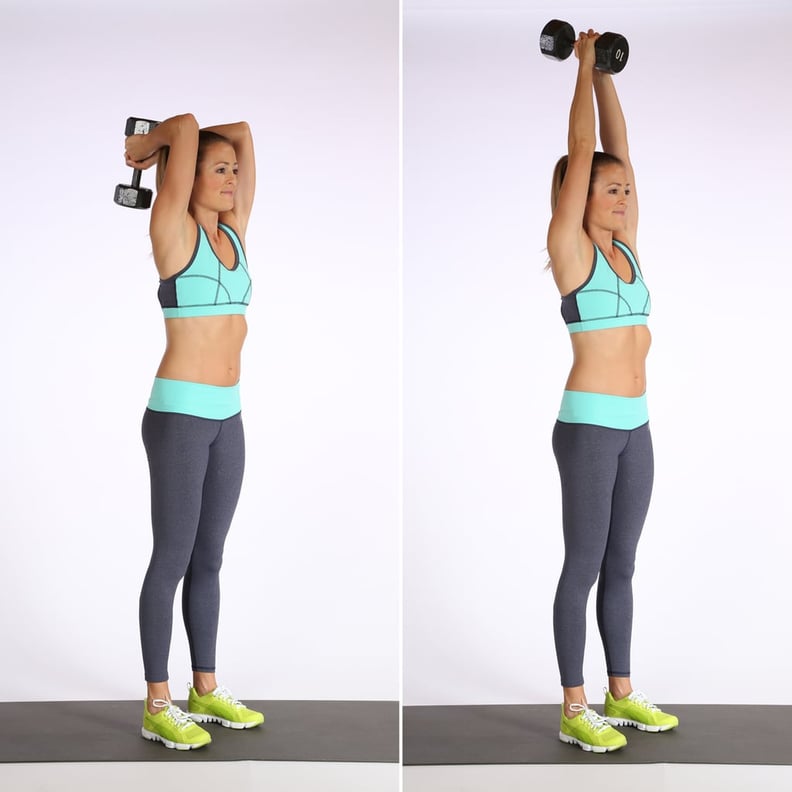 Resistance Band Triceps Extension
This exercise not only helps to increase strength, but it also works on your range of motion more so than using a pair of dumbbells would, Dimitris Triantafillopoulos, master personal trainer and manager of CRUNCH Fitness in New York City, told POPSUGAR. You can also start with a standard resistance band triceps press before trying this one.
Stand with one foot slightly in front of the other and place the center of the band under the back foot.
Bring handles together straight up above the top of your head.
Slowly lower handles behind the back of your head until elbows are bent 90 degrees, keeping elbows close to the side of your head. Press hands back up overhead slowly.
Perform eight to 10 reps for one complete circuit. Do the circuit three to four times.