My Favorite Peloton Instructors for Every Cycling Workout
I Bought a Peloton, and These Are the Instructors I Bookmarked For My Rides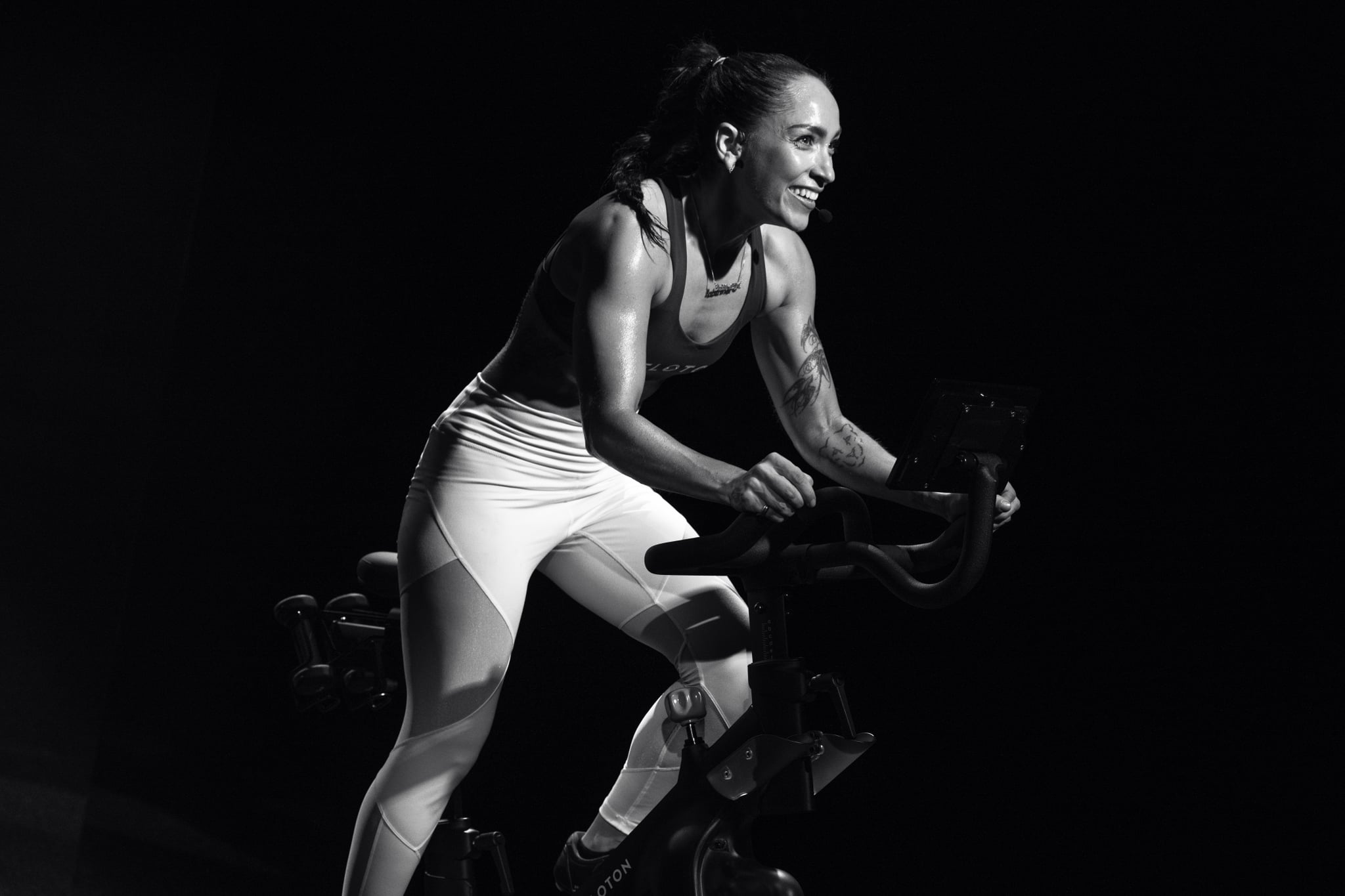 My decision to purchase a Peloton was influenced by so many factors — and it took months of deep thinking, budgeting, number crunching, and questioning to finally add it to my cart. Would I use it? Would I like it?
Seconds into a 30-minute Hip Hop class with Robin Arzón, I could confirm the answer to both of those questions was a resounding yes. It was love at first ride.
I've had my bike for nearly two months now, and hopping in the saddle before work is still my favorite part of the day. I feel stronger, calmer, and motivated to meet my goals and continue my fitness journey — and I owe a lot of that to the inspiring words of wisdom, encouragement, and guidance from Peloton's amazing instructors.
I admittedly haven't tried classes with every trainer or every type of class that Peloton offers (though both are on my to-do list!), but I've already discovered many of my go-to trainers for various ride categories. From Intervals and Arms to music-themed workouts, here are the instructors I regularly turn to (so far!) for my morning sweat.
Intervals and Arms
On days where I want to add weight training into my rides, taking an Intervals and Arms class is a no-brainer — two minutes of nonstop triceps kickbacks with three-pound weights followed by bursts of pedaling speed will bring the burn!
I typically turn to Robin Arzón for these classes because I find her instruction to be very clear — and I love that she encourages riders to continue their strength-training journeys off the bike.
Tunde Oyeneyin is another one of my favorite instructors for Intervals and Arms. During my very first class with her, I was struggling to keep up with the intervals — like, nowhere even close to hitting the suggested cadence. But, her constant encouragement kept me moving until the very end, even if I couldn't manage the heavy resistance the entire time.
HIIT
When I'm feeling brave enough for a Peloton HIIT ride (and I usually have to hype myself up for it), I click into an Olivia Amato class. Her high-energy playlists are key for getting me in the mood to move. Forty-five minutes of HIIT is daunting, even when you're halfway through the class, but her cheers of "yes you can!" and clear directions keep me calm and focused.
I can always count on Alex Toussaint for an awesome HIIT ride, too. I find that he really encourages riders to focus on warming up — mentally and physically — for all the intervals, runs, and pushes ahead in the class. And when I get off the bike from an Alex Toussaint class, I am literally drenched in sweat.
Groove
I was never a huge fan of choreographed cycling classes — until I took a Groove class with Cody Rigsby. I found a newfound appreciation for tap-backs and jumps to the beat of the music, which shouldn't be too surprising because the instructor used to be a professional dancer. The class also seemed to fly by. For the record, I love Cody Rigsby as an instructor in any Peloton class — seriously, if you're having a bad day, his positive energy can help turn it around.
Music
If you love a throwback '90s playlist or any 2000s jams, I highly suggest taking Cody Rigsby's rides — the Britney Spears songs have always shown up at just the right time. Hannah Frankson is another one of my go-to instructors for 2000s rides.
All of Ally Love's themed music classes shine here — I love the personal anecdotes she shares when throwback songs come on. I also find her to be incredibly motivational and uplifting. She literally makes you feel like you're in a 1:1 studio class; like you've known each other for years. And when over 50,000 people have taken one 30-minute class, that's a pretty impressive skill.
Low-Impact Rides
My knees can't always handle classes that call for a ton of standing and pedaling — that's where Ben Alldis's expertise comes in. Try this genre for a reminder that you don't need a constant 95 cadence, or ton of jumps, in order to get in a good workout.
The first low-impact class I took with Alldis was only a 15-minute ride. In the warmup, he discussed that the ride was a good selection for those days when you need a break from ultra-challenging workouts or when you're nursing an injury (though you should get your doctor's approval first!). He explained that, sometimes, pulling back the intensity on one ride could help you feel better on your next advanced ride. And the term "low-impact" doesn't mean you won't get sweaty, either. While I didn't feel exhausted, I worked up a sweaty glaze and could feel my heart rate picking up — it was the perfect complement to the 20-minute Full Body Strength Workout I did with Robin Arzón earlier in the morning.
Click here for more health and wellness stories, tips, and news.
Image Source: Peloton