5 Fitness Challenges to Try While Working Out at Home
Navigating your new workout normal from home is a great time to reimagine your fitness goals.
Rethink what it means to work out in a group by completing a social media fitness challenge, and nominate your friends to do the same.
Or, look within and commit to a personal milestone you never dreamed you'd be able to accomplish — no equipment needed.
From viral TikTok moments to 30-day plans — whatever your preference may be — any of the five experiments below will have you saying, "Challenge accepted."
Handstand Challenge
Shout out to Tom Holland for putting the Handstand Challenge on the map.
The actor posted an Instagram Story of himself putting his shirt on while doing a handstand, before calling on Jake Gyllenhaal and Ryan Reynolds to do the same.
Mastering the Handstand Challenge isn't as easy as Holland makes it look, though — you try balancing upside down on one hand as you put a t-shirt on with your other hand! (Remember: you can put your feet against a wall for balance!)
Once you've mastered the move, invite your friends to do the same by posting a video to social media and tagging them.
Stronger Challenge
The stronger challenge is all about (safely) pushing yourself to new limits.
First, pick a fitness-related skill you've been honing. If you're a dancer, maybe explore how high you can get that kick. If you love ab wheels, see how far you can roll out.
Next, crank up Daft Punk's song "Harder, Better, Faster, Stronger (Far Out Remix)." Follow along as the lyrics say, "work it, make it, do it, makes us, harder, better, faster, stronger."
Starting in a resting stance, use each phrase to gradually work your way into your hardest position. Once you hear "stronger," you should be fully extended into your ab rollout or a high kick, or any move you choose.
Upload your video to TikTok and encourage your friends to show off their tricks, too.
See 10 Do 10 Challenge
Encourage your friends to get up and get moving with the See 10 Do 10 Challenge.
Simply record yourself doing 10 push-ups (or another move of your choice), and nominate a friend to do the same. Soon enough, your whole friend group will be working out and inspiring others to get a quick sweat in, too.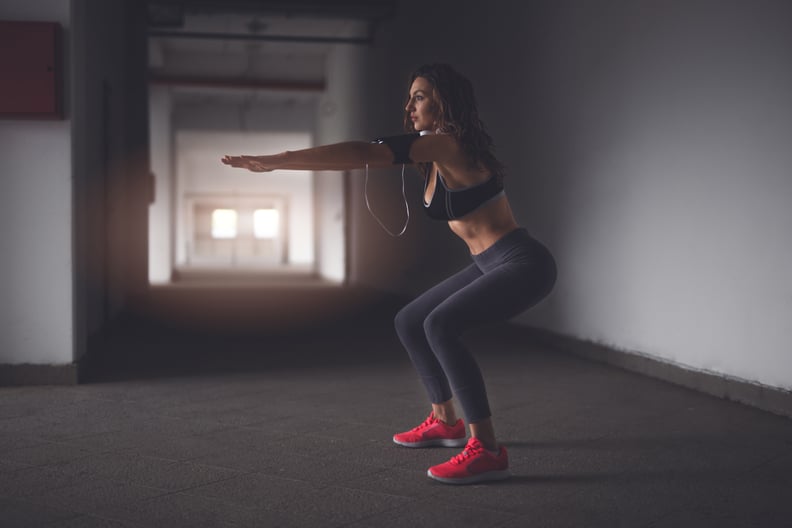 The 30-Day, 100-Rep Squat Challenge
Work your way up to 100 squats in one workout with this 30-day challenge.
Before you start sizing up this impressive goal, know that POPSUGAR's created a manageable trainer-backed schedule to get you — and your glutes — to the finish line.
The routine includes a mix of regular, sumo, and jump squats to be completed almost every day. This combination of squats keeps the workout fun and ensures that you target the many lower-body muscles needed to take on 100 squats in one go.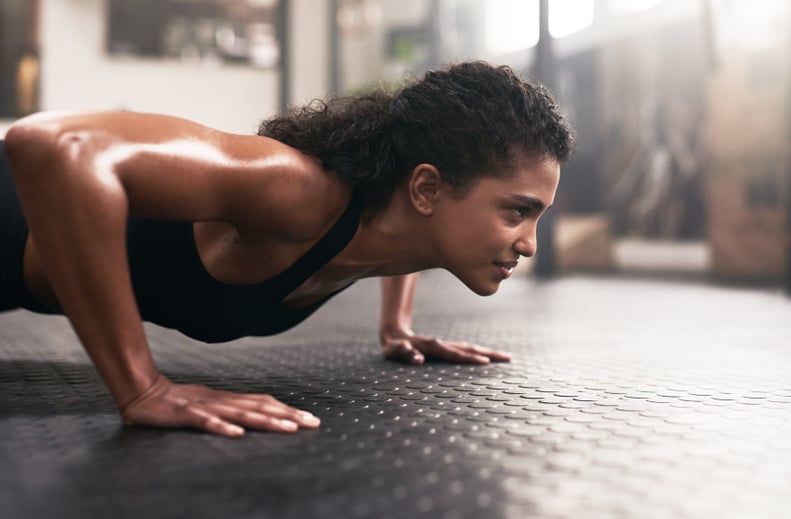 Push-Up Challenge
Despite how simple they seem, push-ups are no easy feat — especially when you're tasked with doing 50 at once. That is, unless you're equipped with POPSUGAR's 30-day guide.
Through this plan, you'll build your strength and endurance with less risk of overuse injuries thanks to the five push-up variations included in your training.
Almost every day (with the expectation of a few rests), you'll be assigned basic push-ups, one-legged push-ups, T push-ups, and diamond push-ups.
Your daily dose of push-ups increases the further you get into your regimen. In no time, accomplishing 50 push-ups in one sitting will have gone from a dream to a reality.
Click here for more health and wellness stories, tips, and news.