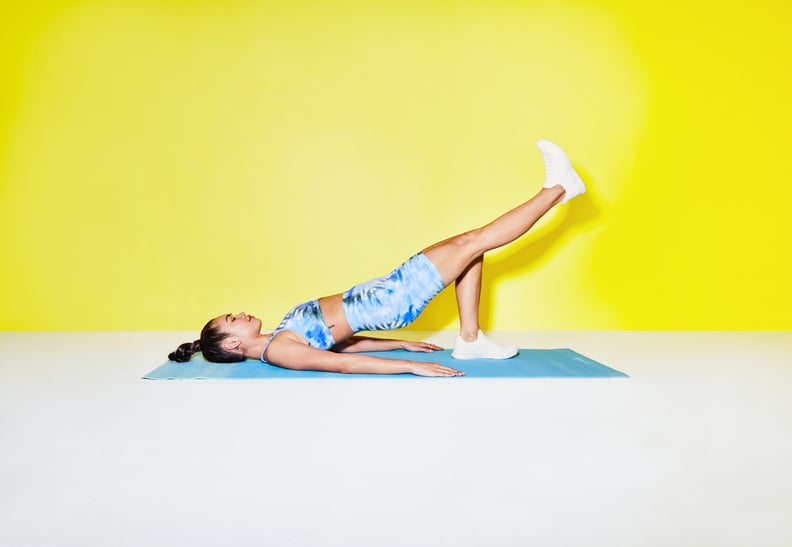 POPSUGAR Photography | Matthew Kelly
POPSUGAR Photography | Matthew Kelly
My favorite type of workout is a routine that gets into my glutes. Why? Because I sit for the majority of the day, and I enjoy waking up my butt muscles. There's also something extra empowering about having a strong lower body. I can successfully challenge myself to a tough workout and feel good doing it. Though incorporating resistance into those workouts (be that booty bands or weights) is essential for progressing, bodyweight booty sessions can be an effective use of a person's time if they're learning new moves or taking it easier in between heavy lifting days.
It also goes without saying that no-equipment booty workouts are great for those just starting out or for those who have limited access to weights. Ahead, you'll find follow-along, trainer-led sessions straight from YouTube you can do right at home. Whether you're a beginner looking to get more glute exercises in, or a person on any level interested in an equipment-free routine, these booty videos are for you. Plus, here are more low-impact butt workouts from YouTube. Grab some water, find an open space, and press play!
10-Minute Booty Lift and Tone Workout From Class FitSugar
Blogilates creator Cassey Ho leads a Class FitSugar workout that is all about lifting and toning your booty. Each round of exercise will be 45 seconds long, and you'll do bodyweight moves like the curtsy lunge, curtsy lunge pulse, curtsy kick, single-leg squat, and more.
20-Minute At-Home Booty Workout From Heather Robertson
This 20-minute booty workout is a grade-A session to do at home. Trainer Heather Robertson will walk you through exercises like the glute bridge, single-leg glute bridge, and clamshell. She'll explain proper form throughout.
10-Minute Bodyweight Booty Workout From Class FitSugar
Trainer Nicole Steen has a 10-minute booty workout for you that features a variation of kicks. In no time you'll feel your glutes fire up, and you won't have to stand up at all!
20-Minute Bodyweight Booty Workout From Heather Robertson
This is an older video from Robertson, and it's another 20-minute workout. You'll squat it down low, lunge, bridge it up, and get into some pulse work with kickback and hydrant moves.
45-Minute Bodyweight Glute Workout From GymRa
Steen is back with another bodyweight booty workout, this time for GymRa and 45 minutes long. Squat variations, lunge variations, good morning, and kicks on all fours make up the session.
20-Minute Home Glute Workout From Blogilates
Ho from Blogilates is back with this 20-minute session for your glutes. You hold each move — hamstring curl, bridge, single-leg bridge, pointed butt lift, etc. — for 55 seconds, then take a short five-second break. You have 20 moves to complete.
20-Minute No-Equipment Butt and Thigh Workout From Fitness Blender
Fitness Blender is here with this 20-minute butt and thigh workout that involves 15 exercises done for 50 seconds each. You'll start with the basic squat, side step squat, and reverse lunge, and you'll end with inside leg lift and bridge kick.
30-Minute No-Equipment Abs- and Butt-Toning Workout From Class FitSugar
Brittne Babe leads this Class FitSugar workout that's meant to target your abs and your booty. You'll do standing moves and get down on the floor, but you won't need any equipment!
20-Minute No-Squat Bodyweight Butt Workout From Nicole Pearce
Trainer Nicole Pearce wants you to do this booty workout that involves zero equipment and zero squats! You'll get into hydrant circle, donkey kick, hip bridge, and more — and you'll do 10 minutes of work on each side.
15-Minute Bodyweight Butt Workout From GymRa
This final workout is from GymRa and — you guessed it! — Steen again. She'll walk you through a series of kicks on all fours and a butt burner of single-leg glute bridge.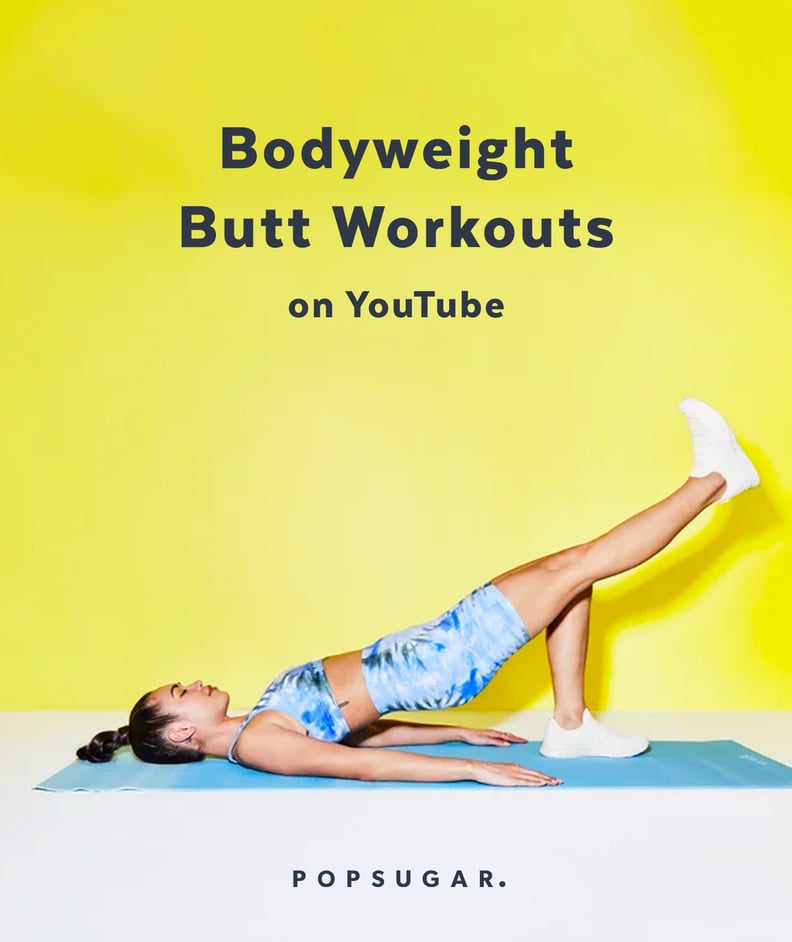 Pin it!