Glitter Beauty Trend
Why There's More to the Glitter Trend Than '90s Nostalgia
If it's a body part, chances are people have put glitter on it. Glitter lids. Glitter lips. Glitter brows. Glitter roots. Glitter armpits. Glitter beards.
Once the purview of children, glitter is becoming a way for makeup-lovers over the age of 12 to make bold and fantastical statements. The trend fits with the internet's love for all things "girlie," like Disney, rainbows, mermaids, and unicorns. If 2014's ultrabland normcore trend represented nostalgia for the Calvin Klein (or maybe even Seinfeld) days of the '90s, glitter's resurgence is going after millennials who were more into Lisa Frank during the same decade. Normcore was all about white sneakers, relaxed fits, and neutrals, and by definition, the trend was devoid of conventional fashion flair. At the other extreme sits Lisa Frank, the graphic artist known for her color explosions and "everything on it" aesthetic.
In a post-Women's March era, grown women are saying it's OK to express ourselves with ostensibly childish or overtly feminine things — and demand equal rights at the same time. Glitter and unicorns may be taking over the beauty world and showing up on Starbucks menus, but they're also symbols of resistance. Over the past decade, "glitter bombing" became a way to protest discrimination against the LGBTQ community. And historically, unicorns have been seen as powerful creatures that don't subscribe to societal norms. Even if you're just trying to express your girlie side with glitter eye shadow, principles of modern feminism state that women shouldn't have to choose between femininity and their rights.
The Current State of Glitter
While today's sparkly beauty products may have roots in '90s-girl culture and childhood nostalgia, the trend has evolved into something more sophisticated. Jerrod Blandino, cofounder and chief creative officer of Too Faced, first put out a glitter eye shadow 20 years ago and is now dedicated to bringing back glitter in a modern way. "At Too Faced we say, 'Wear glitter to breakfast,'" Blandino says. He believes glitter can be an everyday look, when done correctly. "When you wear glitter, you literally feel more sparkly, confident, and ready to take on the world," he says. This Summer, Too Faced will release a new Glitter Bomb palette that comes with a white base to brighten or a black base to intensify, making it versatile; you can do a full-on costume look or simply add some shine to your daytime look.
Free-spirited brand The Gypsy Shrine has been selling glitter products for your face, hair, and body for just over a year. The brand's Instagram feed is filled with over-the-top ideas to make you look like a real-life mythical creature. Owner and creative director Jenna Meek says The Gypsy Shrine has seen demand rise for its products over the past year, which she attributes to a combination of nostalgia, the popularity of festivals, and a growing number of makeup artists who compete to create new looks.
Influencer Mia Kennington recently used products from The Gypsy Shrine to introduce the glitter booty. For the viral look, Kennington turned herself into a "glitter creature" who happens to have a very sparkly backside. The result gives the impression that the wearer just stood up from a beach packed with glitter instead of sand. "It's becoming a fun challenge for myself to see how far I can push it," Kennington tells us. She says she loves how simply adding sparkles to a look can create an alter ego. "It allows you to freely unleash your inner creative child." Kennington notes that the trend will evolve to be more wearable. "Perhaps it will be used in subtler ways," she says. "I always wear glitter on my collarbones when I go out, which is a look that can be chic at any age."
You Can Have Your Glitter and Eat It Too
It's not just the beauty world that's obsessed with glitter. Celebrity pastry chef Duff Goldman creates over-the-top cakes using edible glitter. In the past, he's partnered with POPSUGAR to create tutorials for a unicorn cake and a narwhal cake. (If you're not familiar with narwhals, they are the "unicorns of the sea." I'm guessing they must spend a lot of time with mermaids.)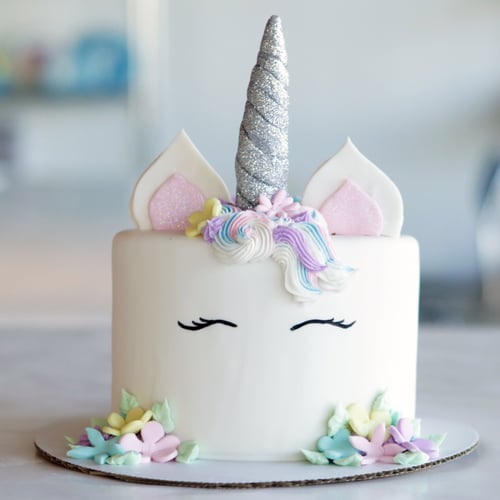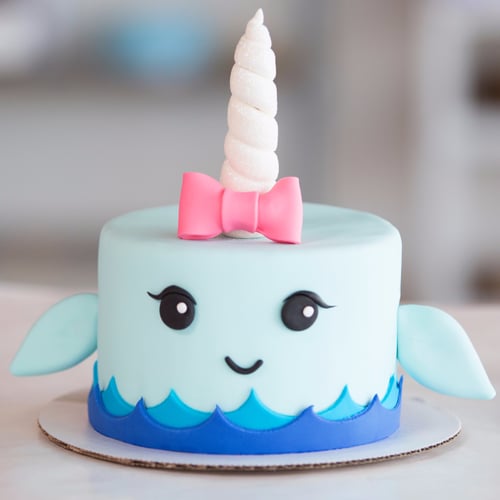 Image Source: POPSUGAR Photography
Most recently, Starbucks jumped in on the fun with its Instagram-worthy Unicorn Frappuccino. The drink changes colors as you consume it and is topped with pink and blue powder that sparkles. While reviews for the ultrasugary Unicorn Frapp are mixed, it has also inspired Unicorn Frappuccino hair, demonstrating how this trend can cross into different lifestyle categories and back again.
Looking at your social media feed, you might notice two conflicting trends: fun escapism and harsh reality. Alongside stories about unicorn milkshakes and mermaid makeup, you'll see outrageous and outraged stories about the current state of American politics. One could wonder: does being obsessed with unicorns undermine our desire to be taken seriously?
According to modern feminist theory, advocating for equality of the sexes doesn't require a rejection of femininity. Third-wave feminism, which began to rise in the 1990s, advocates for individual choice rather than a specific political agenda. In her paper "Third-Wave Feminism and the Defense of 'Choice,'" professor R. Claire Snyder-Hall notes that progressive feminists are accepting of other women's decisions about sexuality and appearance. You can be a feminist without giving up your lipstick and heels — or, in this case, your glitter.
Feminism doesn't require you to reject glitter and unicorns, or any traditional gender norm, for that matter.
Snyder-Hall writes, "For third-wavers, feminism requires not a particular set of choices, but rather acting with a 'feminist consciousness,' defined as 'knowledge of what one is doing and why one is doing it.'" In other words, feminism doesn't require you to reject glitter and unicorns, or any traditional gender norm. Rather, it encourages you to be conscious of your motivations — which may include artistic expression, entertainment, and escapism.
Glitter booty creator Kennington describes her motives for embracing the trend, which aren't in contradiction to women's equality. "We are at a time where we can truly express ourselves through style, speech, and art and no longer worry about what others think," she says "Social media helps us find others who share our same passions so we can truly express it without feeling judged, and I love that."
"Social media helps us find others who share our same passions so we can truly express it without feeling judged, and I love that."
In addition to being a form of creativity and a means to escape, glitter has also been a symbol of empowerment and activism. The "glitter bombing" phenomenon first rose to fame in 2011, when a man approached former Speaker of the House Newt Gingrich and threw a Cheez-It box full of glitter all over the socially conservative politician. Along with the glitter, the activist added, "Feel the rainbow, Newt! Stop the the hate! Stop anti-gay politics. It's dividing our country, and it's not fixing our economy!" Later that year, Codepink: Women For Peace and other groups adopted the form of protest. In 2011, the New York Times debated the legality of throwing glitter at an unsuspecting person but also called it a gentler form of protest that made its point for weeks, since glitter tends to stick around.
There may also be more to unicorns than childish fantasies. A unicorn has traditionally been seen as "an untamed creature that doesn't subscribe to the ordinary rules of conventional society," according to the book Unicorns: The Myths, Legends, & Lore by Skye Alexander. In ancient Greek times, mythical unicorns were described as swift and powerful. No other animal could overtake them. The Japanese unicorns, the kirin, were considered fierce creatures who would pierce the heart of criminals with their horns. And in China, unicorns were considered a good omen.
Maybe strong and independent unicorns are the mascot women need in 2017 as we organize to protect our rights that hang in the balance. At the very least, fantastical beauty and lifestyle trends give us a chance to express ourselves. Kennington doesn't see the glitter trend going away anytime soon: "It will always be used in celebration in one way or another. If it's something that makes people happy, then why not continue it?"