12-Week Running Plan For Weight Loss
Want to Lose Weight but Not Sure Where to Start? Try This 12-Week Running Plan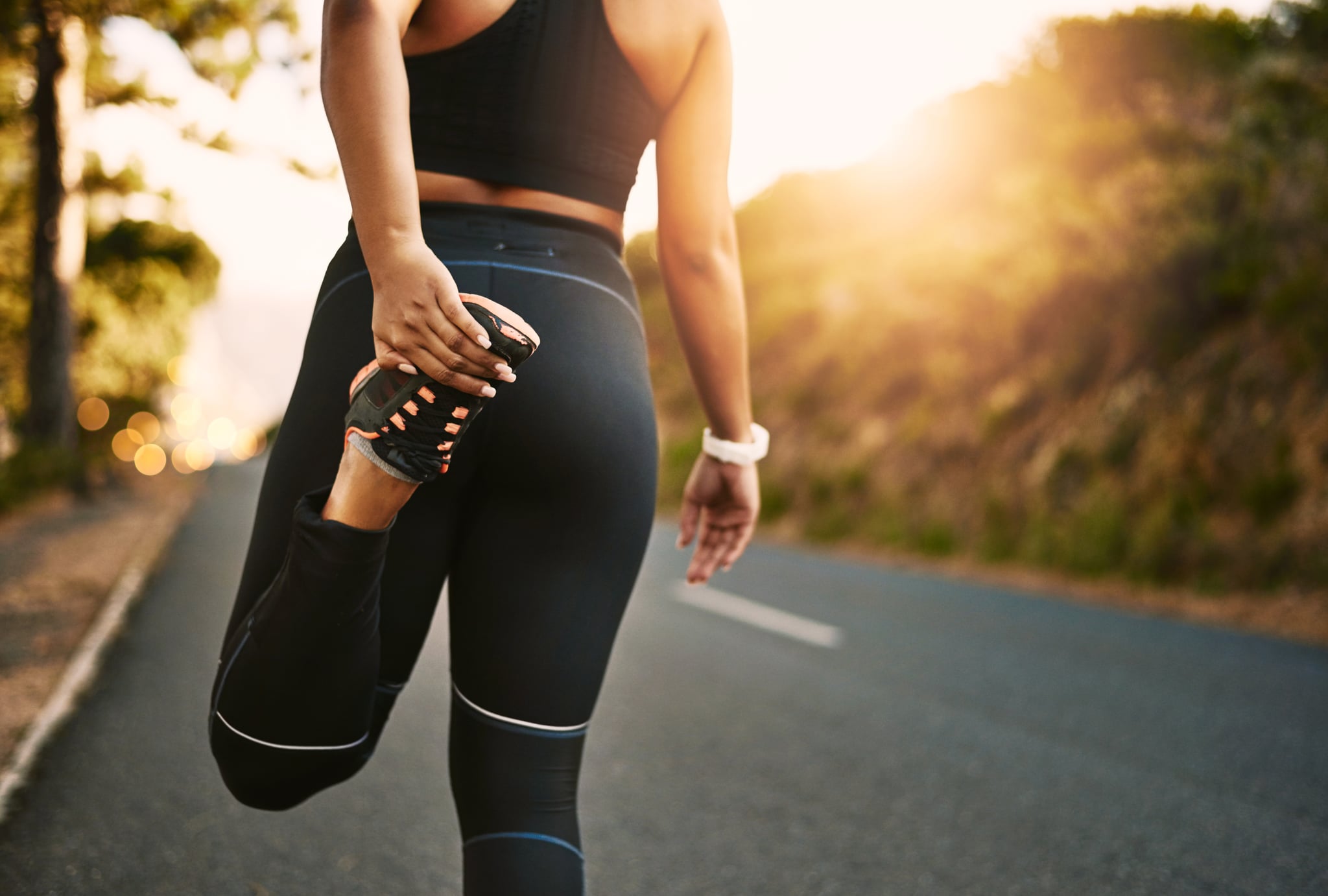 Running can help you lose weight, but if you've never done it before, you have to be careful not to take on too much too soon. This 12-week plan, created by Sarah Booth, a certified run coach with REVO₂LUTION RUNNING in the Houston area, is designed to help beginners see results without getting frustrated or injured. You'll start running just three days a week, then work your way up to four, ideally integrating cross-training workouts — such as walking, cycling, or strength training — on your days off. Keep reading for the details.
What to Expect From the Plan
This training plan includes three different running workouts: a short, easy run, a longer easy run, and some light speed work. Each workout serves a purpose, by either building your confidence or helping you build endurance and burn more calories.
For the first two weeks, you'll focus on running at a light pace for 15 minutes. "When the schedule says 'easy,' that means you should be at a conversational pace," Sarah told POPSUGAR. In other words, you're moving but you could reasonably hold a conversation if you brought a friend along. If you can't keep up that pace for the entire 15 minutes, try doing 5/1 intervals, in which you run for five minutes, then walk for one minute, until you've completed your workout.
As the plan builds, you'll run for longer bouts and introduce speed work. There are two different types of speed work in the plan. The first is strides, during which you'll run easy for five minutes and then faster for 20 meters. "Count to 20 while you're running. That's about 20 meters," Sarah said. Once you've hit that mark, you'll recover by walking or jogging for as long as necessary, before running through the sequence again.
The second speed workout is intervals. You'll go easy for five minutes, then faster for five minutes, alternating as many times as you want. One benefit of this type of training: "You'll continue burning calories after the workout," Sarah said. "Speed work is also going to contribute to burning calories, because you can cover more distance in a shorter amount of time."
Finally, the plan also includes recovery weeks every fourth week, which is important for avoiding injuries in beginners. "Even though running is one of the best activities for weight loss, new runners have to be careful not to overdo it," Sarah explained. "This plan slowly builds up and gives a new runner confidence to keep moving and add running time without injury."
12-Week Running Plan For Weight Loss
Remember that the running workouts in this plan are fairly short, so you don't need to fuel your body with anything other than water before a run, Sarah explained — and you should be careful not to overeat later on, either. Once you've completed the plan, simply add five minutes each week to both the easy runs and longer runs to help maintain your weight.
| Week | Monday | Tuesday | Wednesday | Thursday | Friday | Saturday | Sunday |
| --- | --- | --- | --- | --- | --- | --- | --- |
| 1 | 15 minutes easy | | 15 minutes easy | | | 15 minutes easy | |
| 2 | 15 minutes easy | | 15 minutes easy | | | 15 minutes easy | |
| 3 | 18 minutes easy | | 15 minutes easy | 5 minutes easy, 2 x 20 meters faster, 5 minutes easy | | 20 minutes easy | |
| 4 Recovery | 18 minutes easy | | 15 minutes easy | 15 minutes easy | | 18 minutes easy | |
| 5 | 20 minutes easy | | 20 minutes easy | 5 minutes easy, 3 x 20 meters faster, 5 min easy | | 25 minutes easy | |
| 6 | 25 minutes easy | | 25 minutes easy | 5 minutes easy, 4 x 20 meters faster, 5 minutes easy | | 30 minutes easy | |
| 7 | 25 minutes easy | | 25 minutes easy | 5 minutes easy, 4 x 20 meters faster, 5 minutes easy | | 35 minutes easy | |
| 8 Recovery | 20 minutes easy | | 25 minutes easy | 20 minutes easy | | 30 minutes easy | |
| 9 | 25 minutes easy | | 25 minutes easy | 5 minutes easy, 5 x 20 meters faster, 5 minutes easy | | 35 minutes easy | |
| 10 | 30 minutes easy | | 30 minutes easy | Intervals: alternate 5 minutes easy/5 minutes faster | | 40 minutes easy | |
| 11 | 35 minutes easy | | 35 minutes easy | Intervals: alternate 5 minutes easy/5 minutes faster | | 45 minutes easy | |
| 12 Recovery | 30 minutes easy | | 30 minutes easy | 20 minutes easy | | 30 minutes easy | |