Orangetheory Treadmill Workout
Push Yourself With This 27-Minute Treadmill Workout From an Orangetheory Coach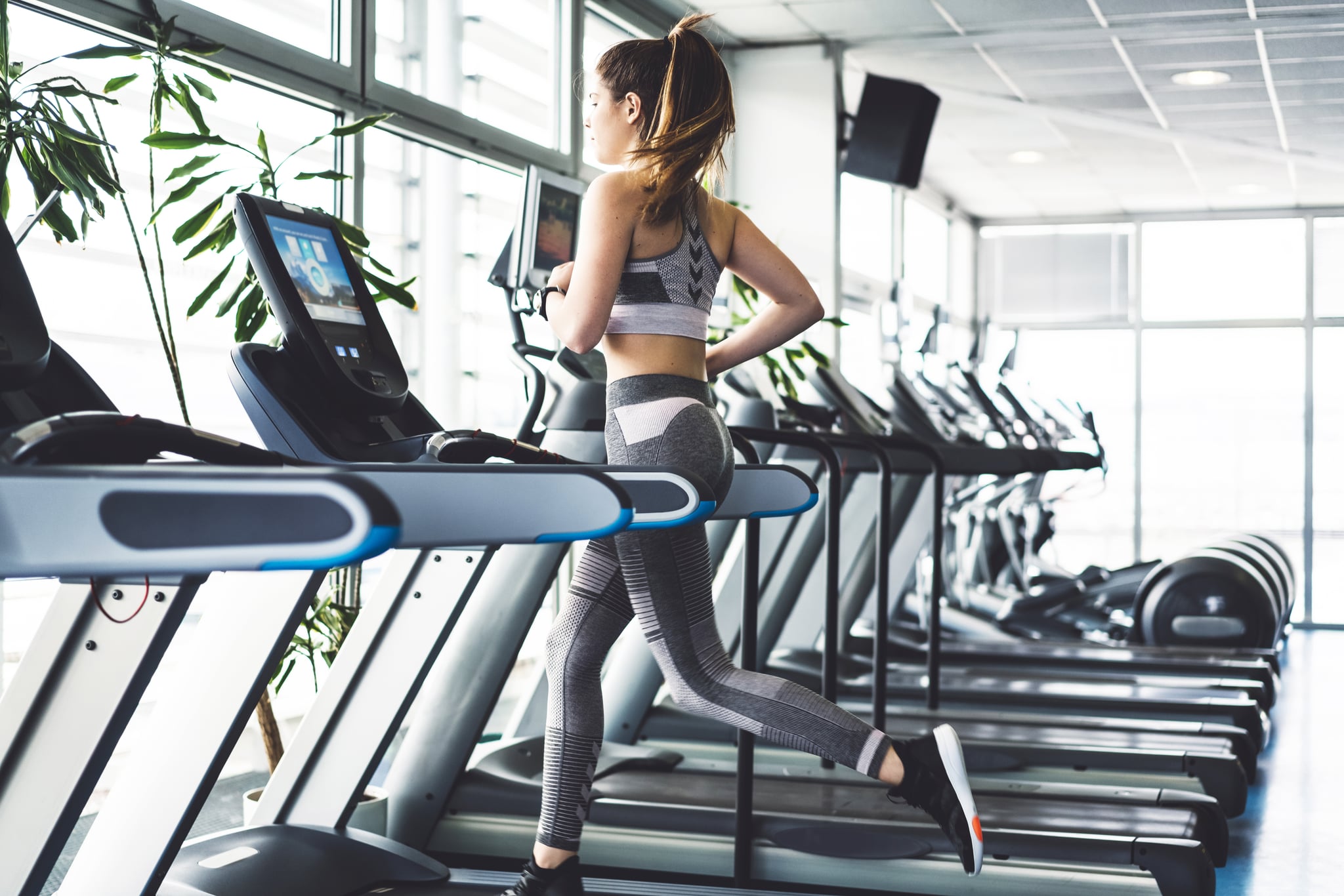 Before I joined Orangetheory Fitness a couple years ago, I thought running on the treadmill was incredibly boring. Sure, I'd slog through the 30 minutes, but I rarely increased my speed or pushed myself; it's no wonder my endurance didn't improve. At Orangetheory, however, I push myself to go faster and get my heart rate up thanks to the structured intervals during the treadmill portion of the class.
And when I can't make it to the studio to get my fix of hitting the orange zone and earning my Splat points, I still want that intensity when I run on the treadmill on my own. To get a sample of what a treadmill workout from Orangetheory feels like, POPSUGAR tapped OTF coach Tim Brown, ACE, regional fitness director for Missouri, who gave us this 27-minute running workout.
Orangetheory uses three paces for running: your base pace, which is a comfortable speed you could keep for the full class if you had to; your push pace, which is about 1 to 2 mph faster than your base pace and gets your heart rate up; and your all out pace, which reaches your max heart rate and is 2 or more mph faster than your base pace. There are also different levels for joggers and runners: joggers usually start around 4.5 to 5.5 mph for base pace while runners start at 5.5 mph or higher. Of course, these numbers are just a guideline; you can determine your overall comfort level and limits, which may mean taking it slower or pushing yourself to go faster.
This workout should be done at a 1.0 incline for each block. Tim also recommends starting with two to three minutes of walking at 3 to 4 mph and walking for another minute in between blocks (these walking intervals are factored in Block 1 and Block 2 in the charts below), and cooling down with a couple minutes of walking (also factored in at the end of the chart). Although not required, it would be helpful to use a wearable heart rate monitor, such as the OTbeat Burn, to track your heart rate and make sure you're hitting the percentages listed below.
Block 1: Distance Running (14 Minutes)
Time
OTF Pace
Heart Rate
% of Max
Jog Speed
(MPH)
Run Speed
(MPH)
0:00-2:00
Walk
70 or below
3.0-4.0
3.0-4.0
2:00-4:00
Base
71-83
4.5-5.5
5.5 +
4:00-7:00
Push
84-91
5.5-7.5
6.5 +
7:00-9:00
Base
71-83
4.5-5.5
5.5 +
9:00-12:00
Push
84-91
5.5-7.5
6.5 +
12:00-13:00
All Out
84 +
6.5 +
7.5 +
13:00-14:00
Walk
70 or below
3.0-4.0
3.0-4.0
Block 2: Speed Running (13 Minutes)
Time
OTF Pace
Heart Rate
% of Max
Jog Speed
(MPH)
Run Speed
(MPH)
14:00-15:00
Base
71-83
4.5-5.5
5.5 +
15:00-16:00
Push
84-91
5.5-7.5
6.5 +
16:00-17:00
Base
71-83
4.5-5.5
5.5 +
17:00-18:00
Push
84-91
5.5-7.5
6.5 +
18:00-19:00
All Out
84 +
6.5 +
7.5 +
19:00-20:00
Walk
70 or below
3.5-4.5
3.5-4.5
20:00-21:00
Base
71-83
4.5-5.5
5.5 +
21:00-22:00
Push
84-91
5.5-7.5
6.5 +
22:00-23:00
Base
71-83
4.5-5.5
6.5 +
23:00-24:00
Push
84-91
5.5-7.5
6.5 +
24:00-25:00
All Out
84 +
6.5 +
7.5 +
25:00-27:00
Walk
70 or below
3.0-4.0
3.0-4.0