Some people have a love-hate relationship with exercises like burpees (guilty) or, let's say, push-ups. Maybe you can do push-ups but you really don't like them, or perhaps you haven't built up the strength to do them yet — either is OK! Performance coach, Under Armour athlete, and NASM- and NCCPT-certified trainer Monica Jones told POPSUGAR that there are plenty of alternative moves you can do instead.
Jones said push-ups are an excellent exercise to develop better joint stability and strength in your upper body. Best of all, it recruits a whole list of muscles: pectoral muscles, shoulders, triceps, abs, and glutes. However, if you are unable to do push-ups, or you simply want to skip them in your workout, there are alternatives that work some of the same muscles as push-ups. You can check out five of the moves Jones recommends ahead.
Note: this is not a workout, but simply a list of moves to tack onto your next sweat session.
01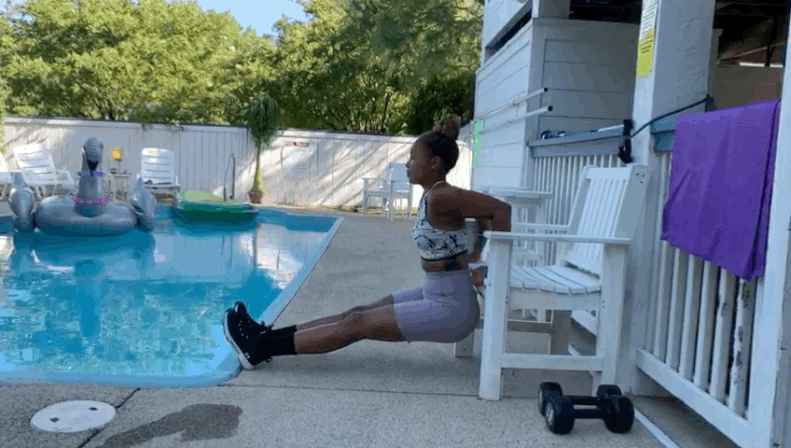 Triceps Dip
"Dips are a great way to work the pecs and triceps," Jones said.
Begin seated on a bench, chair, bed, etc. with your hands at the sides of your hips and knuckles facing forward.
Slide your butt off of the surface and bring your knees to 90 degrees. To make the exercise harder, extend the legs out long.
Bend your elbows to lower your body toward the floor until your elbows are at a 90-degree angle. Be sure to keep your back close to the bench, chair, or whatever surface you're using.
Once you reach the bottom of the movement, press down into the surface to straighten your elbows, returning to your starting position. This completes one rep.
02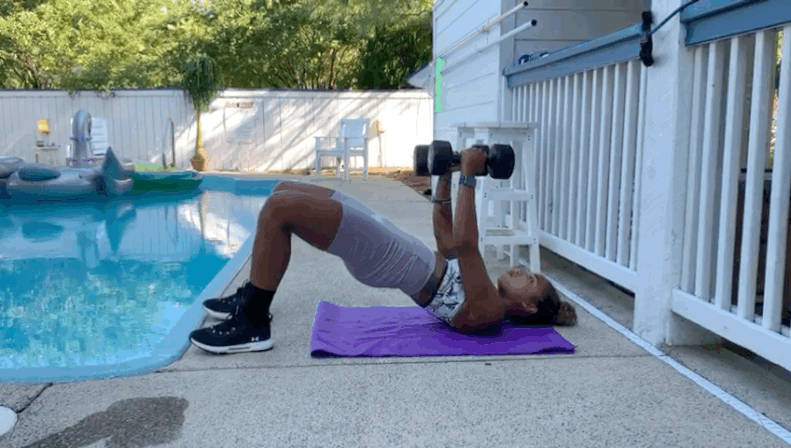 Isolated Bridge to Chest Fly
This movement will work your glutes and hamstrings while also working your chest and shoulders, Jones said, describing it as a move to help you "build harmonious upper- and lower-body strength."
Start lying face up with your feet hips- to shoulder-width apart, your knees bent, and a dumbbell in each hand. Raise your hips to come to a bridge position; engage your core and squeeze your glutes.
Press your arms over your chest with your elbows slightly bent and palms facing one another. Open your arms out to the sides until your elbows are about two inches from the floor.
Return your arms back to the center, bringing the weights together over your chest. Make sure your core is engaged and you are squeezing your glutes the entire time. This counts as one rep.
03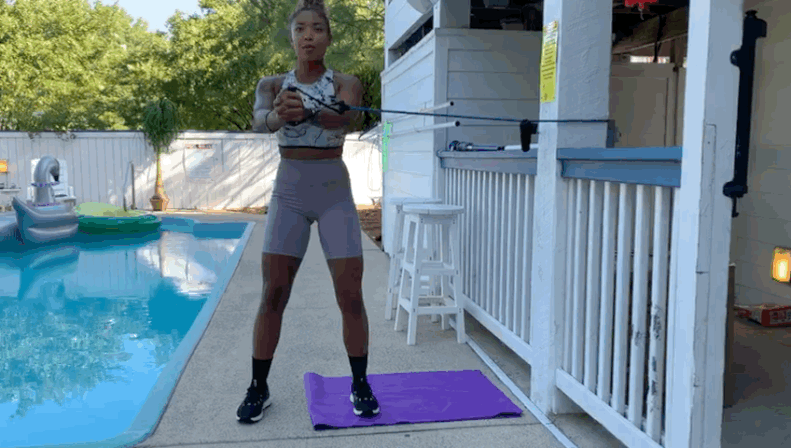 Pallof Press
Jones said the Pallof press works your core and chest.
Wrap a long resistance band with handles around a stable structure. Stand with the band at chest height and move away from the band until you feel there is no slack on the band. Interlace your fingers around the handle. As an alternative, you can stand holding a single dumbbell vertically.
Engage your core, tuck your tailbone under, and press your arms straight out in front of you. Hold for two seconds before slowly returning back to your starting position with the band's handles (or the dumbbell) at your chest with your elbows in tight to your body. This counts as one rep. (Here's how to do a Pallof press on a cable machine.)
04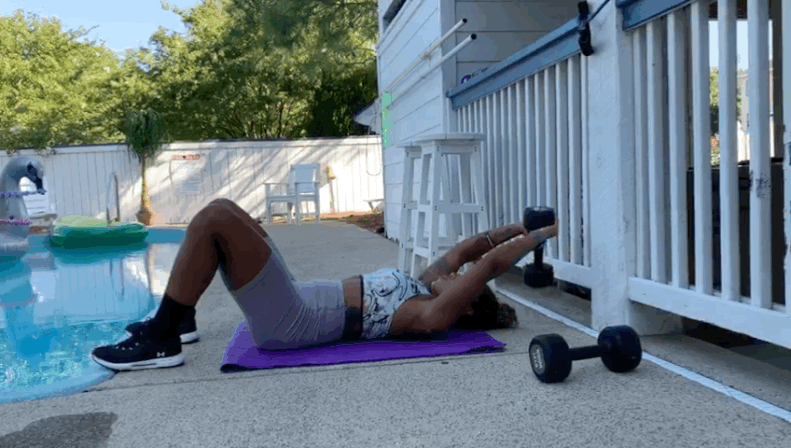 Dumbbell Pullover
Dumbbell pullovers work the muscles in your chest, Jones said.
Begin lying face up with your feet flat and knees bent, holding a dumbbell at your chest. Press the dumbbell up over your chest with your thumbs wrapped around the base of the weight and arms straight.
Extend your arms back until the biceps are in line with the ears. Pause, engage your abs and chest, and make sure your back is flat on the ground.
Continue to keep your back flat as you pull the weight over your chest with straight arms. This counts as one rep.
05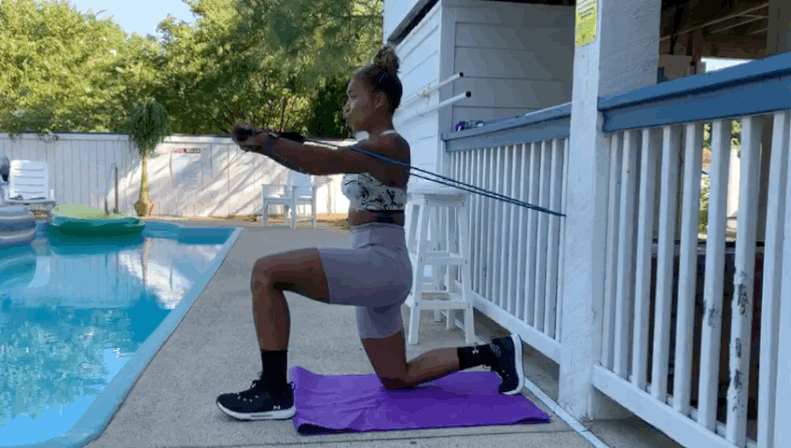 Kneeling Chest Press
This move is great because it works your chest and also requires you to really engage your abs, Jones said.
Wrap a long resistance band around a stable structure. Come into a lunge, facing away from your anchor point, with the left leg forward. You should have the band's handles in each hand, your elbows bent, and your palms by your chest (you should be far enough away from the anchor point that you feel tension in the band). You can also hold a dumbbell in each hand to perform the move if you don't have a band.
Press both arms straight forward, and be sure to keep tension in the band (if you're using one).
With control, return to the starting position by bending your elbows back toward you. This completes one rep, and you should do the same number of reps with your other leg in front.