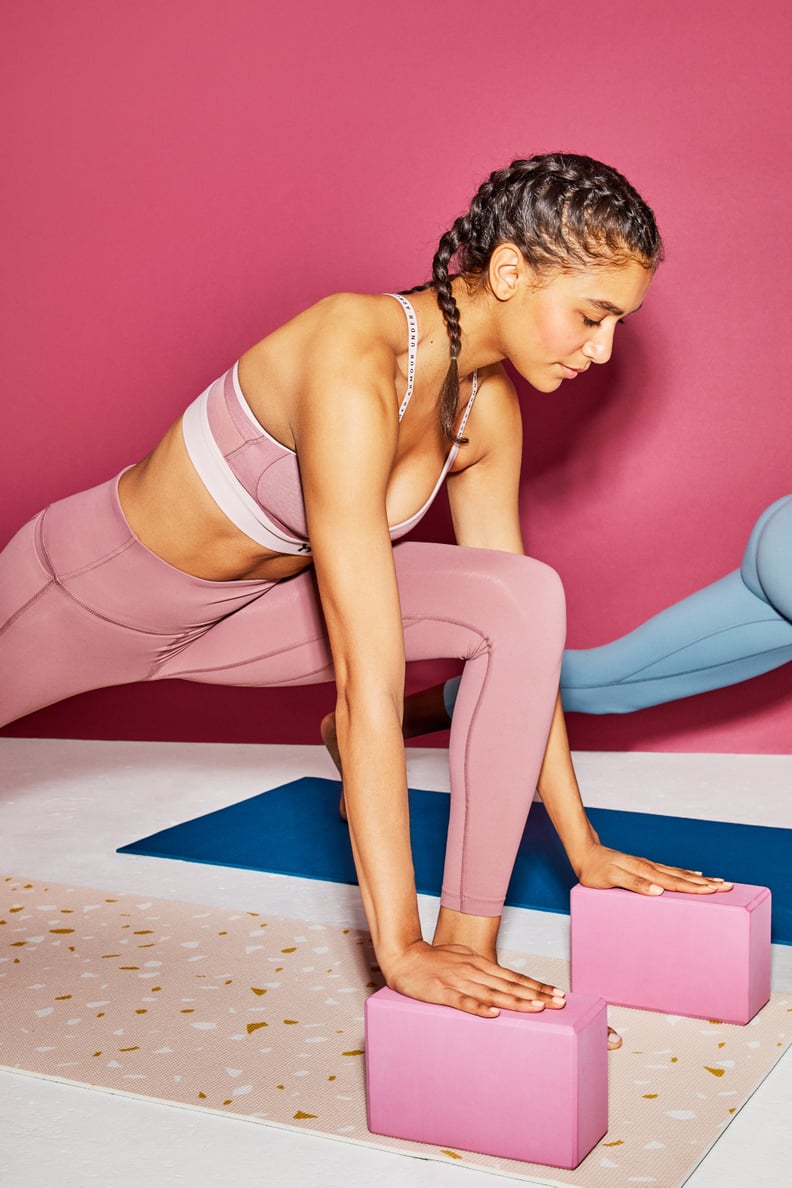 POPSUGAR Photography | Matthew Kelly
POPSUGAR Photography | Matthew Kelly
There tends to be a negative connotation around modifying yoga poses — I, for one, am guilty of feeling discouraged after a sharp pain mid-pose has me reaching for a block.
It wasn't until certified yoga instructor Koya Webb shifted my perspective that I stopped comparing myself to those who bend with ease when I can't: "Everyone modifies," she says. "I've been teaching and practicing yoga for over 17 years, and I modify different poses."
In Webb's eyes, yoga is an ongoing journey. With practice, you outgrow modifications just to graduate onto more challenging poses that call for new adjustments.
"Modifications are basically just to help your body get acclimated, and once [it does], you're actually able to do that pose a lot better," she says.
Instead of powering through an uncomfortable flow, it's important to embrace modifications because you'll always need them (no matter your skill level!) — especially when you feel sharp resistance from a pose.
Modifying means having a mindful practice, too. Ignoring your body's pain signals puts you at risk of injuries, like strain, prolonged soreness, and overstretching.
The next time you can't reach the floor during a pose, Webb says that's a sign to grab a block and place it where you're comfortable while still getting the benefits of the move.
Or, if fully extending your legs causes hamstring strains, modifying can be as simple as bending your knees a bit, Webb adds.
Say you're feeling extreme tightness from your WFH setup or dealing with an injury, and you're unsure of how to modify moves correctly. It's your teacher's job to guide you. Whether in-person or virtually, Webb says you should always feel comfortable asking for help at any point before, throughout, or after a class.
"It's all about enjoying the journey and using the modifications as needed," Webb says. "Once you're done with the modifications, you can celebrate the fact that you can do a pose without the block. But, also, know that once you go to the advanced pose, you might need the block again."
Remember, modifications can be used to make a pose harder, too — even if that means closing your eyes to challenge your balance, Webb says.
In any form, feel good about using modifications throughout a flow. Bending your knees or grabbing a block, bolster, or blanket only means you're one step closer to safely growing in your practice.
Click here for more health and wellness stories, tips, and news.