It's Possible to Run a Marathon on a Treadmill — Here's How
The Pros and Cons of Running a Marathon on a Treadmill, According to Experts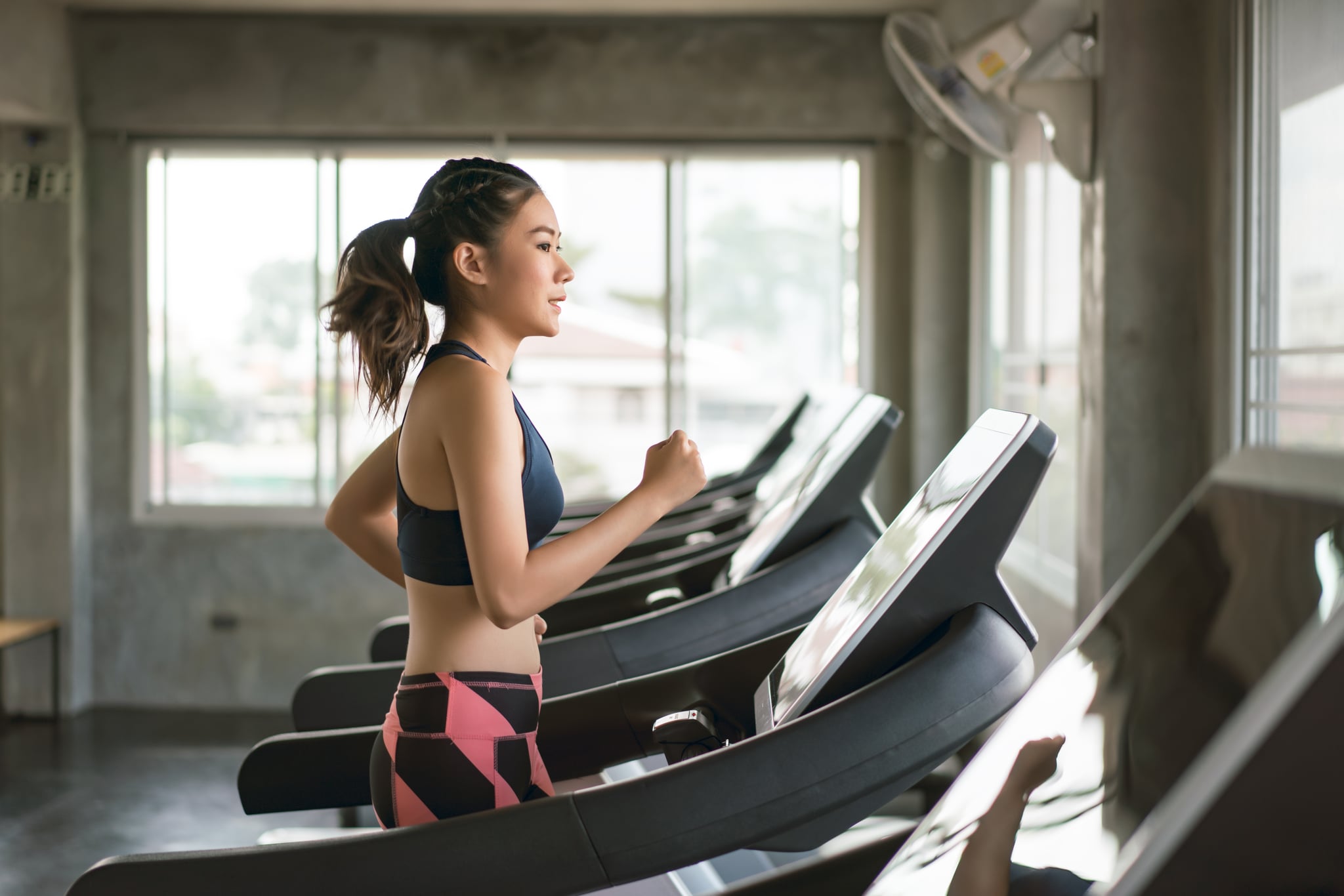 Marathon season in 2020 has gone virtual, which probably means your 26.2-mile training plan probably needs some revisions — especially if you're going the treadmill route.
It's an untraditional approach to marathons for sure, but Alexandra Weissner, NASM-certified personal trainer, RRCA-certified running coach, and the cofounder bRUNch Running, confirmed that it's possible with the right training.
"If you are going to run a marathon on a treadmill, you need to do all of your training on a treadmill. You need your body to adapt to running long distances and train your mind to be on the treadmill for that long of a period," she said.
Weissner's fellow RRCA-certified running coach and bRUNch Running Cofounder Cortney Logan agreed: "Don't just hop on a treadmill and think, 'Gee, I'll run 26.2 miles today.' Be smart about it."
Surprisingly enough, there are positives to treadmill marathons that could motivate you to make the switch.
The first advantage Weissner mentioned is how much easier it is to use the bathroom – a dilemma she's faced during her two land marathons.
Thanks to the treadmill, you could beat your marathon personal record, too. Weissner said that the belt tends to assist in leg turnover, which can help you run faster.
Another plus from Weissner: treadmills often have more give than roads, which can be easier on your knees.
Logan also loves that you have total control over your running environment, as opposed to being outside and at the mercy of the weather.
Those reasons (along with the bragging rights that come with running a treadmill marathon!) could be the silver linings you need to overcome the downsides of indoor marathon running.
While the tread belt can make you faster, Logan said that it has the unfortunate potential to compromise your gait and cause injury because your hamstrings are doing less work.
And the biggest elephant in the room: running 26.2 miles on a treadmill can be, well, boring.
"No matter what, running a marathon is a challenge. It takes hours of training, dedication, sacrifice, and it's hard AF. I think running a marathon on a treadmill would be an even harder mental challenge. You have to mentally prepare yourself to spend several hours on the treadmill," Weissner said.
Logan's solution is to listen to music and podcasts, call friends, and have your roommates (if safe!) come cheer you on in person.
If you plan on watching TV or movies mid-marathon, Weissner recommended setting up your screen so you aren't looking down for long periods — your neck will thank you in the long run.
You can also break up your marathon into different workouts with intervals that change your pace and incline. With that said, Weissner explained that you should always run on some sort of incline when on a treadmill.
"Even a flat road is not really flat. Running on a treadmill without any incline can cause overuse injuries. You need to have at least a small incline when running on the treadmill," she said.
And when clocking all those miles on a machine, make sure your equipment is in good condition.
"Running on a treadmill belt provides a more 'cushioned' running experience, which sounds lovely, but, actually can be very stressful on your hips, knees, and ankles if you are running a belt that isn't smooth or jarring — it is critical that the treadmill be in prime working condition," Logan added.
Yes, this fall weather is perfect for outdoor training, but if you're serious about a treadmill marathon, it's time you start training on one.
Click here for more health and wellness stories, tips, and news.