4-Week Turkey Trot Training Plan
This 4-Week Turkey Trot Training Plan Will Have You Race Ready by Thanksgiving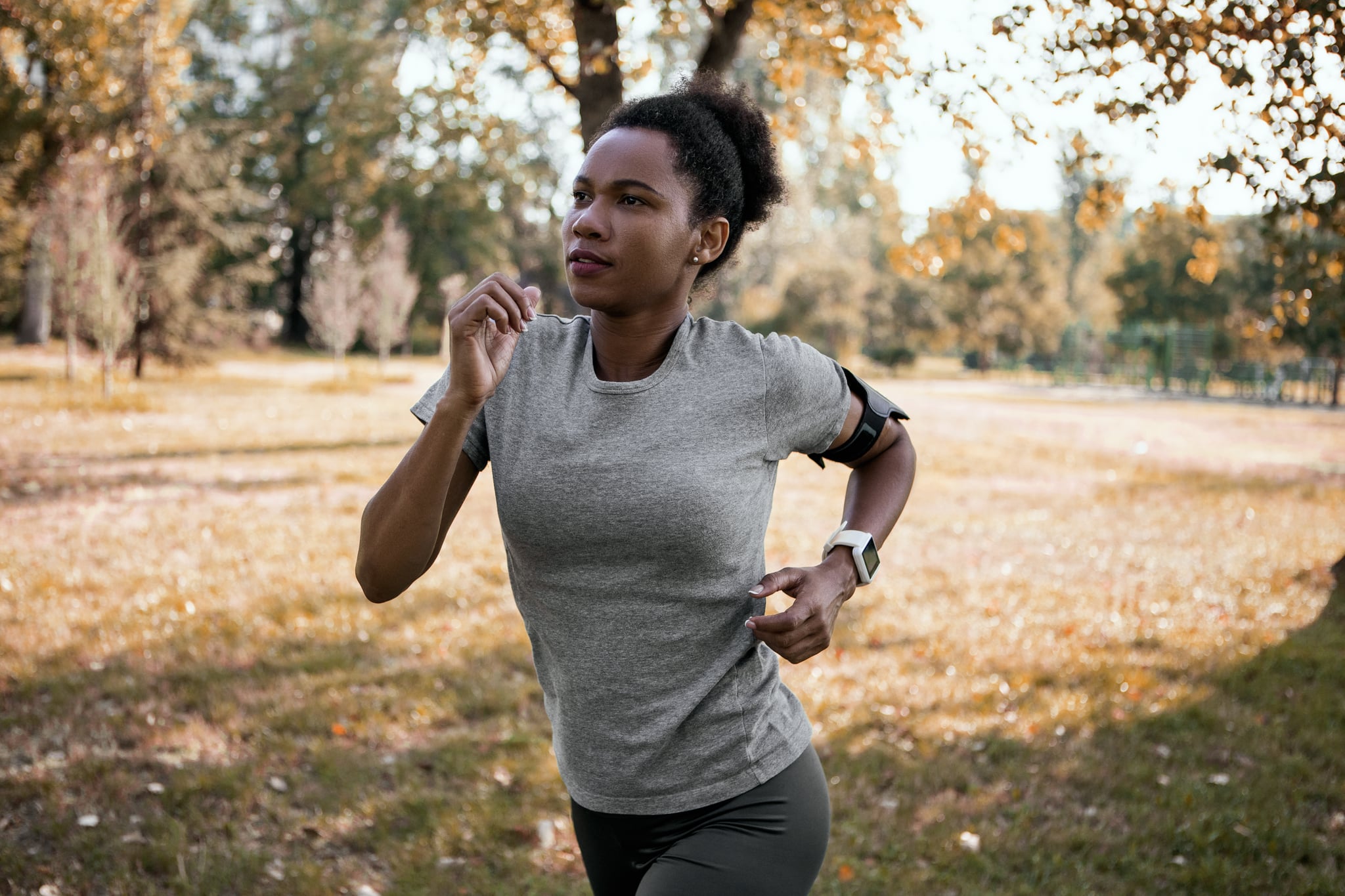 Turkey trots offer a festive way to get in some exercise on Thanksgiving Day. These 5K dashes are more like fun runs than they are competitive races, so you're likely to see family members and friends running together, and maybe even some turkey costumes along the way! However, if you've never participated in a race before, preparing for any 5K can be daunting, especially one that takes place during the busy holiday season. Thankfully, with the right plan, you can prep for the race in just four weeks.
While training for the race is the most important part of a turkey trot — even if you choose not to run the whole thing — there are a few other considerations that distinguish it from a traditional 5K. POPSUGAR spoke with Christian Moore, a personal training specialist at Anytime Fitness, for helpful tips and a training plan that'll have you turkey trotting in no time!
Start Going For Morning Runs
To save time for Thanksgiving dinner later in the day, most turkey trots take place in the morning. If you're not a morning runner, making that transition can be challenging! In order to see how your body reacts to morning runs, Moore urges potential turkey trotters to start training ASAP so they have time to adjust their exercise as needed.
"I would recommend doing at least a couple training sessions in the morning before your race," Moore said. He also suggests getting up early on race day so you have time to wake yourself up and don't feel tired before your run.
Get Adjusted to the Weather
The hallmark of a turkey trot is of course that it happens on Thanksgiving Day. Depending where you are, that can mean it's either going to be balmy or freezing cold! Make sure you dress accordingly and wear layers so you can adjust as needed during the actual race. Training outside close to the race date will help you get a sense of the weather, too, so try to get outdoors as much as you can.
Fuel Up Before the Race
It's recommended to eat before a run, especially for a race so that your body has appropriate fuel. For a morning race in particular, you'll want to make sure you have something in your stomach, since your last meal was likely eight to 12 hours before.
"Make sure to get some carbs for dinner the night before and to eat a light breakfast the day of the race," Moore said. "Don't stray too far away from your normal diet. You don't want your body to feel different because you're putting different things in it."
To help get your morning runs started, Moore recommends eating a whole-wheat bagel with your favorite toppings, granola, yogurt, or fruit since the natural sugars are great fuel. As for after the race, you may want to stick to a light snack of carbs and protein to help your body recover before you sit down for an entire Thanksgiving meal.
Plan Out Your Day Beforehand
This isn't necessarily related to training for the race, but if you are racing, it's likely you'll be enjoying Thanksgiving dinner afterward. If you're in charge of cooking on Thanksgiving Day, there's no need to let that stop you from running! All it takes is a little planning ahead.
If you're bringing food to another household, try making a quick and easy Thanksgiving side dish to save yourself time after the race. Or if you're in charge of an entire meal, try to enlist some help beforehand from friends or family to ensure everything comes out of the oven on time. If you and your Thanksgiving guests are running the race together, don't sweat it! There are plenty of make-ahead recipes that you can have ready to pop in the oven as soon as you get home. Alternatively, you can try your hand at recipes that take no time at all.
Now that you've got the planning out of the way, let's get to the most important part: the training! Know that this plan is a roadmap and that if you need to adjust it to include more or less running or shift the days around to fit your schedule, that's OK, too. As long as you're getting in the running, you're setting yourself up for a fun and fast turkey trot.
Week
Sunday
Monday
Tuesday
Wednesday
Thursday
Friday
Saturday
1
Rest

1-minute run
1-minute walk

Repeat 8x
Rest
2-minute run
2-minute walk

Repeat 4x
Rest
3-minute run
2-minute walk

Repeat 3x
Rest
2
Rest
1-minute run
1-minute walk

Repeat 10x
Rest
2-minute run
2-minute walk

Repeat 5x
Rest
3-minute run
2-minute walk

Repeat 4x
Rest
3
Rest
1-minute run
1-minute walk

Repeat 12x
Rest
2-minute run
2-minute walk

Repeat 6x
Rest
3-minute run
2-minute walk

Repeat 5x
Rest
4
2-minute run
1-minute walk

Repeat 6x
Rest

1-minute run
1-minute walk

Repeat 5x
Rest

Race day!