Try Venus Williams's Instagram Live At-Home Workout
I Tried Venus Williams's At-Home Total-Body Workout, and Sweat Was Flying in My Living Room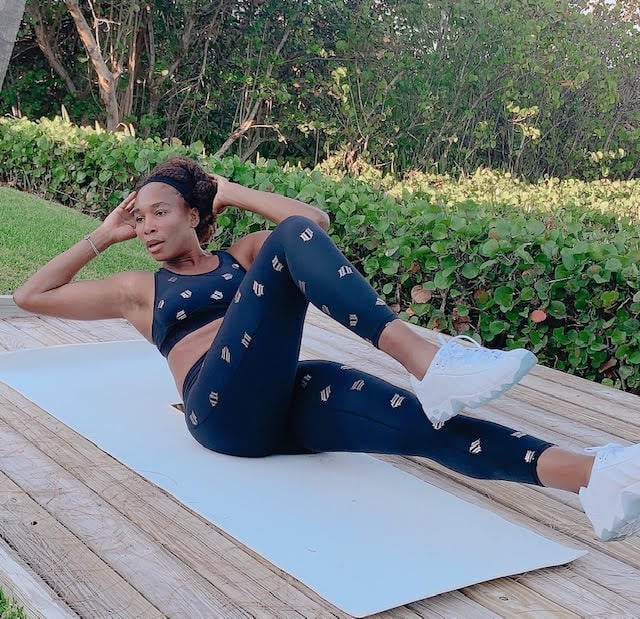 Image Source: Courtesy of Venus Williams
Venus Williams is getting creative with her home workouts, and we're all invited along for the ride. The tennis star is taking to Instagram Live to share daily at-home workouts, filming at her own house and swapping dumbbells for household items like water jugs and Champagne bottles. (Yes, you're free to pop a couple corks and toast yourself afterwards.) She released her first quick, full-body routine on March 25, and of course we tuned in, followed along, and sweated through the nine simple but effective moves. Even Williams herself was dripping by the end!
Check out the full workout below and keep reading to see how to do each exercise. And if you want to work out with Williams yourself, the tennis legend is aiming to broadcast a workout daily at 12 p.m. ET on Instagram Live.
Venus Williams's At-Home Full-Body Workout
Equipment needed: Two pairs of dumbbells, one heavy and one light, or dumbbell substitutes like water jugs, water bottles, or wine bottles.
Directions: Start with a dynamic warmup, then do 10 reps of each exercise and three sets of each circuit. If needed, take a short break in between sets. Cool down with a stretching session when you're done.
Circuit 1: Repeat 3 times
Bicep curl, 10 reps
Squat to overhead press, 10 reps
Triceps extension, 10 reps
Rest if needed
Circuit 2: Repeat 3 times
Lateral arm raise, 10 reps
Front arm raise, 10 reps
Weighted lunge, 10 reps
Rest if needed
Circuit 3: Repeat 3 times
Sit-up, 10 reps
Russian twist, 10 reps
Weighted V-up, 10 reps
Rest if needed