All You Need Is a Wall and Chair For This 7-Minute HIIT Workout
POPSUGAR Photography | Sam Kang
POPSUGAR Photography | Sam Kang
A high-intensity interval training (HIIT) workout mixes shorts bursts of activity with even shorter rest periods. While it may feel uncomfortable to push your body to go faster and harder for that short time period, the rewards are worth it: HIIT workouts save time, improve cardiovascular health, and benefit mental health. A 2015 study showed that HIIT training can also burn 25 to 30 percent more calories than the other forms of exercise. And your HIIT workout doesn't need to be long at all! A study published in the American College of Sports Medicine's (ACSM) Health and Fitness Journal found that a few minutes of training at almost your max can accomplish decreasing body fat and increasing muscular fitness in less time than a traditional workout. How much less? Try just seven minutes total.
The ACSM's sample HIIT workout includes these 12 exercises, which should be done at an intensity of eight on a scale of one to 10; each exercise lasts 30 seconds, with a 10-second rest in between. Repeat the circuit if you'd like a longer workout. Keeping the intensity up — and the rest periods short — is key, so keep reading to learn the moves and then get going! Most of these are bodyweight moves, but you'll also need a mat, a wall, and a chair, bench, or box for a few of the moves.
7-Minute HIIT Workout
Equipment needed: wall and a chair, bench, or box
Directions: After a five-minute warmup, complete each of the exercises below for 30 seconds with a 10-second rest in between moves. Repeat two or three times for a longer workout. Cool down with this 10-minute stretching routine.
Jumping jacks
Wall sit
Push-up
Abdominal crunch
Step-up
Squat
Triceps dip
Elbow plank
High knees/running in place
Lunge
Push-up and rotation
Side plank
01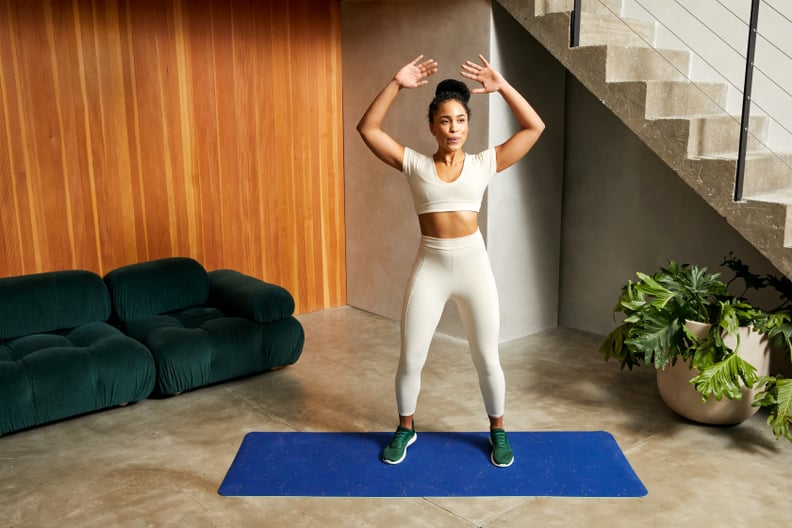 Jumping Jacks
Begin standing with your feet together and arms by your sides.
Jump your legs out as you bring your hands overhead, then jump back to standing. This completes one rep.
Repeat for 30 seconds.
02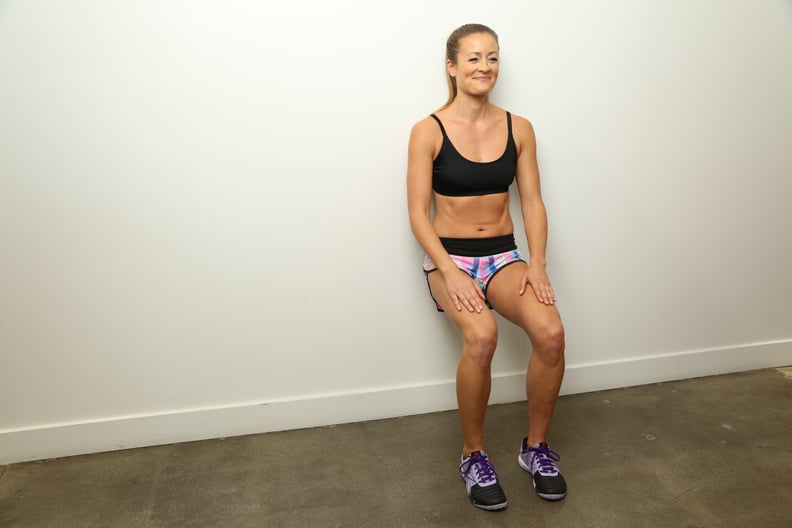 Wall Sit
Stand with your back against a wall, placing your feet about two feet out in front of you. Your feet should be hip-width distance apart.
Bending your knees, slide your back down the wall until your knees are at 90-degree angles. Your knee joints should be over your ankle joints, so you may need to inch your feet further from the wall to create proper alignment.
Hold for 30 seconds.
03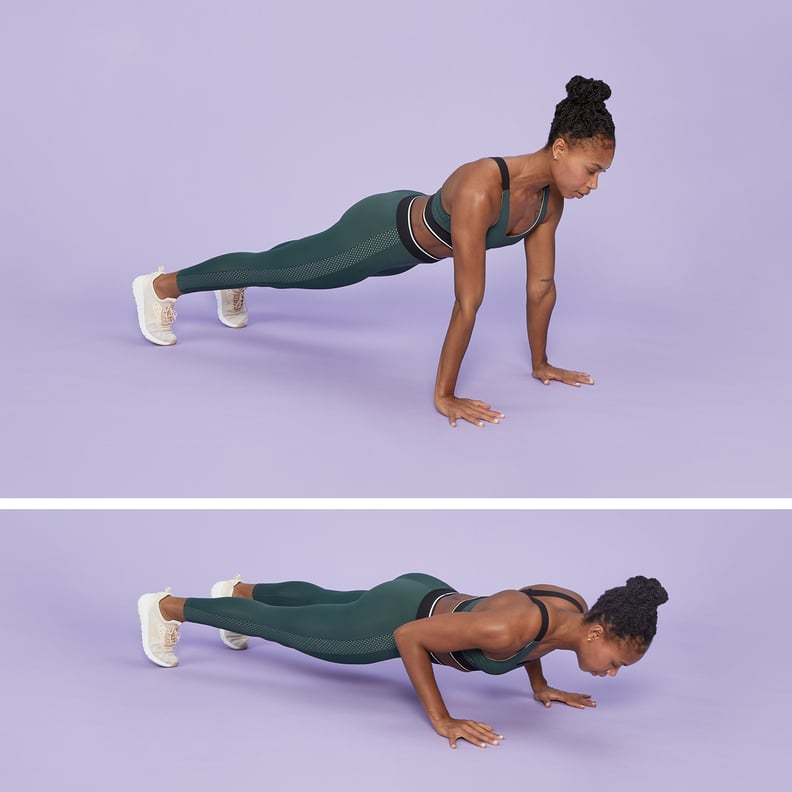 Push-Up
Start in a plank position, with your shoulders over your wrists and your legs extended behind you. Engage your core to protect your lower back by pulling your belly button in toward your spine. Keep your back straight.
Bend your elbows and lower your shoulders so your torso is parallel with the floor. Straighten the arms back to plank position to complete the rep.
Do as many reps as you can with correct form for 30 seconds. If this is too difficult, elevate your hands onto the chair, bench, or box to make this exercise easier.
04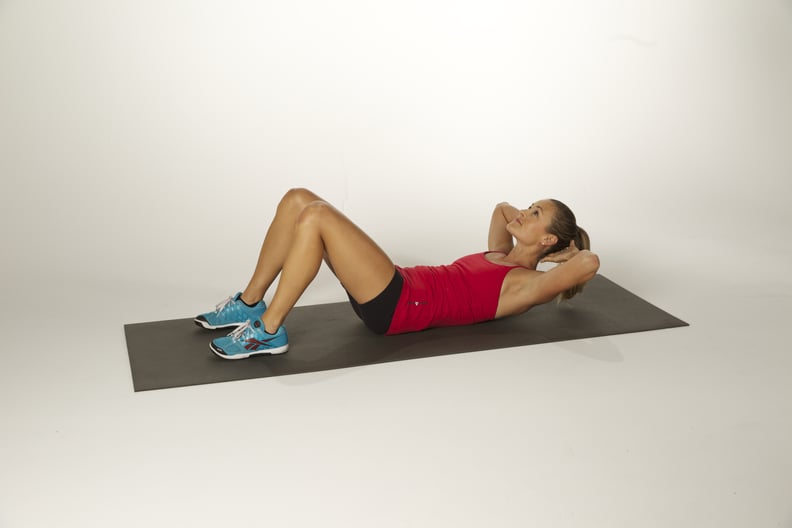 Crunches
Lie on your back with your knees bent and feet about 12 inches from your butt. Put your hands behind your ears.
Focusing on your core muscles, lift your head and shoulders and raise up until your head, shoulders, and back are off the floor. Keep your belly button pulled in.
Lower back to the floor to complete one rep.
Do as many crunches as you can with correct form for 30 seconds.
05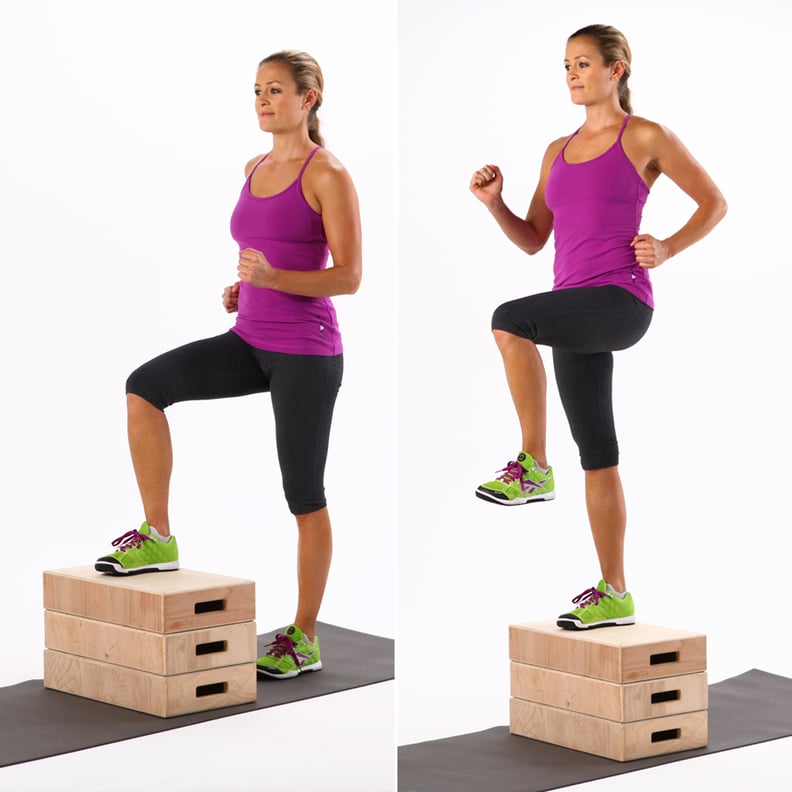 Chair Step-Ups
Stand in front of a bench, box, or sturdy chair.
Step your right foot on top, pressing through your right heel as you step onto the bench, bringing your left foot to meet your right foot, so you are standing on the bench.
Return to the starting position by stepping down with the right foot, then the left foot, so both feet are on the floor.
Repeat leading with the left foot.
Continue alternating feet for 30 seconds.
06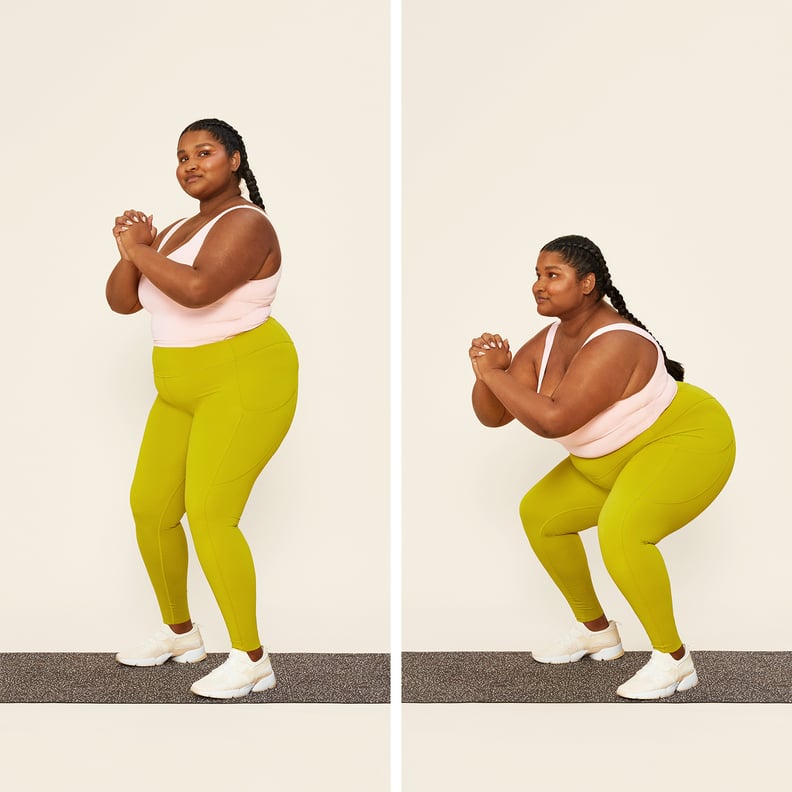 Air Squat
Stand with your feet slightly wider than your shoulders, feet parallel or toes slightly turned out.
Bend your knees, lowering your hips deeply. Bring your thighs parallel to the floor and bend the elbows, keeping weight back in your heels.
Rise back up, straightening the legs completely, squeezing the glutes at the top of the movement to get the most out of the exercise.
This counts as one rep.
Complete as many squats as you can in 30 seconds.
07
Triceps Dips
Sit on a secured bench or stable chair and position your hands shoulder-width apart.
Slide your butt off the front of the bench with your legs extended out in front of you. You can bend your legs to modify this exercise.
Straighten your arms, keeping a little bend in your elbows to keep tension on your triceps and off your elbow joints.
Slowly bend your elbows to lower your body toward the floor until your elbows are at about a 90-degree angle. Be sure to keep your back close to the bench.
Once you reach the bottom of the movement, press down into the bench to straighten your elbows, returning to the starting position. This completes one rep.
Do as many dips as you can in 30 seconds.
08
Elbow Plank
Start on the floor, resting on your forearms and knees.
Step your feet out one at a time, coming into an elbow plank position.
Contract your abs to prevent your butt from sticking up or sinking. Your spine should be parallel to the floor, with your abs pulling toward the ceiling.
Hold 30 seconds, and work your way up to one minute as you get stronger.
09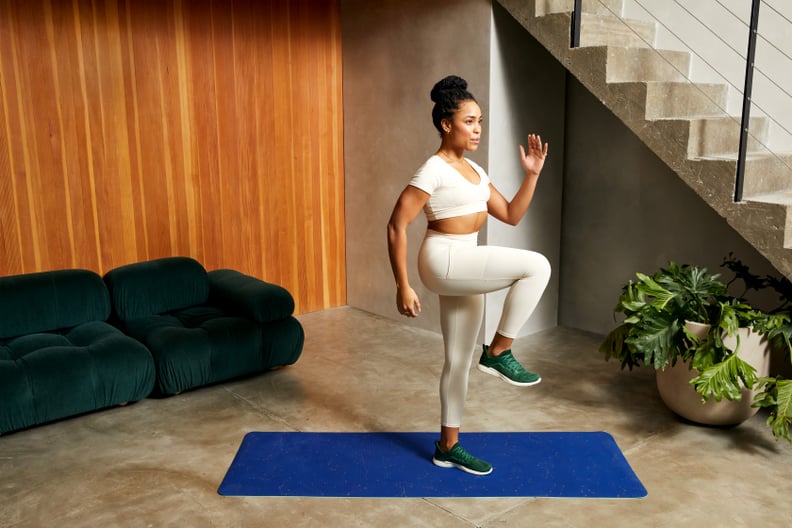 High Knees/Running in Place
Hold your hands at waist level.
Hop the right knee up toward your hands, then quickly switch legs and hop the left knee up.
Continue running in place for 30 seconds.
10
Lunge
Stand tall with your feet hip-width distance apart. Bend the elbows at your sides or rest your hands on your hips.
Step forward with the right foot, lowering your hips until both knees are bent at about a 90-degree angle. Keep the front knee directly above the ankle, and lower the left knee to just above the floor.
Keep the weight in your right heel as you push back to the starting position.
Repeat stepping with the left foot.
Continue alternating for 30 seconds.
11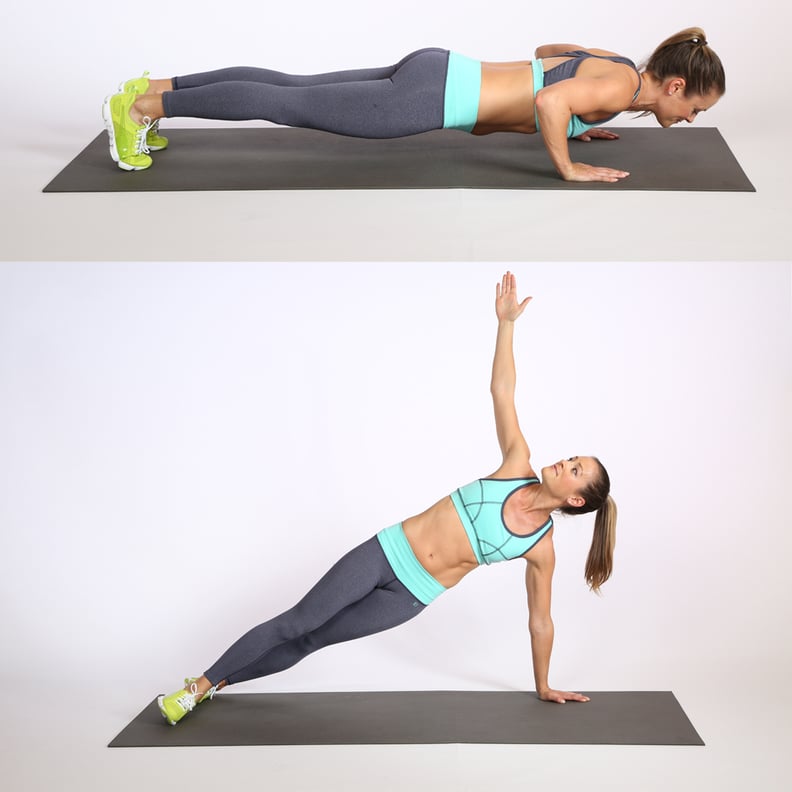 Push-Up Rotation
Begin in plank position.
Bend your elbows lowering into a push-up.
Straighten your arms and lift your right arm toward the ceiling, twisting into a side plank to make a T shape with your body.
Rotate back to plank, placing your right palm on the floor to lower into a push-up.
This time as you straighten your arms, rotate the body into a T shape, lifting the left arm up.
Repeat as many as you can, alternating which arm you are raising, for 30 seconds.
12
Side Plank
Begin by lying on your left side. Bring your left elbow directly under your left shoulder. Engage your core, press your left elbow into the floor, and rise into side elbow plank.
Stack the heels or place your top foot in front of your bottom foot.
Rest your right hand on top of your left hip, or extend your arm above you.
Hold for 30 seconds.