Full-Body Booty Band Workout
Work Your Core, Glutes, Arms, and Legs With a Booty Band and This Full-Body Workout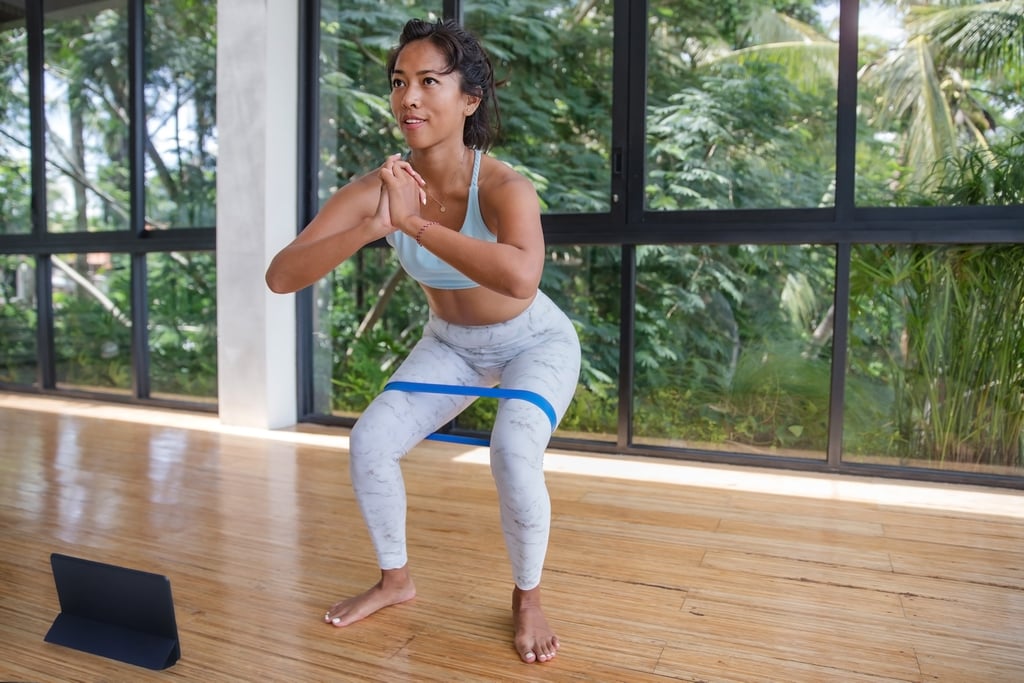 For all of the hype booty bands get, we totally understand if you've pulled one out before and just wondered WTF you're supposed to do with it. Yes, you can always go for the classic glute-working booty-band moves, but there's also lot more these bands can get done.
"Mini bands have become popular with lower-body work, but you can definitely add bands to the upper body to engage your shoulders, back, chest, biceps, and triceps," said Jennifer Nagel, ACE-certified personal trainer and CEO of Figured Out Fitness. "Mini bands are an inexpensive way to add resistance if you do not have a lot of exercise equipment available."
One note: while a mini resistance band "may not provide enough load to build size or strength" in your muscles, Nagel said, "it is a great tool for muscle activation and muscle endurance." Activating your muscles essentially means you're engaging and turning them on, which can help you avoid injury during workouts and everyday activities. Improving your muscular endurance, meanwhile, means you'll be able to do more reps of a certain move or activity and feel less fatigued while doing it.
Ready to get started? Nagel created this total-body mini band workout just for POPSUGAR, and it's guaranteed to get your muscles working. Grab your band and let's do it!
Total-Body Mini Resistance Band Workout
Equipment needed: At least one mini resistance band, though you might prefer different resistance bands for upper- and lower-body movements, Nagel said.
Directions: Start with five to 10 minutes of light cardio exercise, such as walking, step-outs, or dancing, followed by a dynamic warmup (like this one) with moves like bodyweight squats, arm circles, and torso twists. Then, begin the workout below.
First, perform three sets of the first standalone exercise, resting for 30 to 45 seconds between sets. Then perform the triset on the right side of your body, completing 10 reps of each exercise with no rest in between; after the third exercise, rest for 30 to 45 seconds, then return to the first move in the triset and repeat the triset for three rounds. Continue with three sets of the second standalone exercise, again resting for 30 to 45 seconds between sets, then complete the same triset as before, this time on the left side of your body. Finish with three sets of the final standalone exercise, resting for 30 to 45 seconds between sets. If you're a beginner or getting back into training, you can do two sets instead of three.
After completing the workout, cool down with a full-body stretching session.
| Exercise | Reps | Sets |
| --- | --- | --- |
| Banded step back | 10 to 12 reps | 2-3 sets |
| Triset 1, exercise 1: single-arm row (right arm) | 10 reps | 2-3 sets of full triset |
| Triset 1, exercise 2: bicep curl (right arm) | 10 reps | 2-3 sets of full triset |
| Triset 1, exercise 3: standing triceps extension (right arm) | 10 reps | 2-3 sets of full triset |
| Banded jumping jacks | 20 to 30 reps | 2-3 sets |
| Triset 2, exercise 1: single-arm row (left arm) | 10 reps | 2-3 sets of full triset |
| Triset 2, exercise 2: bicep curl (left arm) | 10 reps | 2-3 sets of full triset |
| Triset 2, exercise 3: standing triceps extension (left arm) | 10 reps | 2-3 sets of full triset |
| Good morning to banded pull down | 10-12 reps | 2-3 sets |