6 Music-Based Workout Classes That Feel Like a Party
6 Workout Classes That Turn Up the Volume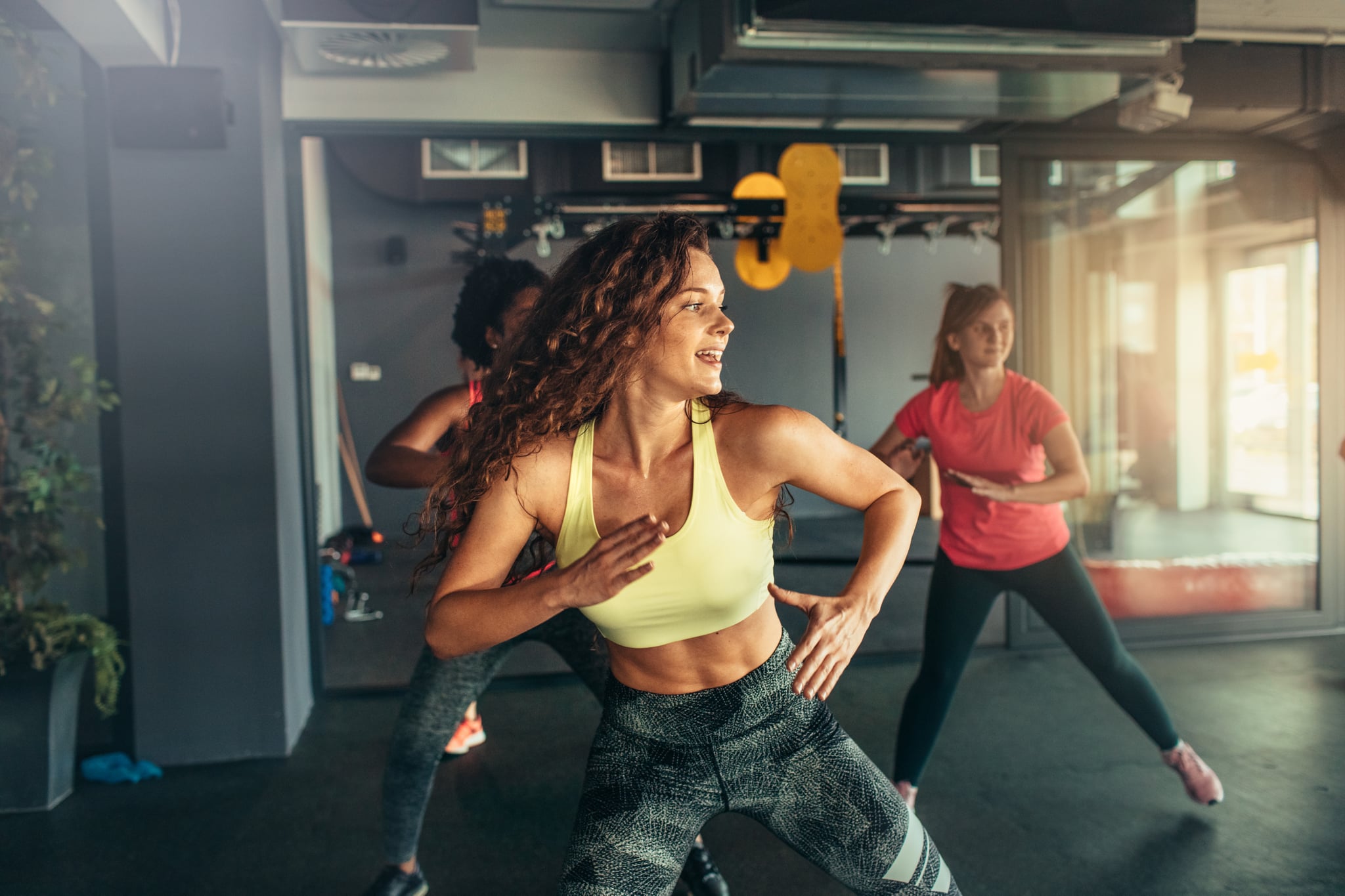 After realizing I definitely burn more calories dancing through a Beyoncé concert than during my boring 45-minute elliptical routine, I've decided it's time to spice up my workout, stat.
I don't see Queen B agreeing to a New York City residency anytime soon (otherwise, I'd sweat it out at her shows multiple times a month), so I'm simply taking this notion as inspiration to incorporate more music-based fitness classes into my schedule.
While dance cardio seems like the obvious choice, there are a plethora of turn-up-as-you-tone options, from boxing to yoga to cycling. Whether you're looking to throw jabs or do Downward Dog, make like me and do so with the volume — and energy — up.
Once you clip your cycling shoes into a FlyWheel bike, it's hard not to get hyped for the electric workout ahead. The franchise's Tempo class specifically marries rhythm riding with core-targeting moves for a beat-based experience that burns in the best way.
Perfect for the competitive athlete, opt to race other FlyWheel riders (or not, no pressure) with the end goal of working your way onto the stadium leaderboard.
While mesmerized by the uptempo tunes, a BPM-regulated pace, and friendly class rivalry, there's no need to worry about goal tracking — the FlyWheel app makes it easy. Just log on post-class to record your personal stats, see your community ranking, and celebrate your overall wins as you grow class by class.
Rumble may revolve around two styles of boxing training — mechanics-based drills and resistance training — but it's 100 percent driven by empowering music. Once the vibrations of Rumble's mega-watt sound system (which rotates custom playlists featuring the likes of Drake, Cardi B., and Biggie) hits you, it's guaranteed to energize that right hook and get your blood flowing.
You don't have to be a boxer to last a round with the Rumble crew, either. Their motto is, "10 rounds, two fists, ZERO experience necessary," and that inclusive, positive vibe is the real deal.
If your dream workout involves twerking, 305 Fitness is definitely your jam.
The live DJ hosting each session is proof that 305 Fitness is more of a party than any traditional class. No one's expected to memorize complicated choreography — just groove along to the easy-to-follow moves that could have you burning up to 900 calories a class.
305 Fitness's website says it best: "Let your freak flag fly." It's easy when you're amongst open-minded people who are down for some high-intensity cardio partying, just like you.
This isn't your typical vinyasa flow — Y7's WeFlowHard class moves to the soundtracks of A Tribe Called Quest and Cardi B. And while you may have signed up for the fire music, that's just one aspect of the Y7 vibe that'll keep you dedicated to the practice.
Each dark, candle-lit studio uses state-of-the-art infrared technology to maintain an 80 to 90 degree temperature, which promotes detoxifying sweat, blood flow, and flexibility. Plus, there are no mirrors, which encourages each yogi to focus within as they zen out.
At AKT, they live by the idea that a workout sticks when you are having fun doing it. For them, that means getting lost in the rhythm of a dance-based cardio class.
AKT takes a unique approach to dance-based fitness classes by alternating between choreography lessons and short strength intervals throughout each session. By the end of the workout, you'll have learned an entire dance, while also getting some toning in to break things up.
Advertised to be "exercise in disguise," Zumba is the calorie-burning dance party that's all about celebrating Latin and World rhythms.
Each instructor is as high energy, bright, and bold as the neon gear they rock — adding to their infectious dedication and inclusive vibe. As you follow along to each side step and hip shake, you'll hardly realize just how much of a cardio and muscle-conditioning workout you're getting. Plus, you'll notice a major boost in your balance and flexibility, too.
Click here for more health and wellness stories, tips, and news.
Image Source: Getty / vgajic