Dumbbell Workout For Weight Loss
If Cardio and Dumbbells Hooked Up, This Fat-Burning Workout Would Be the Sweaty Result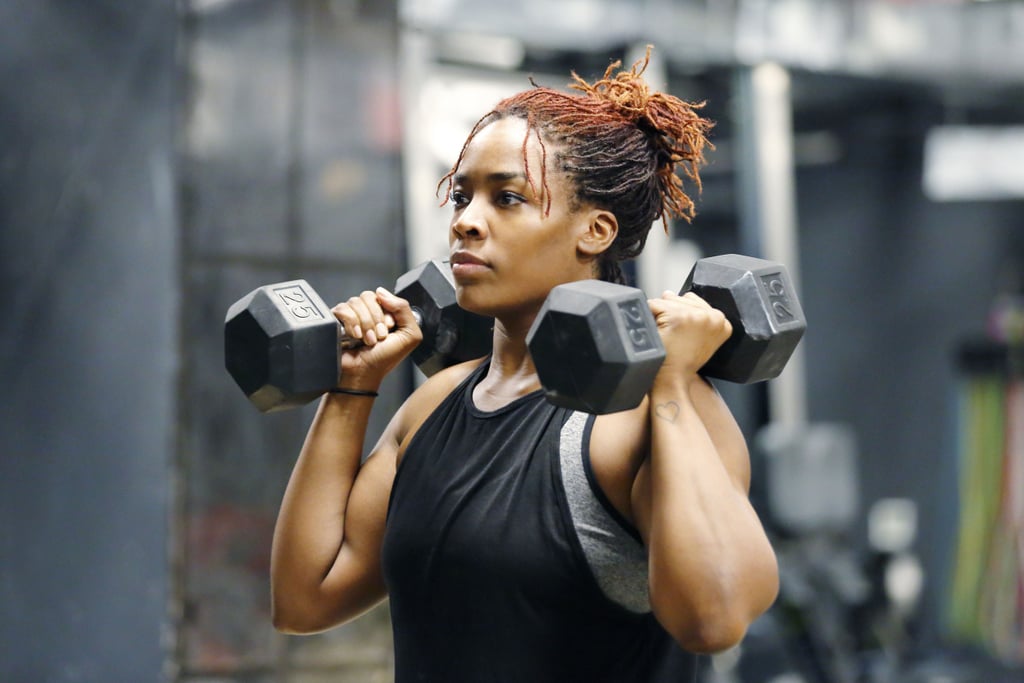 Most experts agree that you don't necessarily need cardio to lose fat. But they also agree that including a bit of cardio, specifically HIIT, can speed up fat-loss results. This workout is all over that!
We've included cardio bursts with full-body dumbbell exercises that build muscle but also keep the heart rate up. CrossFit coach Sefton Hirsch of Champlain Valley CrossFit told POPSUGAR, "I like these dumbbell exercises because you can get the legs involved." It was his idea to include the man maker burpee, so when you fall to the floor after this 20-minute workout, you have him to thank!
Dumbbell Workout For Weight Loss
Equipment needed: A jump rope (just pretend if you don't have one) and a set of medium-weight dumbbells
Directions: After warming up for five minutes with some light cardio and dynamic stretching, complete two rounds of these 10 exercises for a 20-minute workout (or three rounds for a 30-minute workout). Do 40 seconds of each move, then take a 20-second rest. Push yourself hard, getting in as many quality reps as you can!
Workout
Jump rope (single or double unders)
Deadlift with front row
Jump rope
Dumbbell thruster
Jump rope
Surrender
Jump rope
Man maker
Jump rope
Alternating forward lunges with bicep curl
Keep reading for details on how to do each move.