Lily Rabe's Lady in White Bears a Striking Resemblance to Another of Her AHS Characters
We'll just go ahead and say it outright: Lily Rabe is one of the most versatile recurring actors on American Horror Story. Her recent appearance on AHS: 1984 brings us back to Mr. Jingles's past, as she inhabited the role of his embittered, grieving mother, Lavinia Richter. After her son Bobby dies, Lavinia goes on a murderous rampage and haunts Camp Redwood. In a sense, we've seen this "lady in white" character from Rabe before in season one, in which she portrays the mourning Nora Montgomery, whose grief for her dead son consumes the titular Murder House. But thanks to Rabe's nuanced acting, Lavinia still feels like a fresh and magnetic presence.
Alongside cast members such as Sarah Paulson and Evan Peters, Rabe brings new energy to her characters each season, appearing in every installation of the anthology series except Cult. From the devil-possessed Sister Mary Eunice McKee to the doe-eyed witch Misty Day, here's a refresher on every role that Rabe has portrayed perfectly on American Horror Story!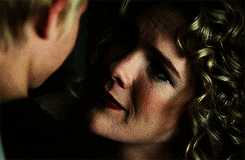 Murder House — Nora Montgomery
Lily Rabe first graced American Horror Story as the selfish, grief-stricken socialite Nora Montgomery. Nora and her husband Charles (Matt Ross), a celebrity doctor, are the first inhabitants of Murder House. Charles performs abortions for women, and when one woman's boyfriend finds out, he murders and dismembers the Montgomerys' infant son, Thaddeus. Nora's husband tries to console her by . . . Frankenstein-ing their baby. Eventually, Nora kills Charles and shoots herself in the head, which is why she has memory troubles as a ghost. Later on, she befriends Tate Langdon and takes the Harmons' stillborn baby (only to soon reject it).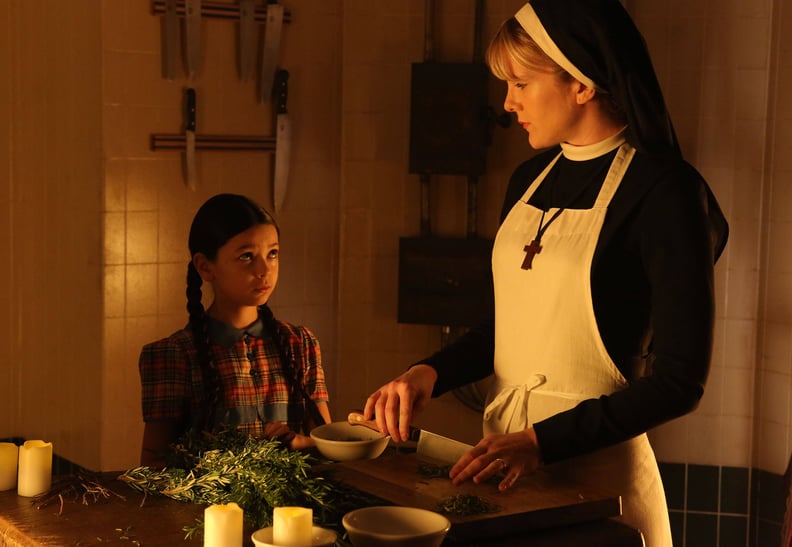 Asylum — Sister Mary Eunice McKee/the Devil
In Asylum, Sister Mary Eunice is a sweet, innocent nun at Briarcliff Manor . . . that is until she becomes possessed by the devil when a teenage boy gets exorcised at the sanatorium. Besides killing a handful of people, the devil terrorizes Sister Jude (Jessica Lange), taking her place of power and even framing her for killing the head of security at Briarcliff. Eventually, the real Sister Mary Eunice is able to beg the Monsignor (Joseph Fiennes) to let her die. The Monsignor pushes her off the stairway, and the Angel of Death (Frances Conroy) comes to collect her soul and the evil spirit.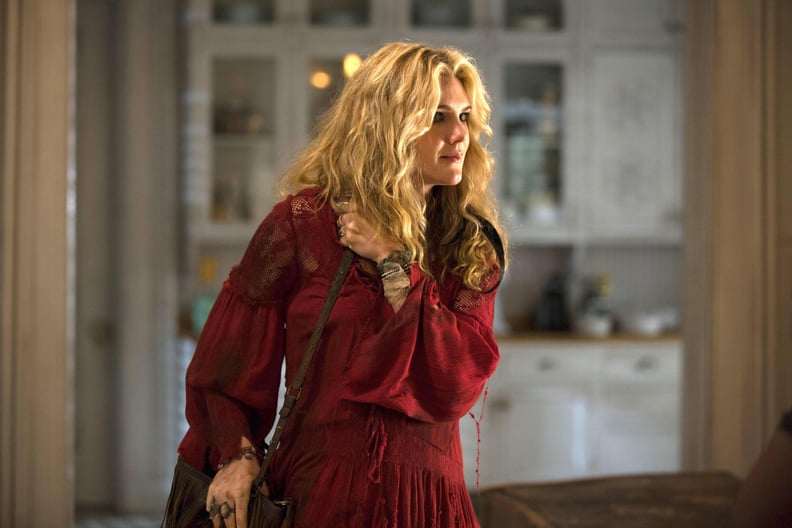 Coven — Misty Day
In Coven, Misty Day is a lonely, Stevie Nicks-obsessed witch with the rare gift of resurgence. We first come across her when she's burned at the stake . . . then comes back to life. The coven believes that she's the next Supreme, but Misty doesn't really want this responsibility. During the Seven Wonders trial for the next Supreme, she isn't able to escape her personal hell in the third test, where she revives a dead frog for a dissection class then is forced to murder it. Misty's body then dissolves into ashes in the real world.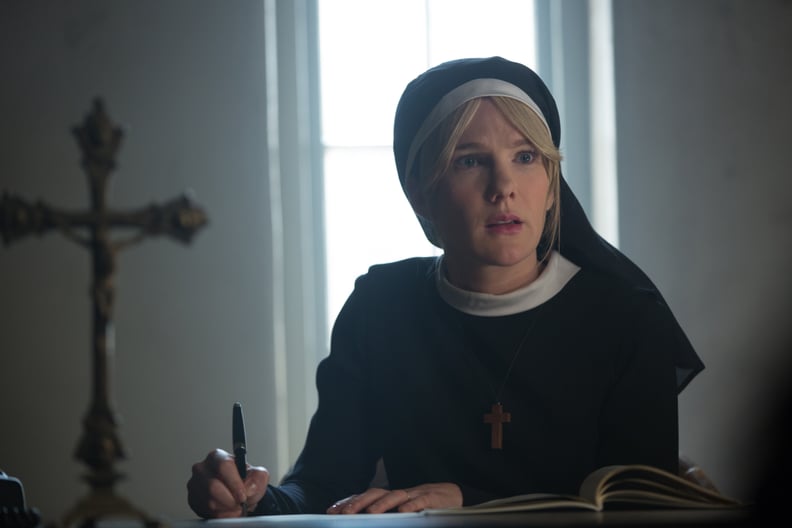 Freak Show — Sister Mary Eunice McKee
Lily Rabe reprised her role as Sister Mary Eunice in Freak Show, but only appeared in one episode. Prior to the happenings of Asylum, Sister Mary Eunice encounters Pepper (Naomi Grossman) for the first time in 1962. When Pepper is framed for her niece's murder, she is brought to Briarcliff, where Sister Mary Eunice assigns her to work in the asylum's library.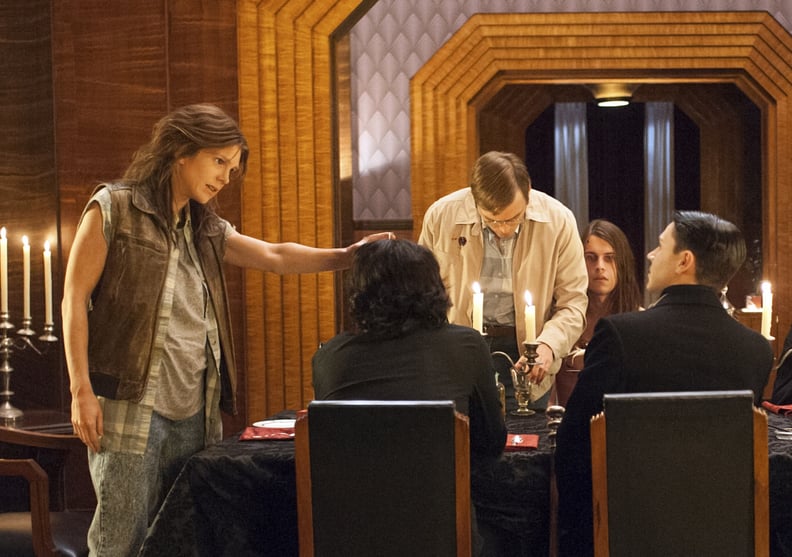 Hotel — Aileen Wuornos
Lily Rabe's role in Hotel is brief, but welcomed. Rabe stepped into the shoes of Aileen Wuornos, one of the real serial killers that we saw that season. Wuornos was a sex worker who killed seven men between 1989 and 1990, claiming that her victims raped or attempted to rape her. In American Horror Story, she checks into the hotel for her 13th Devil's Night (with company like Richard Ramirez, John Wayne Gacy, and Jeffrey Dahmer). Wuornos meets with John Lowe, who initially thinks that she's in a costume. When she brings him to her room, she cuffs him in a chair, but he manages to get free.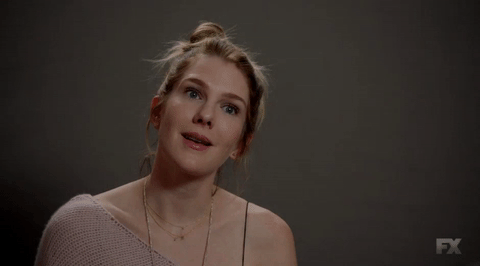 Roanoke — Shelby Miller
Shelby Miller starts out as a loving wife in Roanoke. All she and her husband Matt (André Holland) want to do is start over after a traumatizing attack, buying a cheap farm home in North Carolina. Spooky sh*t starts happening around the home, so she and Matt return to Los Angeles, where Sidney Aaron James creates the show My Roanoke Nightmare about their experiences with reenactment actors — Audrey Tindall (Sarah Paulson) for her and Dominic Banks (Cuba Gooding Jr.) for her husband. She ends up in an affair with Dominic, and it's awkward because both the actors and the real people go back to the house for a follow-up show.
When Shelby catches Matt having sex with Scáthach (Lady Gaga), she bludgeons him to death then slits her own throat.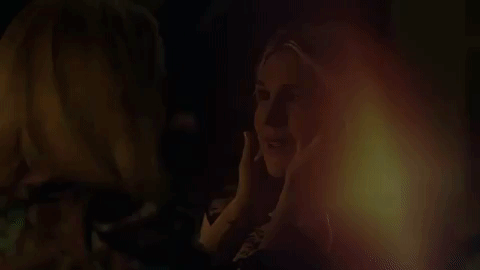 Apocalypse — Misty Day
We guess you could say that Misty went through hell and back. Her storyline is a little messy here, but we're glad that she returned. Anyway, as a test to become the next Supreme, Michael Langdon (Cody Fern), aka the Antichrist, retrieves her from her personal hell. Misty gets bad vibes from him, but mostly just focuses on healing with Stevie Nicks (sounds like a ball, actually). When Mallory alters the timeline to defeat Michael, Misty goes back to her hell, but Papa Legba thanks Mallory by letting Misty live again.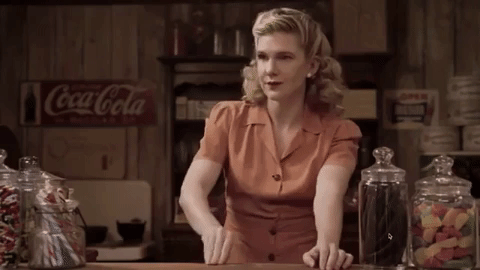 1984 — Lavinia Richter
Lily Rabe returned to American Horror Story in season nine as none other than Lavinia Richter, aka Mr. Jingles's mother. In the 1940s, she works at Camp Redwood, then Camp Golden Star, as the cook to raise her two boys, Bobby and Benjamin (Mr. Jingles). After Bobby dies in a boat accident, Lavinia goes on a murderous spree, only to be killed by Benjamin in self-defense. As a ghost (known as "the lady in white"), she then orders an impressionable Margaret to kill her camp buddies in 1970.